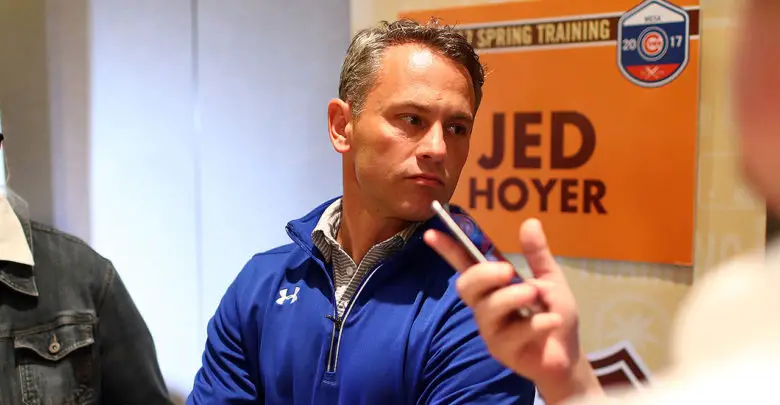 Hoyer on MLB Network Radio: Cubs Have Met with 6-8 Players, Darvish 'Really Impressive'
Jed Hoyer joined MLB Network Radio's Power Alley show on Wednesday to discuss the Cubs' offseason moves and what else they have in store for the winter. While he was understandably coy about the specifics of ongoing pursuits, particularly the meeting with Yu Darvish, he did shed a little light on the front office's mindset and what they're looking for when they visit with players.
Fair warning before you proceed: This is all pretty banal stuff. Hoyer isn't about to go on the air and start spilling the beans on who all they've met with and what offers are out there. But that doesn't mean what follows isn't worthy of discussion or that it doesn't add to the overall context of the offseason.
"Obviously we had a meeting and (Darvish) tweeted out about it, we had a really nice meeting," Hoyer confirmed. "But we've probably met with maybe six to eight players this winter, and to me the flying around and meeting with players or having players come to us is just a big part of what we try to do every winter.
"I think that we built this team around a bunch of guys that have really good makeup. I think meeting guys and making sure that they fit what we're looking for and get to know them a little bit, I think if we're going to invest the Ricketts' money we want to make sure we've sat down with these people and talked to them and gotten a sense of what makes them tick."
#Cubs GM Jed Hoyer confirms having a "really nice meeting" this week with Yu Darvish on #PowerAlley pic.twitter.com/XGnf2zUIoP

— MLB Network Radio on SiriusXM (@MLBNetworkRadio) December 20, 2017
That's a whole lot of thinking, though he's not really telling us anything we don't already know. The Cubs' character-first image has been scuffed up over the last two seasons or so, but there's no doubt they do take makeup and team chemistry into account when building the roster and the greater organization.
The pressure cooker of a major market is bad enough, then you throw lofty expectations in there and you need to make sure the players you bring aboard can handle that and can make the team stronger both on and off the field. Well, that's the ideal situation. Executives can no doubt garner a lot of information about a player from various sources, but Hoyer said he enjoys getting out and talking with them face to face.
"I actually really enjoy that part of it, and if you go and meet with six or eight guys you might sign one or two of them, but I think that knowledge you gain from those meetings is invaluable down the road," the Cubs GM explained. "You never know what's going to happen down the road, so whenever Theo and I can go meet with a player or bring a player in here, we try to do it.
"All information is good information and usually those meetings are really interesting and players are, different things make them tick, but they're all elite in some way and I think finding out what made them elite is really important."
Pressed for more specifics on their meeting with Darvish, Hoyer offered little that the pitcher himself hadn't already tweeted out.
"Yeah, I don't to talk too much about the meeting because I think that's…I know he shared that. But think that, in general, I think it is really impressive anytime someone's willing to do a full meeting like that without an interpreter. You know, really putting themselves out there and being willing to use their English and not rely on somebody."
So, yeah, pretty blasé for the most part, right?. Except maybe for the bit about meeting with six to eight players, though even that might not be super insightful. Consider that the Cubs have already signed Tyler Chatwood, Brandon Morrow, Drew Smyly, and Steve Cishek, all of whom presumably received a face-to-face visit. Though I suppose it's possible that preexisting relationships with Joe Maddon and/or Jim Hickey may have superseded the need for a sit-down.
Then there's Shohei Ohtani, who was reportedly very impressed by what the Cubs presented to him during his whirlwind courtship. Oh, and we need to add Darvish to the mix too, which gives us…Hell, that's six players right there. And surely they sat down with Alex Cobb. Between Bryan Shaw, Anthony Swarzak, Juan Nicasio, and a few others who I'm forgetting, it's possible there were other tête-à-têtes.
Gee, I'm beginning to think Hoyer was just making up numbers and that he's not telling us the whole truth. Did you expect otherwise? The reluctance to discuss Darvish isn't a surprise, though the pitcher's openness about the meeting was unexpected and could signal something. Add in the Japanese report that Darvish was planning to sign by Christmas (which Darvish denied) and you can't help but connect some dots.
There are still several other factors that could influence the Cubs this winter, not the least of which is the Rays' obvious willingness to move keystone players. Evan Longoria was just traded to San Francisco, perhaps signaling that Chris Archer is indeed on the block. And the free agent market just isn't popping the same way most people had expected.
That could all change in a heartbeat, and you know the Cubs are going to be right in the center of it.