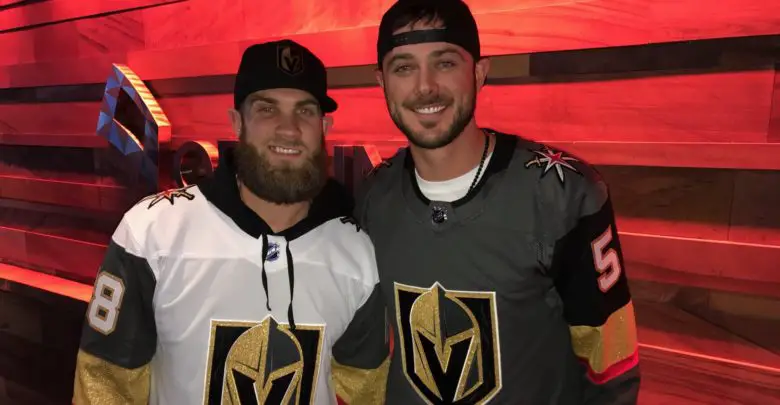 All I Want This Christmas is Yu, Though I'm Still Dreaming of a Bryce Christmas Next Year
First it was Shohei Ohtani, then it was Yu Darvish. And unless there's another stud Japanese pitcher — one who may or may not be able to hit — I'm not aware of, the next obsession for Cubs fans is going to be Bryce Harper. The pining has already started in several corners, but it's going be a full blown epidemic by November 2018. And, folks, I'd be lying to you if I said I'm not going to be caught up in it.
This isn't a matter of engaging in some far-flung flight of fancy, either. In addition to the wink-wink social media posts Harper has made over the past several months, there are numerous pieces of legitimate evidence to tie the young slugger to the Cubs. Robert Murray covered several over at FanRag Sports, but I'd like to add just a little more context here.
Payroll
The Cubs are in a very enviable position when it comes to the collective bargaining tax in 2019. Murray has them at only $72.79 million, though I'm not sure where that number comes from and I don't think it's accurate. According to Cot's Contracts, their tax number in 2019 is $120.1 million, which leaves about $86 million to play with.
Keep in mind that's before factoring in projected arbitration raises and salaries for non-arb-eligible players, figures that could easily combine for $40-45 million. And if they're able to land Darvish, we're looking at another $20-25 million toward the threshold. All of a sudden, that cushion has shrunk to as little as $16 million. That's, uh, that's not gonna get Harper.
But, as we've discussed before, the Cubs have one big option when it comes to clearing up more space. Murray mentions the possibility that Jason Heyward could opt out of his contract after 2018, but no one believes for a second that that's a real possibility. Barring an unforeseen offensive resurgence, a big one, J-Hey ain't getting more than $118.5 million over five years on the open market.
It is possible, however, that he'll be able to increase his value enough that the Cubs could move him and his $23 AAV in a trade. Once Heyward exercises his option to stay in Chicago, his full no-trade clause becomes a partial and he could be moved to clear space. Of course, that presupposes the Cubs can find a trade partner that views Heyward as an upgrade and that will take on enough of the his salary to make the transaction worthwhile.
Even if they can't move Heyward to make room on the roster and in right field, Tom Ricketts might be okay with blowing past the CBT threshold for a while to get Harper. Most teams are treating that limit as a hard salary cap this winter, but most of that is about avoiding the escalating penalties built into the new CBA.
Harper prefers Chicago
Peter Gammons ignited quite a firestorm this past June when he told 670 The Score's Mully and Hanley that people have told him Harper "really would prefer to play for the Cubs." The longtime baseball writer then pointed out the obvious fact that it'd be hard to keep both Harper and Kris Bryant on the same team and later concluded that he thought Harper would end up with the Yankees.
But that was before New York traded for Giancarlo Stanton in a move that could complicate future acquisitions. The Yankees appear to be way under the CBT limit for 2019 at this point, though that's without taking any arbitration raises into account. And while they've worked to get under the cap for the coming season, it could simply be a prelude to a massive spend next winter.
Bryant connection
Even though nothing will change the money-centric nature of professional sports, there's no doubt that environment can play a role in a player's decisions. Could the friendship between Bryant and Harper influence the latter's decision? Maybe.
It'd be next to impossible to keep both of them long-term, but Bryant is under team control through 2021 at the very least. That'd be three years of the two Las Vegans batting #backtobackoneday (the hashtag Harper used in a photo that featured him and his wife, Kayla, with Kris and Jess Bryant this summer) before a big decision would have to be made.
That's perhaps a little misleading, though, since Bryant isn't going to come cheap over that time. His arbitration raises should have him north of $20 million by the time his rookie deal is up, so the Cubs would probably need to shift some money around elsewhere in the meantime. Boy howdy, it'd be nice to get some pitching prospects up to Chicago by then.
The other major aspect in all of this is that both Bryant and Harper employ Scott Boras as their agent. That's less than encouraging since Boras isn't known for his team-friendly bargaining tactics, but maybe the two superstars want to get down on some LeBron James/Dwyane Wade tandem action. Yeah, you're right, that's crazy talk. Or is it?
At the risk of getting my hopes up only to see them dashed mercilessly against the craggy rocks of reality, I can't help but feel good about the Cubs' chances here. Now I need to smack myself upside the head for looking forward to next winter when this one isn't even close to being wrapped up.