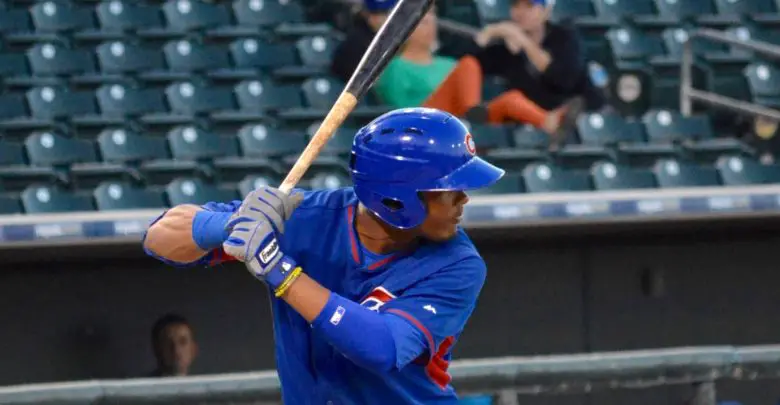 Offseason Prospect Profile: Is 2018 Do-or-Die for Eddy Martinez?
Eddy Martinez had high expectations placed upon him as the result of a $3 million signing bonus he earned in 2015 as an international free agent. Then again, he has had a lot to deal with in coming to America. In addition to the cultural adjustment to living in the US and playing a different type of baseball here, the trade of his best friend, Eloy Jimenez, may have impacted him. Add in that he missed two years of playing ball and you can understand why he's taken a while to come along.
Martinez started to break out a little in 2017, though, and he's trending up headed into the coming reason. He seemed to wake up after the trade of his buddy Jimenez and sustained a higher average in the second half than at any point in his career, hitting .276 with seven home runs (which equaled his first half home run mark), including six dingers in July. That surge in batting average should carry over to AA, were he could thrive. It'll take at least one significant change to get him to Chicago, though.
Basic Info
6-1, 195 pounds
Bats/Throws: Right/Right
Age: 22
Las Tunas, Cuba
2017 performance
Defensively, there's not much more for Martinez to master at the minor-league level. While tracking and fielding the ball is a strength, it's what he does with the ball that is his greatest asset. Even when he was in the Midwest League, very few runners tried to advance on him. The same was true in the Carolina League. If it was simply a matter of his glove, this would be a no brainer.
The real issues are whether he can hit for a high enough average and get on base at a decent clip, as his ability to work a walk is still in question. Even with that .276 second-half average, Martinez walked three more times in the second half than in the first and his .314 OBP left a lot to be desired. Also a little disconcerting was that he pulled 52 percent of balls in play and his fly ball rate dropped into the 30's while his ground ball rate increased to 47.5 percent. As a result, his BABIP plummeted to .247, which runs contrary to those improved numbers down the stretch.
If Martinez can carry over last year's improvements while making some other changes, 2018 could be the breakout season he has yet to experience.
Control the zone
If he is going to make it to Chicago, even as a fifth outfielder, he has to lay off pitches out of the zone. His K-rate has improved dramatically in his two years, from 21.9 percent in his debut season at South Bend to 15.5 percent last season at Myrtle Beach. However, his walk rate also decreased from 9.7 to 6.2 percent. He's probably not going to slug his way to Chicago, so that patience is going to have to improve as he moves up.
Rounding into form
If Martinez can control the zone, everything else should fall into place. The higher average and improving K-rate are very good indicators, but some other peripherals need to catch up. More power will come naturally as he matures further (this is his age-23 season) and it'd be good for him to use all fields. Oh, improving the fly/grounder ratio would be good as well. All of those things should come along naturally as he becomes more selective, which ties back to the first improvement.
Considering the plethora of outfielders in Chicago, 2018 is not a do-or-die season for Eddy Martinez. However, he must display continued improvement in his approach at the plate.