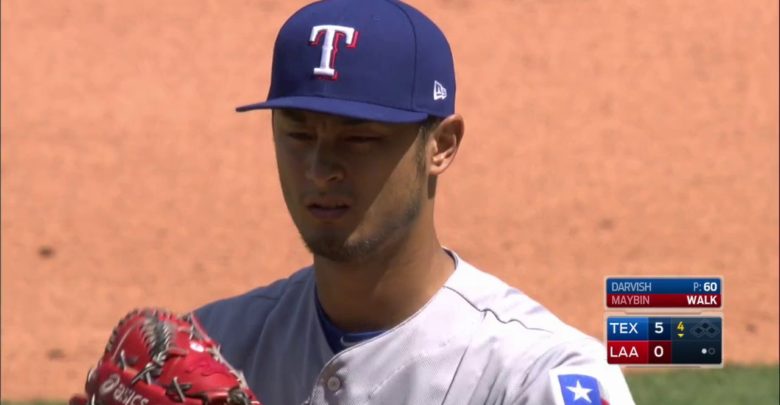 The Pros and Cons of Signing Arrieta, Darvish, and Cobb
If you had told me two months ago that Alex Cobb would get too expensive and that the Cubs would end up turning their focus to Yu Darvish and then to Jake Arrieta, I'd probably have told you to shut the front door and back the truck up. And yet, here we are discussing how the Cubs may be battling the Cardinals over Arrieta and whether they could fit another contract on top of the $27 million they'd be paying their once and future ace.
Not that they've given up on Darvish. Or Cobb, for that matter. If the former is more willing to come down from his desire for six or seven years than Arrieta, he could be wearing blue pinstripes. Likewise, Cobb could still be a fit with his old manager and pitching coach if his price gets a little closer to the $16 million AAV the Cubs had been expecting heading into the offseason.
So who would be the best fit? The answer to that depends on several factors, the biggest and most obvious of which are time and money. But if we look at those as stones the Cubs will throw into a pond, the ripples they cause must be accounted for as well. This isn't a simple matter of inserting pitcher A into rotation slot B.
With that in mind, let's take a look at a the cases for and against each of the three top starters on the Cubs' radar.
Alex Cobb
Though an increase in his asking price — both in terms of guaranteed money and years — has the Cubs looking elsewhere, Cobb is still the least expensive of the trio by a wide margin. His camp has denied reports that he was seeking $100 million over five years, but we can probably assume that he's shooting for something like $18 million per over that same period of time.
No team has gone beyond three years on a contract this winter and the Cubs have reportedly been steadfast in staying at a four-year max, but that above AAV would be about $9 million less than what Arrieta could land. Hey, that's exactly how much MLB Trade Rumors predicted Addison Reed would earn from the Cubs. And Bruce Levine has reported (first link above) that Reed is still very much in play for them.
From a purely economic standpoint, Cobb is the clear choice. He offers the Cubs more flexibility with what is already a pretty enviable luxury tax situation and he doesn't carry the same weight of expectation as the other two. He's the safe play, in other words.
But while safe might be good when running the bases, it's not necessarily the best strategy for running a team that's looking to make a deep playoff run for the fourth straight season. Forget Darvish or Arrieta, the Cubs' recent success has established plenty of expectation as is. Cobb would only fill out the rotation, he wouldn't headline it. He's never thrown as many as 180 innings in a season and his best pitch, the splitter, may not ever come back even as he moves further from almost two seasons lost to Tommy John surgery.
Where this could make sense in terms of baseball is if the Cubs really believe that Kyle Hendricks and/or Jose Quintana are capable of ace-level performance. Having a true No. 1 allows for a little more risk through the rest of the rotation. Jon Lester is probably never going to return to his prime production, but that's fine at this point. And Tyler Chatwood experiencing a rebirth of sorts away from Coors affords more leeway.
Yu Darvish
In terms of pure pitching and projection, Darvish figures to be the best of the bunch. His velocity is actually up in a season and a half post-Tommy John and he's got a wide variety of pitches that he delivers from similar release points. He'd be the top-of-the-rotation starter the Cubs wouldn't find in Cobb.
On the other hand, Darvish is only five months younger than Arrieta and has a lot of mileage from his days in Japan, so this isn't like some clear-cut matter of him being less risky. That velocity could drop off the table overnight, and his release points appeared to be vastly different in LA than they were in Texas. Then there's the matter of his disastrous World Series performance, which might give you pause if you're considering paying him to anchor a playoff rotation.
Darvish is the choice if you subscribe to the idea that his issues in the Fall Classic were indeed a matter of the Astros picking up on a tell with his pitches. A little less obviousness when getting his grip solves that problem. Elbow reconstruction is almost as common and innocuous as a mild case of the flu and Darvish has displayed no lingering effects from the procedure.
Signing Darvish would mean that the Cubs aren't 100 percent confident in what they've got in-house to carry them through a long playoff series. They could be somewhat motivated by seeing how Justin Verlander performed in Houston, seeing this as a chance to land an elite pitcher at a time when there's very little evident competition for him.
Darvish would likely be most expensive option of the bunch and would push the Cubs to the brink of the luxury tax, but this would be a major win-now move.
Jake Arrieta
You don't really need much of an explanation on this one, do you? Arrieta's something of a known commodity by now, or so I'd like to think. He's got obvious flaws in his delivery and his inconsistent mechanics aren't going to magically smooth out moving forward. At the same time, the former Cy Young winner has shown the ability to pitch around mistakes and to compensate for a drop in velocity.
Arrieta wouldn't need to acclimate himself to the city or the team and he's easily got the best postseason pedigree of the group. And if he'd be willing to come down to a four-year guarantee, which seems highly unlikely, the overall fit would be that much better.
It just feels like Arrieta has been itching to get out of Chicago for the last two years, or at least that he's been wanting to land a huge contract and will look elsewhere to get it. He isn't going to give a hometown discount and meeting his asking price would put the Cubs in a precarious position as the contract ages.
This one is very much the sentimental pick, though Arrieta still has the potential to pitch at an elite level as the Cubs proceed through their current competitive window. The question is whether the two sides can reach a compromise when it comes to their respective positions on money and time.
Conclusion
If I'm being completely honest, I don't believe there's an ideal solution to all of this. Given a crystal ball and the ability to see with greater clarity exactly what kind of contract each player will command, I'd have a better answer.
All things considered, I'm actually leaning toward Cobb because of what signing him would represent in terms of who else the Cubs could bring aboard. He represents the smallest overall reward of all three pitchers involved, but much of his risk is mitigated by lower contract demands.
No sooner do I say that than I'm leaning back toward Darvish and how he'd make the rotation that much more formidable through both the regular season and the playoffs. I mentioned Verlander earlier and that comp was largely driven by Ken Rosenthal's recent article (subscription required/recommended) for The Athletic in which he pointed out that Darvish has room to get even better. Even if that's only over the next two seasons (like Lester), it could be worth it.
By process of elimination, you can deduce that Arrieta is at the bottom of my personal list. That's partially a matter of performance and my lack of faith in his ability to maintain a high level of it over the near term, let alone the full length of the deal. And while Levine thinks a five-year deal gets it done, I have serious doubts about Scott Boras softening his stance with one of the top two pitchers in a weak market.
So where do you land on this: Do you prefer Cobb because he offers more payroll flexibility? How about Darvish because he's probably the best pitcher moving forward? Or maybe you feel Arrieta is the better pitcher in addition to having "earned it" as the Cubs' best pitcher over the last four seasons.
Ed. note: Because I'm a cotton-headed ninnymuggins, I forgot to mention the additional cost of the draft pick the Cubs would lose by signing Cobb. However, I also feel that that's something of a foregone conclusion since they were willing to snatch him up at a lower AAV. Then you figure that losing both Arrieta and Wade Davis nets them two picks in return, and they're at least breaking even on that front.