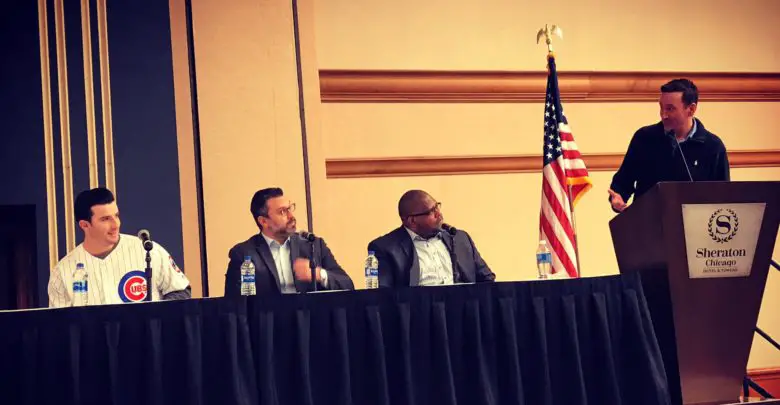 Dillon Maples Displays Personality, Growing Confidence During Down on the Farm Panel
Even if the Cubs' roster wasn't already populated by so many lively characters, Dillon Maples would probably be among the quieter players. After all, you can afford to be a wallflower when your stuff speaks as loudly as his does. But the same confidence that led to the 25-year-old righty rocketing from high-A to the majors is beginning to manifest itself in his public persona as well.
I got the chance to sit down with Maples for a few minutes during Cubs Convention and was hoping to learn more about his growth, though I did fear his potential reticence. That was somewhat reinforced by Rob Zastryzny, who advised me that Maples was reserved and that I'd probably need to pull some of the personality out of him.
What I found, though, was a young man who seemed incredibly comfortable in his own skin and who was more than happy to go along with my goofy jokes and serious questions alike. That was on even more public display Sunday morning, as Maples joined Victor Caratini, player development director Jaron Madison, and assistant player development director Alex Suarez (also the director of international pro and amateur scouting) for the Down on the Farm panel.
Among the other answers he gave, I was most impressed by how Maples addressed the question about dancing in the bullpen. He was smiling and laughing as he recounted how he was actually more nervous about dancing than pitching. It didn't help when Jon Lester drew a circle in the dirt and told him that's where he'd dance. The younger pitcher said he just tried to emulate the moves his younger brother uses when dancing around the house.
If that doesn't sound like a big deal or if you think I'm trying to create a narrative where none exists, perhaps you'll be interested in the experts' assessment. Suarez has been working with Maples perhaps the most and longest of all the prospects who've come through the system, and he said the pitcher would not have been ideal for a panel like this in the past.
"He's like a completely different person," Suarez told me after the session had ended.
It was obvious that even those who'd been around Maples throughout his entire professional career were blown away by the strides he's taken. There was never a question about the stuff, but being able to really dial in mentally was the key. Maples would admittedly get down on himself after missing his spots early in counts or giving up a hit, but a focus on strengthening his mental skills allowed him to finally put everything together.
He's still got plenty of room to grow and needs to continue to improve his fastball, but that slider is just…wow. And that's a pitch he hasn't even had in his arsenal for two years. Suarez talked about introducing the slider slowly and how Maples is now able to use it to get his triple-digit fastball back around the plate. Then you consider that he's got a plus curveball and you understand why the Cubs are so high on him.
So maybe it's strange to be really excited about a guy laughing and joking up on stage, but knowing what I do about Maples, that's exactly what I was. It's going to be absolutely fascinating to see what he can do this coming season, particularly if he's able to take that next step. And if his control follows along with his confidence, you're looking at a pitcher with "closer" written all over him.