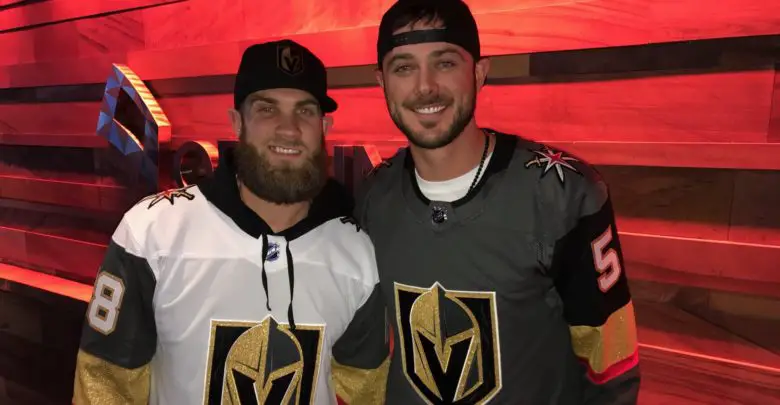 Heyman: Cubs Not Among Bryce Harper's Top 4 Likely Landing Spots
Even before this offseason slowed to Steve Trachsel's pace and we began to wonder if any free agents would sign again, we were already talking about Bryce Harper. The impeccably coiffed outfielder is the crown jewel of a class that figures to create even more vexation when no one wants to sign them next year, and he's been a fixation for Cubs fans anxious to lay waste to both the NL Central and any semblance of fiscal responsibility.
Seriously, Harper was the elephant in the room during Cubs Convention this past weekend. And it was a big-ass room, so we're talking about a neon pink elephant stumbling around drunkenly and smashing into things less subtlety than Willson Contreras. Fans were lining up to invite Theo Epstein to tamper with the Nationals' star, who's been seen cavorting around in Blackhawks shirts and Bulls hats and who named his dog Wrigley.
Oh, and did you know he's friends with Kris Bryant? No, it's true. Not many people know that they actually grew up together in Las Vegas and that their wives are even friends. I mean, how could you know that since it's not all over Instagram and Twitter and…What's that? Oh, it is out there for everyone to see. Huh.
Then you've got Peter Gammons saying that Harper wants to end up in Chicago, an idea that other people around baseball have echoed. It doesn't take long for a picture to emerge once you start connecting the dots. Or maybe that's just a matter of confirmation bias that comes from not taking a broad enough view.
But if you're one of the many working up a lather thinking about Harper patrolling a corner spot for the Cubs in 2019, FanRag's Jon Heyman has a bucket of ice water with which to douse you. Despite all the connections blowing the superstar from DC to Chicago, Heyman writes that "the reality is, it may not be so likely after all."
"[Harper to the Cubs] isn't going to happen," one of Heyman's sources told him.
As for exactly why it won't happen, the first reason given was that the Cubs have already got a highly-paid right fielder in place for the foreseeable future. And while it's possible that Jason Heyward could opt out of his contract following the 2018 season, it's very likely he'll exercise his right to stick around.
Now, the flip side of opting in is that it turns Heyward's no-trade clause from full to partial, which is how it will remain until after the 2020 season. That's when the veteran earns his 10-5 rights (10 years in MLB, last 5 with same club) and can once more veto any trade. If the Cubs are going to move him, it'd have to be during that two-year window following the conclusion of the 2018 season. They'd probably have to kick in a lot of money and maybe even a prospect to do so, but pursuing Harper could be seen as very much worth the additional cost.
The next reason, and this might be even more important, is that the Cubs are going to want to re-sign the guys they've already got. Adding Bryce Harper would mean losing either Anthony Rizzo or Kris Bryant, maybe both. And that's saying nothing for the rest of the young core.
Sure, they could just say "F— it," and go for broke during the three seasons (2019-21) that Har-Bryzzo would be together. That actually makes a lot of sense when you consider that the Theo Epstein/Jed Hoyer/Jason McLeod triumvirate received five-years extensions at the end of the 2016 season. Hmmm, that means their deals would be running out in *counts fingers, literally* 2021. Hey, what a coincidence
While it'd be kind of a dick move to put the organization in that kind of a position and then just walk away, it'd be easier to stomach if Wrigley Field visitors were lining up to take pictures with multiple trophies by then. Even so, that doesn't really feel like Epstoyer's MO and I'd think they'd prioritize keeping Bryant over signing Harper.
Unless they can figure out a way to have both, which, wow.
Based on the mitigating factors laid out above, Heyman lists the Nationals, Dodgers, Phillies, and Yankees as the most likely landing spots for Harper next season. You'll have to excuse me, I just threw up in my mouth a little bit on that last one. The rationale behind most of those is pretty obvious, but check out the link above for more on why those four teams stand out.
So what do you think about all this? Taking away your fandom, which I know is difficult, do you really believe the Cubs have a shot to land Harper? And do you think they should, given the noted issues his signing would raise? Finally, aren't you happy that we've still got another full year to discuss this topic?