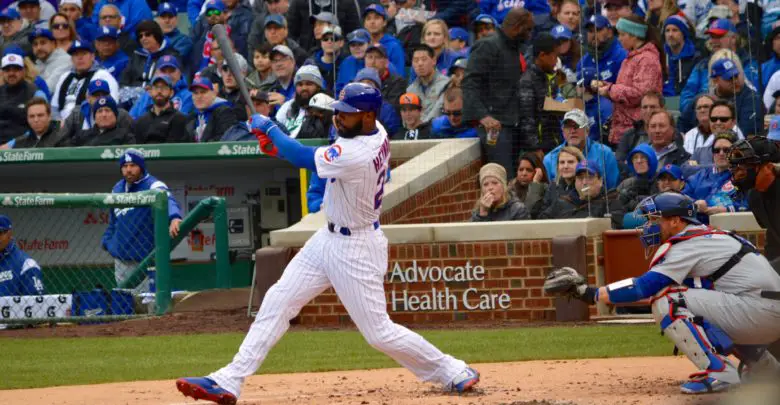 Jason Heyward Predicts Cubs MVP Will Be…Jason Heyward?
If Jason Heyward's prediction is correct, it would be huge for the Cubs in 2018 and beyond. Not only would they reap the rewards of an offensive output that has been sorely lacking these past two seasons, but it'll mean that much less money they'll have to eat when Heyward is traded to make room for Bryce Harper.
Okay, I'm kidding about that last part. But not really, since finding a way to move Heyward would be imperative if the Cubs are indeed serious about pursuing Kris Bryant's buddy.
None of that matters a lick right now, though, since the Cubs kind of have an entire season in front of them before they can even think about 2019's free agents. Besides, Heyward was supposed to be something of a game-changer for them when they signed him to a huge deal prior to the 2016 season. And he was exactly that in a way.
Heyward's outstanding defense was key for that World Series run, and his infamous rain-delay speech was perhaps as valuable as any individual effort on the field. Rather than continue to rest on those behind-closed-doors laurels, Heyward now has his sights set on being the Cubs' 2018 MVP.
That, my friends, is bold. I don't give him much better odds than Frosty the Snowman surviving a July afternoon in the bleachers, but I'd be lying if I said I didn't dig the moxie and chutzpah Heyward's showing. If he's even going to come close to being mentioned in the same breath as Bryant or Anthony Rizzo or [insert your low-key team MVP here], it's going to be all about the bat.
No one doubts the glove or the baserunning or being a great teammate, it's just that Heyward's infuriating propensity for rolling over right to the second baseman has become an unfortunate trademark. And while more than one player's struggles went into the decision, the inability to debug that awkward swing surely contributed to John Mallee's demise.
Actually, let me walk that back just a little bit. Say my car is acting a little funky but it still drives really well in general and I'm very happy with it. Then I go to get an oil change and they talk me into changing the air filter, after which my car turns into a lemon. Even if the issue is purely coincidental, I'm going to blame the oil change place.
In much the same manner, Heyward was a very flawed hitter well before he got to Chicago. He's always had a duck-and-dive move and his hands are overly active, those were things the Braves were well aware of all the back to his rookie season. And since no one cares when you're posting solid numbers, it was one of those things they lived with.
If it ain't broke, right? I mean, do you remember Reggie Miller's shooting motion? His arms crossed post-release and his fingers splayed out oddly while his spindly legs spasmed like Elaine Benes on the dance floor, but you can't argue with the results. The Cubs saw a great deal more potential in Heyward than what he'd previously shown, to the point where they thought they could unlock the latent power in that massive frame.
So Mallee worked with Heyward on a toe-tap that was meant to help his pre-swing timing. That lasted into the second half of 2016 before being ditched. The hands got quieter and then louder again, the stance opened and closed like an unlatched barn door in a spring breeze. Mallee was a mechanical guy and whether it was his tinkering or just a natural outcome of Heyward's ever-changing swing, the blame had to fall somewhere.
Enter new hitting coach Chili Davis, who I'm told by those in the swing-coaching community is more about psychology and situational hitting — what to be looking for and where in what counts, etc. — than fine-tuning the physical aspects. Not that he's all laissez-faire about the actual mechanics, but you figure guys who've made it to the most elite level probably have some of that dialed in.
That approach should pay big dividends for several Cubs players, as situational hitting was one of the great laments from last season. Heyward in particular may benefit from more hands-off methods. In fact, he and Davis have been working together since the hire was made, putting in one or two days a week in the cage and in live BP over the last two months.
"I try to bring a mentality and not as much a philosophy," Davis explained. "Everybody has a philosophy and to me a lot of them match. I try to bring a mentality in how we approach the games day in and day out. Trust is huge."
Listen, I'm the last person you should listen to when it comes to hitting advice, but I know a little about doing something others might think looks a little funky. My writing style is probably not what most would consider mainstream, and I've tried before to conform to what a given publication wanted to see from me. Lo and behold, it kinda sucked. Like, worse than usual.
When I look at Heyward, I see that same Reggie Miller-ish, me-ish funk that you just kind of need to let do its thing. As gross as it looks at times, it's worse when you try to make it fit what you want to see.
Again, I don't think anything Davis and the Cubs do or don't do is going to turn Heyward back into a 6-WAR player. That's on the player himself. The confidence is good to see, though, and even a little improvement at the plate will combine with that perennial Gold Glove to make Heyward hella valuable.