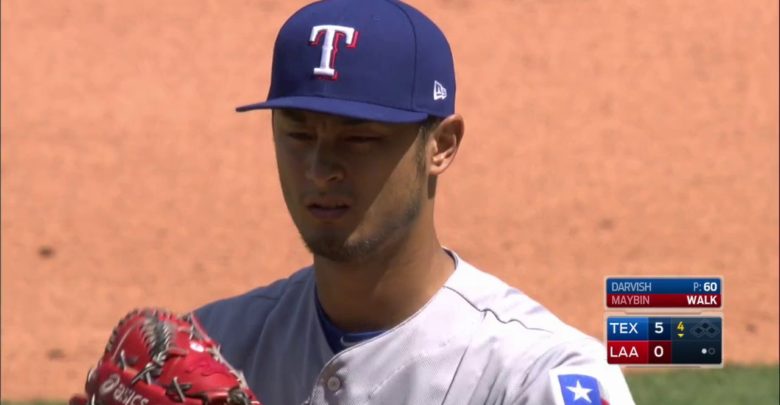 Cubs Reportedly Engaged in 'Active Talks' with Yu Darvish
It could be something, it could be nothing, but the AP's Jay Cohen reported Monday evening that the Cubs "are having active talks with free-agent pitcher Yu Darvish." This information came via a source "with direct knowledge of the discussions" who wanted to remain anonymous since there's no actual agreement in place between the parties.
The two sides have obviously been in communication for the last several weeks, but the use of "active" here carries a lot of weight. And while anonymity is kind of a given for any source in any situation, the qualifier about there not being an agreement feels like it's got a little heft of its own. There's also the matter of Darvish having "at least one five-year offer on the table," as ESPN's Jerry Crasnick tweeted out Monday afternoon.
This adds another layer of intrigue to earlier reports that the Cubs had agreed to a minor-league deal with backup catcher Chris Gimenez. Not only were Gimenez and Darvish teammates with the Rangers, but NBC Sports Chicago stats guru Christopher Kamka tweeted that they were paired in 12 of the 26 starts Gimenez made in 2014.
Mike Berardino of the St. Paul Pioneer Press took that a step further, saying that "Gimenez also caught all [Darvish's] bullpens in extended spring of 2016." That's when Darvish was coming back from elbow reconstruction, so it was a very important time for him and perhaps a very difficult one as well. It's entirely possible that the batterymates formed a very strong bond during those sessions. Sure enough, Berardino went on to say that "Darvish has told friends Gimenez is his all-time favorite catcher."
But wait, is it a little strange that a guy from the Twin Cities has all this info? Maybe, maybe not. The Twins have been after Darvish this winter and their GM, Thad Levine, was part of the Rangers organization when they landed Darvish six years ago. As a Twins beat writer, Berardino would have both the impetus and the sources to be all over Darvish news.
There's also the rumor from back in mid-December that Gimenez was actively recruiting his old teammate on behalf of the Twins. Take that for what it's worth, since Gimenez was a free agent at the time, but it's certainly not implausible. Heck, maybe they figured it'd be sort of a package deal, kind of like David Ross and Jon Lester. Which brings us back to the Cubs.
I'm not going to sit here and tell you that the Cubs signed Gimenez to give themselves a better shot at signing Darvish, but it sure doesn't hurt. It's even possible that they went first things first, knowing that the details of a minor-league deal for a backup catcher are slightly easier to iron out than those for what could be the biggest free-agent signing of the offseason.
Again, maybe this is all just smoke and mirrors. Or maybe you need to stay up late tonight.