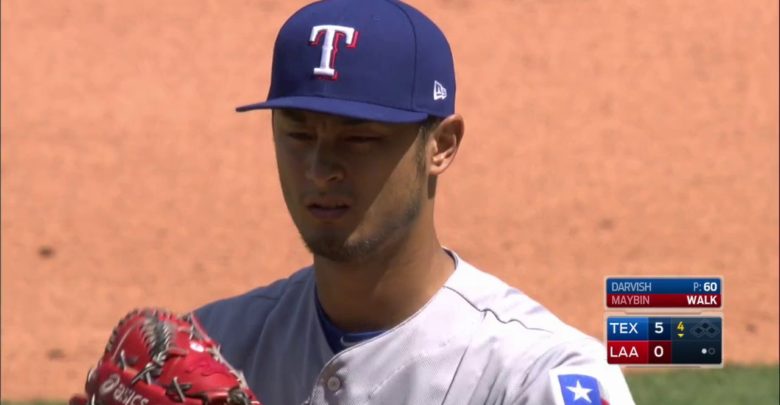 Morosi: Twins Have to 'Step up in a Profound Way,' Outbid Cubs by 'Clear Margin' to Land Darvish
Between the players on the field and the various additions and improvements to Wrigley Field and its surroundings, the Cubs have quite constructed a brand-new organizational culture. And we've seen with several free agents, most recently with Brian Duensing, that playing for a winner in Chicago holds significant value.
As John Morosi shared with MLB Network Radio Monday (clip at end of story), that could be true for Yu Darvish as well.
"I do agree with some recent reporting by Jon Heyman about this, that the Cubs may well be the favorite," Morosi confirmed. "I'm not sure if they're beyond 50 percent at this time, they may have a plurality of that percentage as opposed to a majority of it — the likely outcomes — but I do think the Cubs are heavily involved. As are the Twins."
The Heyman report Morosi referenced came out over the weekend and questioned whether the Cubs were indeed out front, citing interest from the Twins and Brewers. Milwaukee owner Mark Attanasio has said they've got room on the payroll to add a top starter, but that's not quite the same as having the willingness.
"The Brewers, I could still see it, but maybe a bit more challenging given the outlay they just made for Lorenzo Cain," Morosi reasoned. "I think more likely for the Brewers is they'll trade someone to fill that pitching need."
That's more or less exactly what Ken Rosenthal was hearing from his sources, indicating that the Brewers weren't too keen on pushing past $100 million. In support of Attanasio's claim, they do have more than $87 million remaining under the CBT threshold, though whether and how they choose to shrink that number remains to be seen.
Other would-be Darvish suitors like the Yankees and Dodgers have made strenuous efforts to get under the threshold and find themselves unable to maneuver any further. Well, unless they can somehow manage to unload the nigh-immovable contracts of Jacoby Ellsbury and Matt Kemp. And even if they could move those aging players, the money they'd have to eat to do so wouldn't afford them much cap space.
All things considered, the Darvish race has narrowed considerably over the last two weeks or so.
"I look a lot at the Twins and the Cubs," Morosi said. "And if we take a step back, the Cubs, as we know, just signed Chris Gimenez, as we talked about earlier in the show. And Gimenez, of course, has worked with Darvish a lot in Texas.
"So there's a familiarity there where they have signed now, maybe not somebody who'd be his personal catcher, but someone who he knows very well. And that, I'm sure, resonated…that signing I'm sure resonated with Yu Darvish as he was contemplating what to do next."
Heyman sort of pooh-poohed the Gimenez signing in that earlier linked piece, but we've made kind of a big deal about its potential implications here at Cubs Insider. While it's certainly not the lone deciding factor, having a familiar face and preferred catcher is as real a value prop as anything that doesn't involve the number of zeroes on a paycheck.
And with Gimenez telling MLBNR that he's been talking to Darvish twice a day over the last week, it's obvious that this isn't just a matter of Theo Epstein and Jed Hoyer taking a random stab in the dark on a guy. Recruiting efforts aside, Gimenez seems like a pretty good dude and he's a solid veteran backstop who actually hit pretty well last season. He's basically a Grandpa Rossy clone.
All things being equal, it's those little intrinsic benefits that could move the needle for Darvish.
"I believe — and I had a source tell me in the last week or so — given what we believe about Darvish and his interest in the Cubs, the Twins will have to substantially, maybe not substantially, but I think the Twins are going to have to clearly win the bidding. If the bidding is close between the Twins and the Cubs, I could see the Cubs winning, even if maybe they're a little less in total value.
"I think the Twins have to win by a clear margin. I look at this and say, 'If the Twins don't really step up in a profound way in the next 48-72 hours, there's probably a pretty decent chance that Yu Darvish becomes a Chicago Cub.'"
.@jonmorosi believes other teams will have to win the Yu Darvish bidding by a "clear margin" to keep him from going to the #Cubs pic.twitter.com/Egk1fyNeCd

— MLB Network Radio on SiriusXM (@MLBNetworkRadio) January 29, 2018