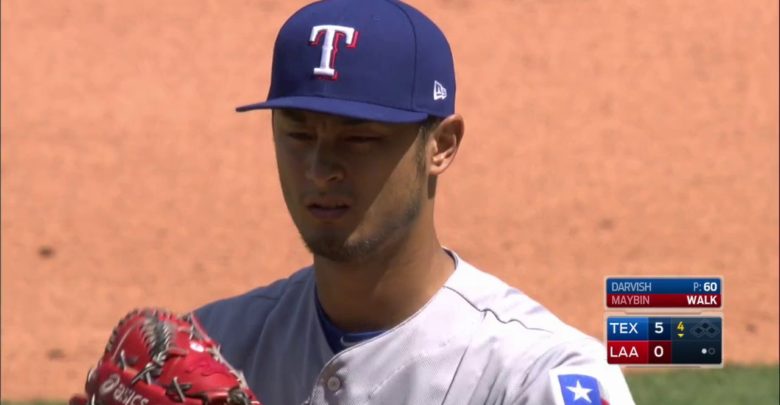 Darvish Believed to Be Weighing Multiple Nine-Figure Offers
It's been so long since I wrote anything about Yu Darvish that I was actually starting to experience withdrawal symptoms. And while the latest little nugget from Ken Rosenthal (subscription required, 20% off here) was buried in the midst of a segment on Scott Boras, starving vagrants can't be discerning.
After laying out the plight of the super-agent's 15 remaining free agents, Rosenthal included the almost offhand comment that Darvish — who is not a Boras client — "is believed to be weighing multiple $100 million-plus offers." I'll caution you to savor this morsel with more restraint than I showed, lest you end up with a rumbling tummy and nothing with which to satiate it.
I dove into the Dumpster in search of more salient information on Darvish or the Cubs, but came back with only stains on my shirt and a pissed-off rat. Despite that futility, I think we can all establish a pretty good idea of where those offers are coming from. The Twins, Cubs, and Brewers pop up as the most likely options, though it's possible another team or two is in the mix.
The Phillies have money and could be looking to "overpay" in AAV over a shorter deal, though that doesn't seem like something Darvish would be willing to go for. If we're really stretching for mystery teams, Mets and Orioles are said to be in the market for starters as well. Then again, neither of those organizations would be pushing to the nine-figure mark.
There's been little in the way of exact numbers with Darvish this winter, but we've heard that he may be seeking something in the neighborhood of Stephen Strasburg's seven-year, $175 million deal. While that isn't going to happen, it's possible that a team like Minnesota or Milwaukee could get aggressive and creative with a deal that is structured like the one Boras negotiated for Strasburg.
What I mean by that is a back-loaded deal with tons of deferments that would balance the AAV for tax purposes while also keeping the team's raw payroll down during the active years of the contract. Of course, the Cubs could do the same thing.
We've also heard that the Cubs are holding steady at four years, with the Twins willing to push to five. All things considered, you'd think a sixth year would get a deal done for either team, provided the guaranteed money is there. Alas, I think I said the same thing weeks ago.
I was going to leave it at that, but it'd be a shame close this without sharing Boras's latest drawn-out metaphor from that Rosenthal piece. Love him or hate him, the guy is certainly entertaining. Boras, I mean, not Rosenthal. Although Rosenthal is plenty entertaining in his own right, so…oh, what the hell, I'll shut up so you can read the quote.
"The off-season is like the America's Cup," Boras said. "We have 30 boats in the water. They take off and eventually they get to the free-agent docks. Normally, there are trade winds, and there are economic investments in the capacity of the boat, which allow those boats to get to the appropriate free-agent docks.
"This year, there was a detour to Japan, where there was a $250 million asset available for $3 million (Ohtani). All boats went to Japan. Then they sailed back a good distance. They came to Florida and found a sinking ship and all of its cargo was in the water (Dee Gordon, Giancarlo Stanton, Marcell Ozuna, Christian Yelich). All teams tried to load it on their boats.
"That took additional time. Then, as they moved forward to the free-agent docks, they found other ships dumping cargo—Pittsburgh and Tampa Bay and a few others—which then slowed their arrivals to the free-agent docks. So, trade winds, Japan, shipwreck in Florida, more cargo-spewing, all those things artificially delayed the arrivals to the free-agent docks."