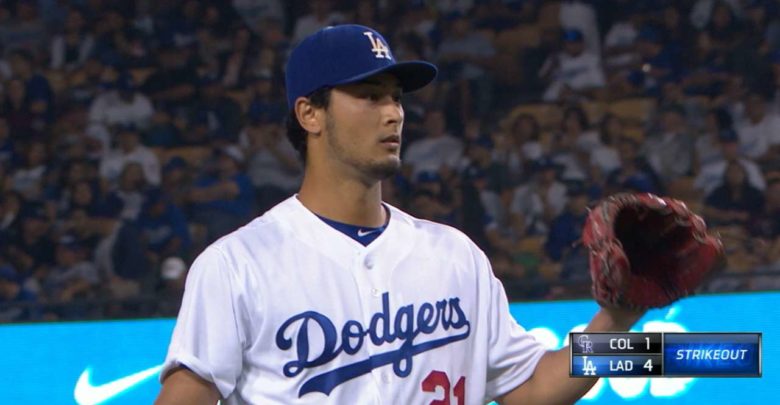 Nightengale Predicts Darvish to Cubs for $125M, Arrieta to Nats for $120M
Listen, I know a lot of you are already skeptical after seeing the title, and I get it. But what I found much more interesting than Bob Nightengale's actual predictions for Yu Darvish and Jake Arrieta was the information he provided in support of them.
We saw earlier from Ken Rosenthal that Darvish was weighing multiple $100 million-plus offers, but Nightengale reports that there are "several teams who have offered five-year deals." Though the last report on the Cubs' pursuit of the Japanese righty had them unwilling to exceed four years, it figures that they would be among those several teams.
According to Nightengale's report, Darvish may have been looking at David Price's $217 million or Zack Greinke's $206.5 million at the outset of free agency. Now, however, he is seeking to at least match Johnny Cueto's six-year, $130 million deal. That's a huge drop in asking price and it could come down further still if the writer's prediction of five years, $125 million is accurate.
Nightengale also confirms that Darvish is indeed holding out hope that the Yankees or Dodgers can clear enough salary to add him and remain under the luxury tax limit. That seems highly unlikely and Darvish is unwilling to sit out, so he will likely end up with the Cubs, Twins, or Brewers.
Of those three, the Cubs appear to be the most willing/able to spend the money at this point.
That's not the case when it comes to Arrieta, who has "barely even engaged in contract talks this winter" with his old team. Nightengale predicts that the former Cy Young winner will end up in Washington on a five-year, $120 million deal, which really isn't that much more than he'd reported the Cubs were willing to offer (4/$110M).
The idea of Arrieta going to the Nats has been out there for a while and we discussed it here at CI back in December. Along with Max Scherzer and Stephen Strasburg, nearly half the Nationals roster is repped by Scott Boras. I'm not sold on them adding another $24 million AAV to that rotation, but they could see it as a value relative to what Arrieta could have gotten on the open market in previous seasons.
Also of note from the column are the predictions that Alex Cobb will end up in Milwaukee (4/$65M) while Greg Holland goes to St. Louis (2/$25M). Both of those deals would represent big discounts over what each pitcher had reportedly been looking for, with Holland's falling well shy of the record deal Wade Davis got in Denver.
With less than a week to go before pitchers and catchers report, you have to think something will happen here soon (famous last words). None of these guys want to settle for less than they feel they're worth, which is as it should be, but there's something to be said for getting into camp and having plenty of time to acclimate to their new teammates and coaching staff. Falling into a routine is incredibly important as well, particularly for the starters.
Where they end up falling is anyone's guess at this point, but I'm actually inclined to agree with Nightengale for the most part here. How about you, got any thoughts on these pitchers and their destinations?