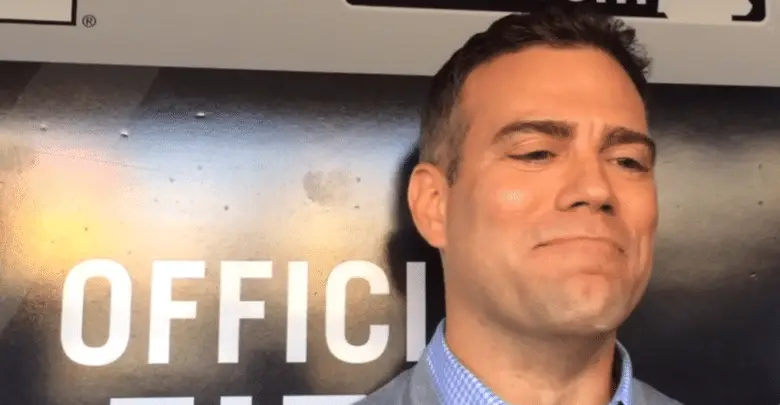 The Rundown: Cubs Eye World Series with Darvish Signing, Revisiting Machado Rumors, 5 Questions Facing Cubs
Well, $126 million is not $175 million and so Yu Darvish is a Cub. Cubs Insider has it well covered and I don't really have much to add. Incentive-laden deals have been around for as log as baseball has been a professional endeavor, and Darvish can earn an extra $24 million if he meets certain benchmarks. Number of wins, of course, is not an incentive.
Kyle Schwarber is certainly excited.
Kyle Schwarber: "Theo's Theo. He's the best at what he does and he wants to bring in the best talent. Bringing in Yu Darvish there is a big addition."

— Patrick Mooney (@PJ_Mooney) February 11, 2018
The left fielder should be excited. The Cubs now boast arguably the best starting rotation in the National League, if not all of baseball, though FanGraphs still ranks the Dodgers and Astros a bit higher. Though they lack real depth, there are plenty of options available to the Cubs, whether it means an addition or two this spring or before the trade deadline in July. I mean, nobody wants to see Eddie Butler or Alec Mills taking the bump in a meaningful August or September game.
The Darvish deal is not without its detractors. As I see it, the Cubs got the best pitcher available for about $1 million more per season than Alex Cobb was said at one time to be looking for. How do you turn that down? Brian Kenny of MLBN thinks this is a risky deal for the team.
#YuDarvish goes thru #FreeAgent RedFlag system:
1. Wrong side of 30? – (Yes)
2. Wrong side of def spectrum? – (Pitcher, Yes)
3. Misreading of metrics? – (Cubs? No)
4. Longer than 5yr deal? – (Yes)
5. Branding over Baseball? – (No)
..
3/5 Red Flags…Risky Deal

— Brian Kenny (@MrBrianKenny) February 10, 2018
There is also a prevailing presumption that this will lead to a flurry of free agent signings, but I'm not buying that just yet. The players available at the top pf the food chain are largely represented by Scott Boras so I don't think there are any discounts to be had there. In fact, Jake Arrieta allegedly turned down an offer from the Cubs that was similar to the one Darvish signed. You may be disappointed if you are hoping for a late-winter surge in signings. Boras is unlikely to budge on any of his clients.
With Darvish in the fold, the remainder of this winter's baseball unrest feels far away and forgotten. The Cubs' Opening Day roster is likely intact barring injury or trade, and there are virtually no big league opportunities for some of the Cubs minor league players.
Certainly teams will be calling about the availability of Mike Montgomery. It might be a good time to revisit those Manny Machado rumors, especially if the front office hopes to reel in Bryce Harper next season.
Cubs News & Notes
The team has five remaining questions as it begins Spring Training, and Bruce Miles of the Daily Herald breaks them down:
Is Kyle Hendricks the team's ace?
Is the rotation deep enough?
Who leads off?
Who is the team's closer?
Can Jason Heyward improve?
The Darvish contract is very similar to the one Johnny Cueto signed two years ago with the Giants. That seems fair given the pitchers are statistically similar. The lesson here is that being the top free agent available in any given offseason does not necessarily equate to elite level contracts, and for Arrieta, that may end up being a bitter pill to swallow. This year's class has been labeled weak for the past few years. Nothing has changed that analysis.
Though the grind of a third straight trip to the NL Championship series left an indelible impression, Cubs' players are eying a return to the World Series this year. "I think once you get there and it's not a fluke, guys have an attitude that they want to prove that they're worthy champions every year," Theo Epstein said, "and we're still in position to play deep into October and hopefully put another one on the flagpole."
Brendan Miller and Corey Freedman spent an hour breaking down the Darvish deal in the latest Cubs Related podcast.
Weekend Stove
As spring training begins this week, baseball's endless offseason remains at the forefront of MLB news.
There is a widening gap between baseball's elite and its middle class and the Darvish signing helped to increase that disparity just a bit.
The Brewers' interest in Yu Darvish may have been slightly exaggerated and more of a ploy to get the Cubs to increase their offer to the free agent starting pitcher.
Scot Gregor of the Daily Herald looks at five key questions facing the White Sox ahead of spring training.
Nationals bench coach Chip Hale explains what to expect from first year manager Davey Martinez.
A number of teams have shown interest in Jake Odorizzi, though you can probably remove the Cubs from that list. Brent Honeywell is already gunning for one of the openings in the Rays' rotation. "I don't have any doubt in my mind I could break camp with them," Honeywell said. "Don't have any doubt. I'm going in to win a job. Whatever happens, I've done everything I can possibly do to get to the big leagues in my opinion. But what's my opinion."
The Yankees are reportedly interested in Odorizzi and Lance Lynn.
The Cardinals have 10 areas of concern entering spring training. There haven't been any newsworthy headlines from the Archway City since team President John Mozeliak suggested the NL may eventually favor a DH at the team's annual Winter Warm Up in January. Incidentally, the rumor that owner William DeWitt hides the team's checkbook until the Cardinals' annual Easter Egg Hunt can neither be confirmed nor denied.
Talented Brewers outfielder Christian Yelich has been very good so far but the possibility exists that he may have already reached his ceiling.
Monday Walk Up Song
Blue Sky by the Allman Bothers. Hello, Arizona.