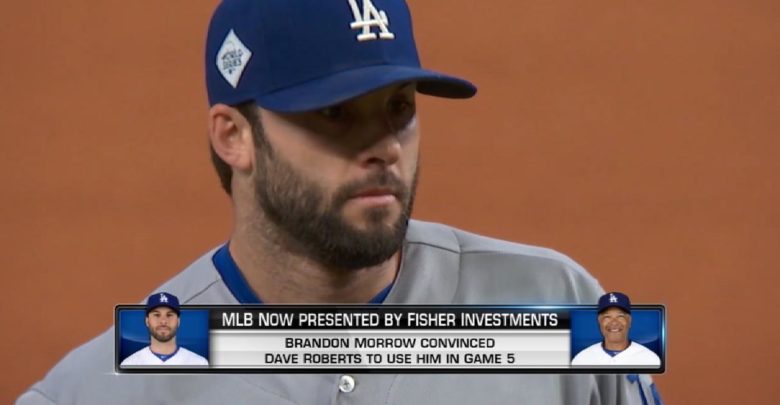 Cubs Using Brandon Morrow as Traditional Closer Could Promote Better Performance
Theo Epstein has put together a bullpen that could end up being the league's best. ZiPS thinks six Cubs relievers will have an ERA- under 82: Justin Wilson (70), Brandon Morrow (72), Carl Edwards Jr (72), Pedro Strop (76), Steve Cishek (76), and Brian Duensing (81). Despite all these similar projections, Epstein has made it clear that they're going to use Morrow in a more traditional closer role.
The Cubs' baseball boss demonstratively reiterated that the former Dodger would indeed be the closer when he joined Mully and Hanley on 670 The Score Wednesday.
Theo Epstein: 'We don't see bullpen by committee,. We think we've got a really good bullpen, and Morrow's the closer'https://t.co/3myCccTZ93 pic.twitter.com/BzBLk0tInF

— 670 The Score (@670TheScore) February 15, 2018
I love that Epstin was like, "Yeah, uh, Morrow is the slam dunk closer here. No questions asked."
As baseball evolves, the lines between closer and just a high-leverage reliever are blending. We saw this on display as recent as the 2016 World Series, when Terry Francona deployed Andrew Miller in the middle of the ballgame despite being one of the game's dominant relievers. Many members of the baseball intelligentsia advocate for using a "closer" at the highest-leverage moment of the game, even if that means calling upon him in the 6th or 7th inning.
In a vacuum, using your best reliever at the most stressful moments of a game makes sense. Except it's impossible to predict exactly when those moments will occur, and the psychological effect of not knowing whether or when he'll enter the game could actually put a pitcher at a noticeable disadvantage.
Now, I don't have any actual data to prove that traditional closers might struggle if they are just used in the middle of late part of games. That's just an impossible thing to actually quantify. But, in general, retaining the traditional closer role makes sense.
For example, neuroscientists asked the question of whether predictability improves performance. They found that lengthening cue periods (for a closer, this might mean the 7th inning when a team is winning) leads to reduced switch costs (i.e., bad performance), indicating that switches (like a closer going from the bullpen to the actual mound) benefit more from longer preparation times than repetitions (Logan and Bundesen, 2004). This effect is even more pronounced when additional cues (like a bullpen coach going over scouting reports of predicted 9th inning batters) are provided during preparation time (Koch, 2003).
So Epstein coming out and putting his seal on the Morrow-closer role is huge, in my opinion. It lets Morrow plan for those eighth or ninth innings right now, and it lets him prepare on his terms during games.