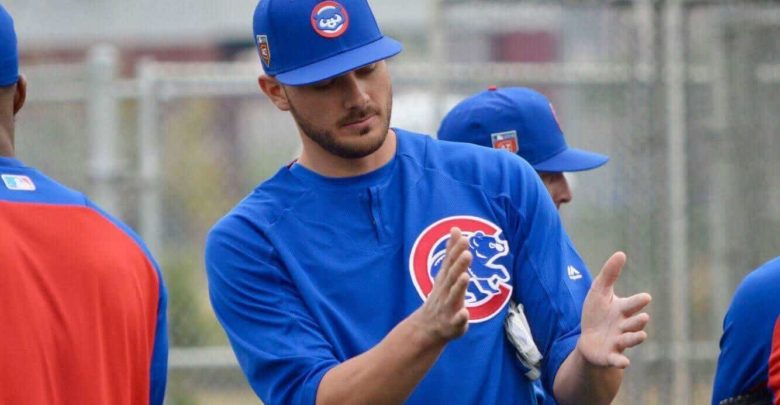 The Rundown Lite: Bryant Vows to Step Up as Labor Leader, Cubs Sign Allen Webster, Latest on Arrieta
This is my first Saturday without kids basketball games, so I figured there'd be no better way to spend it than by aggregating some Cubs news against the backdrop of my son's Netflix shows. Then it's off to Dick's Sporting Goods to load up on gear for the upcoming Little League season.
Bryant vows to fight
Because he's so soft-spoken and always seems to have at least a shadow of a smile threatening to light up his spokesmodel visage, it's easy to think of Kris Bryant as a quiet superstar. He comes across as an actions-louder-than words guy, one who'll let the captions of billboards do all the talking for him. And if you've ever met his old man, you know that Bryant has always had a very vocal advocate in his corner.
But now that he's firmly established himself as one of the game's top talents, Bryant is ready to step up when it comes to labor matters. In fact, Gordon Wittenmyer reports in a great piece that's worth your time that Bryant wants to take over for Jake Arrieta as the Cubs' player rep with the MLBPA.
"I need to study up, have my voice heard, continue to learn, because this is going to affect us for years to come," Bryant said. "And I'd be foolish not to kind of offer myself out there."
He mentioned the infamous 11-game period at the start of the 2015 season in which the Cubs kept him in AAA to delay the start of his service-time clock. And while he has gone on to set records for second-year salary and first arbitration raises, those figures pale in comparison to what he'll be able to earn in an extension or a free-agent deal.
Seeing the way this winter played out really spurred Bryant to be more vocal, and it sounds like this could turn into a pretty volcanic situation. And not just in the sense of being explosive and destructive, though that could no doubt be part of it. Bryant's goal is to alter the current landscape to make it better for the players, even if such change does require incendiary force.
"But I think with this next [CBA] things are definitely going to change, and there'll definitely be more fight on our side just because we're going to get the chance to experience the effects of some of the things we agreed to," Bryant predicted.
"The only way to get what you want here is to fight for it. And I think you're going to see a lot of that."
Wittenmyer quotes Jeff Samardzija and Kyle Hendricks as well, but Bryant's engagement in the matter has the potential to be seismic. When a dude who's normally all quiet and implacable actually gets pissed off, watch out.
Cubs buy another lottery ticket
When teams pick up former top prospects on minor-league deals, it's often referred to as "buying a lottery ticket." There's virtually no risk in it and the chances of really paying off are slim, but the payoff could be big if the numbers actually do hit. That's the case with 28-year-old Allen Webster, who the Cubs recently inked to minor league deal.
My first thought was that this signing was a nod to the old WGN sitcom lineup that would precede or follow Cubs games in the 80's, but Webster might have a little gas in the tank. He'll have to floor the pedal, though, as his mid-90's fastball has lost a few ticks since his debut and he's been roughed up at AAA and in Korea over the past few seasons.
Webster's aggregate 1.431 WHIP over 10 professional seasons doesn't speak highly of his ability to either miss bats or find the strike zone, and that number is actually far better than he's done since 2015. His 1.663 WHIP with Round Rock, the Rangers' AAA affiliate, last year was his lowest in the past three seasons. What's more, it came with a scary 2.2 HR/9 mark.
If nothing else, this move gives the Cubs a little more pitching depth, which is a sentiment that will reverberate in a perpetual echo chamber for the rest of time.
Arrieta will have to take steep discount
The Nationals and Phillies continue to be listed as the top destinations for Jake Arrieta, though neither is going to sign him for anything close to what he was initially looking for. As Jorge Castillo of the Washington Post reports, the Nats are not about to add a No. 3 starter for ace money.
In fact, the two sides "haven't engaged…recently" and came away from a meeting early in the offseason with "very different opinions on proper compensation for Arrieta." And as we've noted here before, Washington is already well over the luxury tax threshold and still has a boatload of money committed to Max Scherzer and Stephen Strasburg.
Philly, on the other hand, has enough to add two of the market's top remaining starters without sniffing the luxury tax. But MLB.com's Todd Zolecki reports that the Phillies are unwilling to go beyond three years on a deal for Arrieta, let alone either Alex Cobb or Lance Lynn.
Zolecki adds that even the three-year, $38 million deal the Cubs gave Tyler Chatwood may be more than the Phillies would be willing to give the latter pair. Which, wow, that would be a shocking turn. I mean, yeah, we're already more than two weeks into spring training and the dearth of deals is old hat now, but those guys being pushed that low is cray-cray.
Saturday walk-up song
The theme from The Office. Our own Corey Freedman put together one of the best compilation videos I've ever seen.