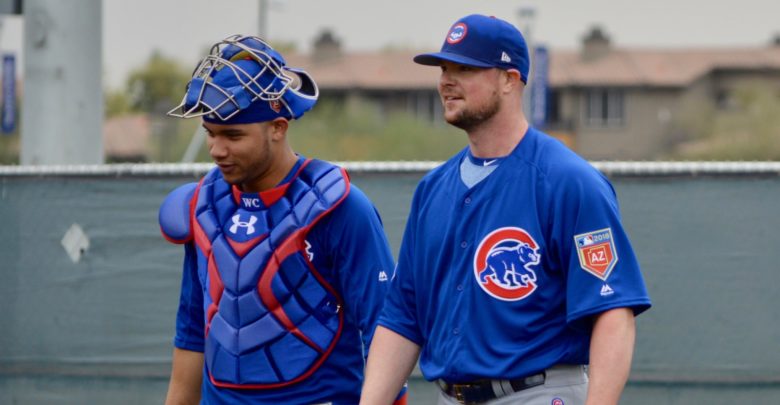 Lester Reveling in Chance to Get Up After Having Butt Kicked
On the surface, it may not seem like Jon Lester has much in common with the members of the Cubs' front office. And though Theo Epstein said he had been willing to soak himself in deer urine to woo the lefty, I'm not sure how often we'll see the team president up in a tree stand or hiding in blind. There is, however, one obvious common trait: These guys are going to tell it to you straight.
Lester may not see fit to put much polish on his words and he's generally a little more terse than his bosses, but he's got no problem being transparent.
"Whoever wants to put 'hangover' or whatever on there, I think guys last year it ended a little sour and they're ready to improve on that," Lester told the media Friday when discussing the vibe in camp this season. "It didn't go as well as I wanted or expected last year. It's been a good energy, even the non-roster guys, the fill-in guys, they've all done a great job."
It's dangerous to put this out there absent the proper caveats, but the Cubs do seem to be playing at a different level this spring. And as Lester mentioned, the solid performances are coming from All-Stars and non-roster players alike. That's why it's not as easy to "Yeah, but…" the idea that the Cubs are competing largely against teams of minor leaguers and hangers-on.
Without ascribing too much validity to the actual results, the Cubs' execution and energy in these spring games appears more similar to the 2016 season. There was a sense two years ago that this team was legit and that they were ready to take over the world. And while Dallas Keuchel might feel otherwise, the Cubs still have a pretty decent collection of talent. In fact, this iteration may be even better than the one that won the World Series.
It'll take stronger performances across the board to get back to that level, but we're talking about a team that is still pretty young. Many of these players are only now entering their respective primes and the depth the front office has added provides more security against the inevitable bump in the road of the season.
But what will perhaps have the greatest impact is the players' mentality. Lester indicated that the Cubs simply got a little lazy or that they weren't as hungry as they had been and needed to be. He put that on himself as well, admitting that they needed to collectively be taken down a peg or two.
"We were feeling good about ourselves, we just broke a 108-year-old curse," Lester explained. "I'm sure when we came into camp there was a feeling of, 'Well, we'll just show up and do it again.' I don't know if that's true, but I think it's good sometimes to get your butt kicked and knocked down, especially after you've tasted success. I think we're in a good place."
Someone cue up the Chumba Wumba, Lester's ready to get back up again. Oh, and if you don't mind, maybe grab me a lager drink.