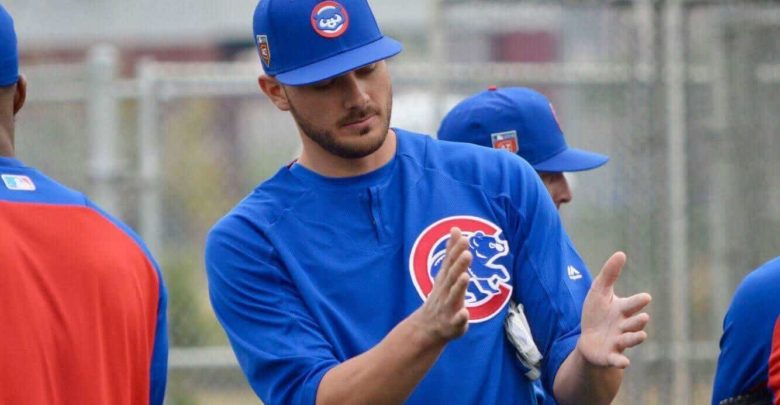 Bryant Aiming for Greatness, Could Actually Walk More Than He Strikes Out in 2018
Kris Bryant is a fictional creation who seems to have sprung forth from a weird science experiment conducted by a couple of kids wearing jocks on their heads and messing around with a boatload of advanced tech. He's just too good to be true: Doesn't drink, doesn't cuss, model good looks, married to his high school sweetheart…and still getting better.
And what's really wild about the whole thing is that the latter of those seems like the most implausible. After all, it's not just Big Brother who's watching these days. We're living in an age in which the whole damn family is part of the omnipresent prying eye, ready and willing to expose the flaws and foibles of men and women who'd previously occupied their ivory towers with impunity.
Not that understanding the utter humanity of even the most talented individuals is a bad thing, mind you, just that it's different from the way things once were. Thanks for letting me clarify that.
So, yeah, it's a little crazy that it's easier to believe in Bryant's wholesomeness than his improvement as a baseball player. Not that he really cares. All he's ever tried to do is get better, which is kind of a necessity when you grow up chasing the ghost of Ted Williams. That's a dream that was passed down from his father, one that was fulfilled to a small extent when Bryant homered over Fenway's Green Monster with his family in attendance last season.
You might think it'd be enough to just reach the majors or to be named Rookie of the Year or to win MVP or to co-author the last great American sports story. Not for Bryant, who returns home to Las Vegas each winter to get back to work with his lifelong hitting coach on how he can continue to fill the holes in his game.
"Nothing special: Better zone coverage, hitting everything [to] center/right-center," Bryant's father, Mike, told CI about what they'd focused on this past offseason. "More high line drives than lifting the ball. Focusing on pitch recognition by seeing it and tracking it.
"Tracking the ball is just part of an approach that raises one's awareness level, trying to see the spin on it as early as one can," Mike shared with CI. "I call it : See it; Track it; Be easy; Go oppo."
Much of that work was obviously aimed at actually hitting the ball, but as Steve Greenberg of the Sun-Times writes, Bryant's stated goal for the season isn't just about making contact.
"There's a lot of really good hitters that have high averages and not the highest on-base percentages, but I don't want to be just a good hitter — I want to be a great hitter," Bryant said. "So you take your walks when they come. It's all about getting on base and scoring runs."
Far from running contrary to what his father spoke about, taking walks goes hand in hand with the idea of tracking the ball early and having better zone coverage. Pitchers are going to keep trying to beat Bryant in different ways, but better recognition of what they're throwing will help him to counter that. And beyond just picking up the spin out of a pitcher's hand, knowing what to expect from certain pitchers in certain counts will help even further.
As the elder Bryant shared with CI a little over a year ago, that kind of understanding only comes with time. The game is so fast at this level, the scouting and execution so good, that it takes time for a hitter to really feel comfortable sitting on pitches. Which is to say he's able to "guess" at the location and sequence of the pitches he'll see.
"And if you start to see [him recognizing and sitting on pitches], then Kris will start walking a lot more," Mike said. "We get into the hundreds of walks a year, 150 walks a year, which'll be amazing because he'll start sitting on pitches. But he won't sit on pitches now because he doesn't trust his thinking yet. Eventually he will, as he gains experience."
That's a lofty goal, since 150 walks would be double what Bryant racked up in his MVP season. It's also only half the story, as the 26-year-old has been able to decrease his strikeout totals and percentages in each of his three MLB seasons. And if he keeps up current trends, he'll be getting dangerously close to a 1:1 BB:K ratio, something only five qualified hitters* achieved last season.
"One-to-one is obviously superstar level," Bryant said. "I think Anthony [Rizzo] did that last year." (He did.)
Pretty amazing to think about him getting there when we're talking about a hitter who led the National League with 199 strikeouts in 2015 and who sits fifth in all of baseball with 481 K's since he debuted. Of course, he's also the hitter who ranks 10th in MLB with 247 walks in that same time. Even if Bryant doesn't reach 150 walks, it's more than conceivable that he could hit triple digits after notching 95 free passes last year.
Bryant posted a 2.58:1 K:BB ratio (yes, I've inverted the order for display purposes) during his rookie year, then cut it to 2.05:1 during his MVP campaign. He made an even bigger jump last season, getting to 1.35:1 with big improvements to both his strikeout and walk totals.
As with any endeavor, though, improvements become increasingly difficult and incremental over time. It's like Zeno's paradox of movement, which seems particularly fitting in this case. But let's just say for s's and g's that Bryant is able to make improvements identical to those he experienced last year. His walk rate would rise to 17.9 percent and his strikeout rate to 16.4 percent. Whoa.
When you look at it that way, it seems almost imminent. And it gets more so when you look at what Rizzo has been able to do. Though his strikeout rates with the Cubs have always been lower than Bryant's, Rizzo experienced a big drop in K's — from 18.8 to 15.0 percent — after his third season in Chicago. Hey, that third-year mark is really similar to Bryant's 19.2 percent last year.
Then you factor in walk rate, an area in which Bryant has always excelled. Even in Rizzo's 1:1 season, he walked at only a 13.2 percent clip, a tick below what his Bryzzo business partner posted. Improving his walk and strikeout rates by 2.4 points, respectively, would see Bryant at a 1.006:1 K:BB ratio in 2018 (based on career average of 671 plate appearances).
I know it's only spring training, and you have to factor in the illness that kept him out of the lineup for a few games, but Bryant is sitting at eight K's and seven walks right now. But, Evan, he hasn't hit any home runs. Yeah, I guess you got me there.
The moral of the story is that we're talking about a player who has already achieved the greatest accolades his sport can bestow and who's still getting better. Have I already written that enough for it to have worn thin? Because I've made similar statements several times over the past two or three years. But you know what? I don't care. If and when it stops being true, when Bryant stops getting better, I'll stop writing it.
Good thing for both of us, I won't have to stop writing it for at least a few more years.
*Anthony Rizzo (1.01), Anthony Rendon (1.02), Mike Trout (1.04), Justin Turner (1.05), Joey Votto (1.61)