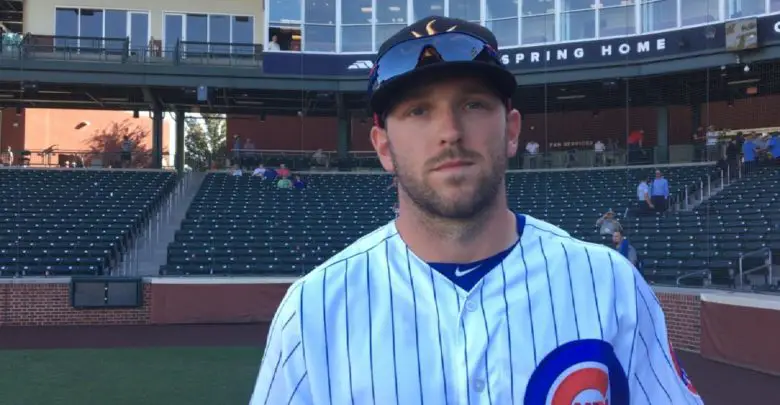 Big Surprise Among Three Cubs Catchers Ranked in Top 20 for Offensive Projections
"I used to watch a lot of the [best catchers in the game], but now I'm watching myself because I know that I'm going to be better than them. That's my plan. That's my [mindset]," Willson Contreras said at Cubs Convention back in January. That's a pretty bold statement, but computers believe Contreras isn't alone on his own roster when it comes to making good on it.
Thirty starting catchers will squat behind the dish come opening day, but 11 of those backstops are projected to create fewer runs (according to ZiPS) than a trio of Cubs catchers. The first two are easy: Contreras and Victor Caratini. The third, though, isn't quite so obvious.
If you guessed Ian Rice, you win. Or you recognized him from the picture, which, let's be honest, you definitely did if you guessed his name.
Let's consider the magnitude of Rice's projection in light of the players he's projected ahead of. Salvador Perez, Francisco Cervelli, JT Realmuto, Wellington Castillo, and Yadier Molina all have worse wOBA projections than Rice. Of course, these men are among the game's premier defenders.
But, c'mon, how great is it from a pure entertainment perspective that the No. 5 catcher on the Cubs' depth chart is projected to finish with a better wOBA this year than almost every catcher in the league?
It should be noted that Rice is also projected to accumulate 377 MLB plate appearances, which would probably only come as the result of an injury. Or two. So let's hope that's not the case. As unlikely as that is, though, it's significant because his .312 wOBA projection — which is ranked 19, 10 spots ahead of Molina's .303 — is based on more than just a tiny sample.
Even if the projections don't come to fruition, the moral of the story is that Rice isn't some schmuck.
"The word 'majestic' pretty much sums up my view of Ian Rice, whose beautiful uppercut swing is designed to hit the ball a long way," CI's Todd Johnson wrote earlier in the year. Likewise, FanGraphs featured Rice as a deep sleeper prospect.
In non-Rice Cubs numbers, Contreras's wOBA projection is .339 (4th) and Caratini's is .313 (18, just ahead of Rice). Chris Gimenez is at .296, tied for 41st with none other than Miguel Montero. That's solid stuff, folks.
But gosh, I'm sorry, I just need to say this one more time: Ian Rice has a better offensive projection than Yadier Molina. Amazing. Now all the Cubs prospect needs to figure out is how to get a ball to magically stick to his chest protector.