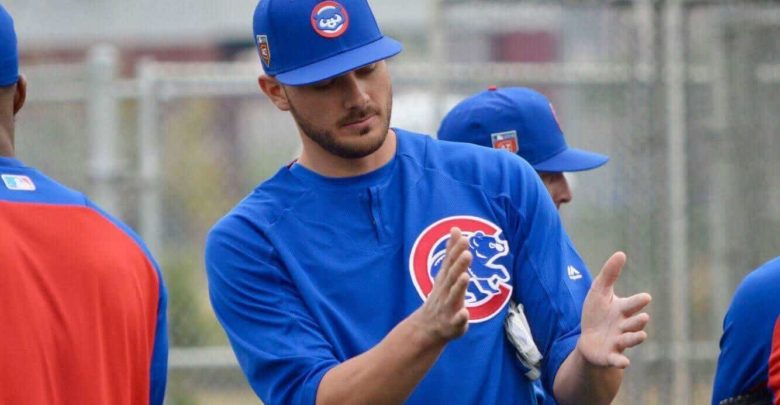 Could Fear of Getting 'Moosed' Lead to Extensions for Bryant, Russell, or Hendricks?
Baseball has a new cautionary phrase: Getting "Moosed." A more narrow derivative of "Munsoned," it is the fear of being the last player left unsigned in the offseason game of free-agent musical chairs, as exemplified by Mike Moustakas this offseason.
Fear of being "Moosed" may be driving a small wave of recent, lengthy contract extensions. Eugenio Suarez and the Reds agreed to a seven-year, $66 million extension and Jose Altuve signed a monster $150 million deal that runs five years. Of note here is that Altuve is represented by Scott Boras, who also represents Moustakas and routinely recommends that his clients avoid extensions and test free agency instead.
That is of particular importance to the Cubs, since Boras represents both Kris Bryant and Addison Russell. In view of the influence these recent events could have on subsequent rounds of free agency, could extensions for Bryant and/or Russell be realties in the near future?
My guess is that Bryant is not afraid of being Moosed. He has three more years of arbitration before hitting free agency, giving him time to see if the market will rebound.
I can also virtually guarantee that Bryant will not sign an extension prior to Opening Day. The average annual value (AAV) of any Bryant extension is going to run well north of $20 million. In fact, I estimate Bryant's three remaining arbitration years alone at an AAV of $19 million. Because the Cubs only have around $11 million in luxury cap space left in 2018, a preseason Bryant extension would take them over the luxury cap in 2018. I do not want to delve into the myriad ways this would cost the Cubs, but suffice to say the assorted penalties would cancel out a lot of the cost savings an extension would bring.
Russell, on the other hand, is a different story. After battling shoulder and foot issues in 2017, he has to be worried about further injuries torpedoing his value. Meanwhile, the extra payoff to take that injury risk (i.e. free agency) is dropping by the minute.
Perhaps more pressing is the idea that arbitration is not kind to players like Russell whose primary value comes from defense. FanGraphs documented this problem when Kevin Kiermaier signed his extension in 2017. In a nutshell, arbitration panels significantly underpay defensive value, preferring instead to reward traditional offensive stats like home runs, RBI, and batting average. So Russell, and more importantly, Boras, knows his future arbitration salaries could be under-market.
Combine these two factors and Russell may decide to cash in his chips now. The Cubs can probably afford an extension this season without breaking the cap. While it would cost them flexibility come the trade deadline, it might be worth it.
The most likely Moose victim, however, might be non-Boras client Kyle Hendricks. Starting pitchers did particularly poorly this offseason. Lance Lynn only got a one year deal for $12 million and aces Yu Darvish and Jake Arrieta did worse than expected. This has to be making Hendricks nervous.
Hendricks' career earnings to date (including his $125,000 draft bonus) are a respectable, but not life altering, $2 million.  As a pitcher, Hendricks knows he is always one bad injury away from losing everything. Combine that with the low career earnings total, and he might be interested in the safety of some serious guaranteed money.
Though he recently told The Athletic's Patrick Mooney that money isn't a motivating factor (subscription required/recommend), I would not be shocked by a Hendricks extension in the near future. Maybe something in the neighborhood of the five-year, $51 million deal Carlos Martinez signed with St. Louis.
The decision to choose free agency over an early extension is always a matter of risk versus reward, but the latter factor shifted greatly this past season while the former will always remain static. Is that enough to spur any or all of these players to mitigate that risk with a team friendly deal to stay in Chicago? The answer is a definitive maybe, though it's much more likely for Russell and Hendricks than for Bryant.