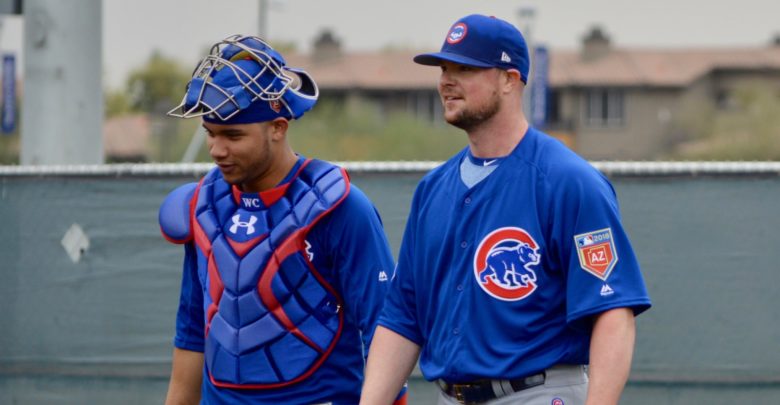 The Late Nite Rundown: Gimmy on Roster Decision, Lester Drinking Haterade, Schwarber's Flatter Swing, Last Roster Spot
I've usually reserved these pieces for days when Mike Canter isn't around to do his normal morning Rundown, but there were a few brief comments I wanted to make or external posts I wanted to highlight.
Gimmy Gimmy nah
A lot of people were caught off-guard by the Cubs' decision to roster Victor Caratini instead of Chris Gimenez, which was mandated by the previous decision to carry eight relievers. And from what Gordon Wittenmyer wrote in the Sun-Times, Gimenez was one of the people surprised by the move.
"I still think I match up very well with what I need," Gimenez told Wittenmyer. "The consensus was that [Caratini] was ready, and there's no denying that at all. He deserves a chance, and I think they're just going to try to see if they can make it work with the amount of at-bats he might potentially or might not be getting."
There's a pervasive sense that this isn't a permanent deal, and that might be part of why Gimenez isn't seeking other employment like we saw with Peter Bourjos. Not that there's a huge market for a 35-year-old with a career .654 OPS, but you figure Gimenez probably has a reasonable sense that he'll see some legit time with the Cubs as the season goes on.
Lester motivated by doubters
Raise your hand if you're surprised to learn that Jon Lester hates to lose or that he draws motivation from those who doubt him? Okay, none of you. Even so, Patrick Mooney had an excellent column in The Athletic about what's driven Lester in the past and what he's focused on as he enters the twilight of his career.
You'll need a subscription to read the whole thing (you can get one through us at a discount), but I've included a very small snippet below. The emphasis is mine, by the way.
"There are so many negative people in this world," Lester said. "It's easy to do behind a phone or behind a computer screen. It's easy to write that stuff. But I think everybody has to be motivated in their own way.
"I know for me, I've always been the guy that people have always said, 'Well, he's not a true No. 1 or he's never won 20 games or he's never won a Cy Young.' You can't control winning 20 games. I can't control winning Cy Youngs. All I can control is what I do, day in, day out and how my teammates perceive me.
"I try to use the negative that people say about me [and turn it into] a positive. And say, 'OK, I can't do this or I'm not a true No. 1. OK, well, I'm going to go out and continue to do what I do.' At the end of the day, you look up and it's fairly decent years.
Schwarber's flattened swing
The last time we wrote about a Cubs hitter working to level his swing, we got an earful from said hitter's dad. I doubt Greg Schwarber is planning to reach out to Sahadev Sharma in the wake of his recent piece about the left fielder's goals for 2017, but there's a lot of good stuff in there about the small mechanical changes to improve upon 2017.
Again, this one requires a subscription and I'll encourage you to get one because The Athletic has some really solid content across several levels, but here's a nugget for you.
"Being able to flatten things out and being more direct to the ball," Schwarber said. "There's something causing that split second from being back here to out there. So whatever that is, attack it and go with it."
"I believe in myself as that kind of hitter," Schwarber said. "I don't think I'm an all-or-nothing guy who'll hit .240 with a bunch of homers. I want to hit and I don't want to strike out too much. These are things that I'm working on, trying to make second nature and not something I need to think about. It's not just my body, I'm working on other things too."
Final roster spot
The Cubs had until Thursday morning to finalize the roster and I had initially figured they'd do just that. So I wrote something about still going with Eddie Butler for that last spot and then I added in a poll for readers to choose between Butler, Anthony Bass, and Justin Hancock. I even included an "Other" option for you wild cards out there.
And then came the report that Butler had gotten the job, thus forcing me to scrap 39 seconds of my hard work. #FireSahadev or something. But since my poll skills — it's a good thing I'm writing this, because saying that out loud might make it sound like something entirely different — are all polished up, let's try something in that same vein.
[poll id="25″]
Time for some real baseball.