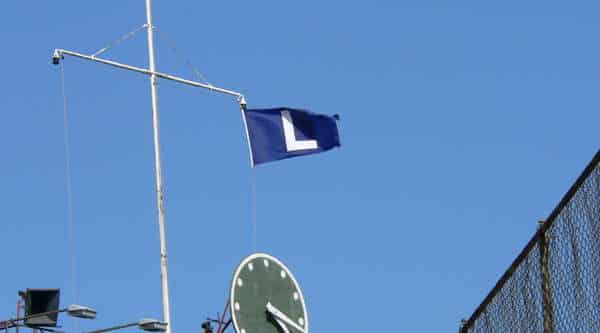 CI Recap (4/1/18) – Marlins 6, Cubs 0: Hard Hit, Hard Luck
The Cubs looked to take three of four from the rebuilding Marlins in Miami Sunday. Despite ample early scoring opportunities, Chicago could not push a run across. Starter Jose Quintana opened the game strong, but eventually melted down in the middle innings and the Fish ran away with it. All in all, it was a very frustrating afternoon for the Northsiders. (Box score)
Why the Cubs Lost
Lack of hitting with runners in scoring position did the Cubs in this Easter Sunday. They hit 1-for-9 in those situations and stranded 10 men on base mainly in the early innings. Many of the outs were on hard-hit balls, which only made the whole afternoon more frustrating.
Key Moment 
Brian Anderson hit a bases-loaded double to right field off of Quintana in the bottom of the 5th inning. Three runs would score to give the Marlins a 5-0 lead.
Stats That Matter
Kyle Schwarber had two hits and struck the ball hard all day long. He also handled all of his defensive chances without a problem.
Quintana started strong but really faltered his last two innings: 6 IP, 6 R, 6 H, 2 K, and 4 BB. The Marlins drove up his pitch count early, tiring him late in his outing. Q needs to become more efficient early in games if he really wants to make the next level as a pitcher.
Addison Russell hit the ball hard Sunday. Despite only getting one hit, demonstrated a good approach. He made several excellent defensive plays as well, and it seems clear his arm is much stronger than during an injury plagued 2017.
Bottom Line
This was a game of offensive frustration for the Cubs, with lots of hard-hit balls right at defenders. Splitting a series with the lowly Marlins is not what you want to start a season, but hopefully leaving South Florida will wake this team up.
On Deck 
The Cubs move on to Cincinnati for a two-game series with the Reds. Tyler Chatwood makes his Cubs debut against Tyler Mahle Monday at 3:05pm CT. The broadcast is on NBC Sports Chicago.