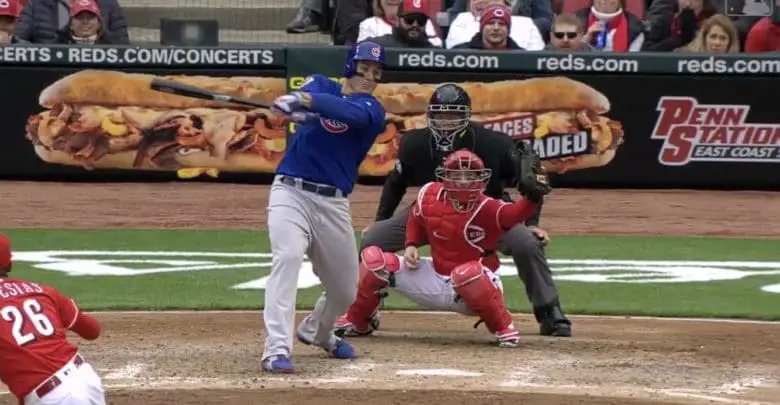 The Rundown: Cubs Break Dubious Record, Pirates Season Preview, Hot in Houston, Lester Looks for Bounceback Start
I probably shouldn't have to write a column until the Cubs score a run. What happened to all the bats? Chicago has now been shut out in back-to-back games for the first time since last May 26-27, when the Dodgers beat them 4-0 and 5-0.
Tyler Chatwood struggled with control, walking six batters while only throwing strikes on 49 of 92 pitches. The Cubs, who had wanted to get off to a fast start this season, lost to the Reds 1-0 and fell to 2-3 on the season. The offense is a mess, having struck out 58 times through five games, easily leading the league and setting a dubious new record.
Now 58 K's for the Cubs. Most ever by NL team through 5 games.

— Jesse Rogers (@JesseRogersESPN) April 2, 2018
In other Central Division games, the Cardinals beat the Brewers 8-4 and the Pirates improved to 4-0 on the season after beating the Twins 5-4. The Pirates may petition to transfer to the AL Central, since they have won each of their games against opponents from that division to start the season.
Pirates preview
These are the same Pirates many predicted would lose 100 games and finish dead last in the Central. The team hasn't been the same since the Cubs knocked them out of the Wild Card game in 2015 and they traded Gerrit Cole to the Astros and Andrew McCutchen to the Giants this offseason.
"It (stinks) — that (old) window is gone," pitcher Jameson Taillon told the Pittsburgh Post-Gazette. "Those were pretty cool times. But our job now is to create another window."
Taillon is one of the players that the Pirates' hope steps up this season. They'd also like to see bounceback seasons from Staring Marte, Tyler Glasnow, and Gregory Polanco. Pittsburgh's GM, Neil Huntington, has elected to go with a near-full rebuild and the team will have more than a dozen players with little to no MLB experience who could see action in 2018.
The natives are restless in Pittsburgh to say the least and are calling for owner Robert Nutting's head. A petition was filed with more than 60,000 signatures asking Nutting to sell the team. Advertisers are boycotting newspapers. Fans are organizing to hold protests.
Still, patience is the watchword in Pittsburgh. PECOTA sees them winning 78 games this season and FanGraphs has them raising the Jolly Roger just 76 times. Don't expect the Pirates to be surprise contenders despite the quick start.
Cubs News & Notes
No column tomorrow. Sorry, I am traveling in the morning. Packed my bags pre-flight, I'll be back on Thursday.
First baseman Anthony Rizzo is hitting .130 this season and the rest of his team isn't doing much better. Chicago has been shut out in its last two games and managed only one run in a 17-inning loss to Miami over the weekend. Hopefully the Cubs can break out the lumber today when they face 24-year-old Cody Reed, who is just 1-8 in his big league career.
Jon Lester is looking for a bounceback start today. The veteran made his seventh career Opening Day start last week, his third for the Cubs, but lasted only 3 1/3 innings while giving up three runs, seven hits, and three walks. He simply didn't look Jon Lester-like despite an 8-4 win by the Cubs.
How About That!
The Yankees and Rays were snowed out yesterday on what would have been New York's home opener. Through the first week of the season, six games have already been postponed across the majors. These were the earliest non-international openers ever, moved up as baseball adjusted its schedule this year to add three extra off-days during the season.
Indians 1B/DH Edward Encarnacion hit an inside-the-park-home-run yesterday as Cleveland beat the the Angels 6-0.
Stuck in an 0-for-13 slump to begin the season, Cardinals leadoff man Dexter Fowler admitted his frustrations on Twitter. He then played at Milwaukee on Monday and, after a flyout to lead off the game, blooped a single for his first hit of the season.
https://twitter.com/DexterFowler/status/980812018990112768
The Astros have now made it through one turn in the rotation in impressive fashion. Justin Verlander, Dallas Keuchel, Lance McCullers, Gerrit Cole, and Charlie Morton have combined for a dominant 1.78 ERA and 36/9 K/BB ratio across 30 1/3 innings. Verlander makes his second start of the season today. The Astros' pitcher recently revealed that wife Kate Upton had the final say-so on his trade to Houston last year.
Hot Takes & Syrup
Opening Weekend hot takes: Philies manager Gabe Kapler is in over his head and can't manage; Evan Longoria, Dexter Fowler, and Chris Davis, who started a combined 0-for-40, are washed up; The Cubs struggled against a Miami team that would probably struggle in Triple-A; Shoehei Ohtani will be baseball's biggest bust of the season.
Super-sized bullpens are making the game far less exciting.
Monday's Three Stars
Tyler Mahle – The rookie pitcher shut the Cubs out 1-0 yesterday, registering seven strikeouts over six innings while allowing just one hit and two walks.
Bryce Harper – The soon-to-be free-agent OF slugged a three-run homer and drew four walks yesterday against the Braves. Harper is slashing .417/.550/1.167 on the young season with three home runs and seven RBI.
Paul DeJong – The Cardinals sophomore shortstop hit his third home run two games in yesterday's win over the Brewers. DeJong is slashing .467/.500/1.067 so far this season with three home runs and five RBI.
They Said It
"[Kapler] is strong enough to absorb any blows he's going to get in the beginning, because definitely, the cheesesteak guys aren't going to dig on that early on. Maybe the sushi people will be O.K., but not the cheesesteaks. So he's going to have to fight through that. I know these folks, I've been there. But they have a nice team, and as they continue to blossom and his stuff works, the cheesesteak guys will start eating sushi." – Joe Maddon
"I think they're pretty good. We have the best team in baseball in my opinion and I know enough to know that anything can happen in 162 games. We need to stay focused. That's why I like this team so much because there's no complacency. Everybody's focused on being better and once you get to the playoffs then all bets are off and may the best team win." – Justin Verlander
Tuesday Walk Up Song
All Those Years Ago by George Harrison. Seems like forever since the Cubs have played at Wrigley Field.