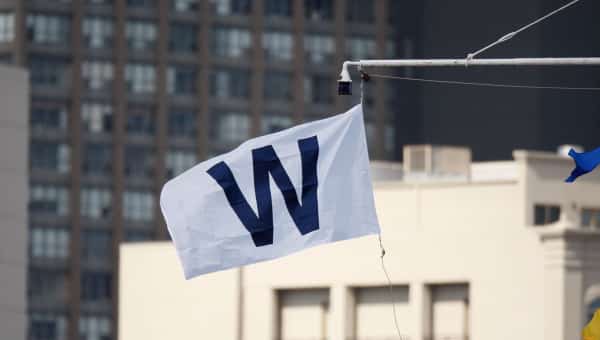 CI Recap (4/5/18) – Cubs 8, Brewers 0: Lester Shines, Javy Slides as Cubs Overpower Brewers
Jon Lester looked excellent, pitching six strong shutout innings of three-hit ball while walking only one man and striking out six. The offense also looked great, with Willson Contreras, Kris Bryant, Ben Zobrist, Javy Baez, and Addison Russell all reaching base at least three times.
Jason Heyward, who came in as a defensive substitution in the bottom of the 8th, slugged a two-run bomb off of Brewers closer Corey Knebel in the top of the 9th to provide the final exclamation point of the game. It was unfortunate to see Knebel go down with an injury in a meaningless appearance and things did not look great for him as he was unable to put any weight on his left leg after delivering a pitch to Tommy La Stella.
The Cubs were able to break out of their offensive slump with the help of some fireworks and consistent performances all the way around. (Box score)
Why the Cubs Won
The Cubs did more than enough to win on offense, but the reason why they won this game was the big lefty's great bounceback performance. Lester looked locked in on the mound tonight and was consistently hitting his spots.
Key Moment
In the top of the 2nd, Lester hit a dribbler up the middle that was just out of the pitcher's reach. It rolled under Hernan Perez's glove as he tried to tag second, then eluded Lorenzo Cain's grasp long enough to allow Javy Baez to score all the way from first. It was at this moment that anybody could tell it was just not the Brewers' night, which I am perfectly okay with.
Stats that Matter
The Cubs went 3-for-11 with runners in scoring position today.
The Cubs bullpen pitched three solid innings, allowing only one hit and striking out three while walking none.
Baez posted a career high in walks, drawing three free passes. Granted, two of them were intentional walks to force Jon Lester to hit, but they still count. He has looked much less like the swing-happy slugger we've sometimes lamented in the past. Let's hope his plate discipline continues to improve.
Anthony Rizzo went 0-for-5 with a strikeout Thursday and is now a whopping 3-for-23 with a walk. Rizzo has often had slow starts to his seasons and generally has a hot May, so I'm not sure how much stock anybody should take in his slow start just yet.
Jason Heyward's first home run came much quicker than in his previous two seasons as a Cub. Last year he hit his first home run on April 21, and in 2016 it took him until May 17 to go deep in a Cubs uniform. Not for nothing, this dinger came on the eighth anniversary of his first career shot against Carlos Zambrano and the Cubs.
Kris Bryant got his 500th hit today on a sharp single to left. My bold prediction: he'll eclipse 2,000 hits as a Cub.
Bottom Line
The Cubs got a great start from Lester and got production out of most of the lineup. Let's hope this starts a trend in the future.
On Deck
Kyle Hendricks takes the hill for the Cubs Friday night while Brandon Woodruff will start for the Brewers. The game will be broadcast on NBC Sports Chicago+ and first pitch will be made at 7:10 CT.