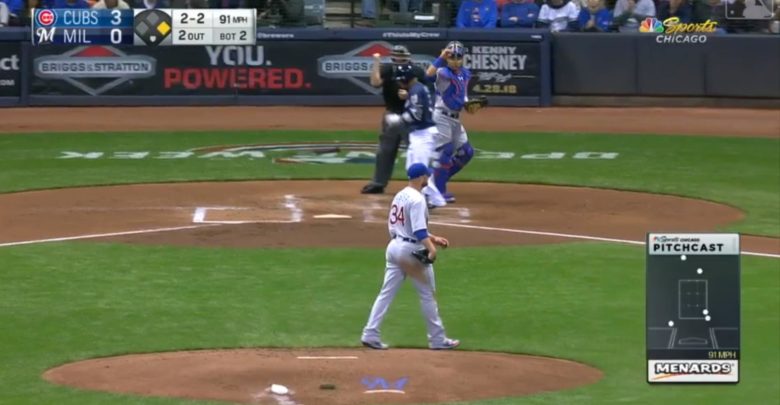 Hickey Wants Cubs to Try Not to Suck at Throwing Strikes, Staff Obliges Thursday Night
While it's too premature at this point to call Thursday's game an "Aha!" moment for the Cubs' staff, you could see Jim Hickey's fingerprints all over the performance. Jon Lester, who battled an amoeba strike zone in his first outing, was as sharp as he's been in recent memory and the bullpen followed suit.
After walking Ryan Braun, the third batter he faced, Lester went on to record 16 outs without issuing another free pass. Three relievers followed, closing out the game with five strikeouts and no walks to bring the Cubs' respective totals to 11 and one. But it was how they did it that was really impressive.
Only 28 of Lester's 89 total pitches were called balls and he only went to a three-ball count three times in his six innings of work. What's more, he went to two balls on only five more batters. And when the Brewers did put bat to ball, they didn't do much with it. Lester's 35.7 percent soft contact allowed was better than in all but three of his starts last season.
Carl Edwards Jr. was the first reliever out of the gate and it looked at first like he was in for a shaky outing. After going 0-2 on Jesus Aguilar to open the 7th, Edwards allowed a single and then went 1-0 on Hernan Perez. At times last season, that would have been the death knell for Edwards, who tended to get into a rut early in his appearances. It was a running lament of mine that Ball 1 meant a walk.
But he hung in this time, stretching to a full count before getting Perez swinging on a high fastball. That was all she wrote for the Brewers in the inning, as Edwards pumped six straight strikes — all fastballs in the zone — to retire Orlando Arcia and Jett Bandy.
Steve Cishek was the only Cubs pitcher who wasn't able to muster a strikeout, but he gets bonus points for throwing only four pitches in his brief effort. Eric Thames flew out on the first pitch he saw, Lo Cain took a strike before grounding out, and Domingo Santana grounded out on his first look at Cishek.
Then came Eddie Butler, the hero of last week's 17-inning affair and a man the Cubs added to the roster almost reluctantly. After a decidedly mediocre run as a fill-in starter last season, Butler has been a revelation in the bullpen and appears to have amended his nibbling ways. After posting a 1.07 K/BB ratio last season, the hard-throwing righty has posted seven strikeouts against only one walk.
Butler displayed beautifully wicked arm-side run on the two-seamer and sandwiched an Eric Sogard lineout around strikeouts of Braun and Aguilar. And those were swinging K's, which should be noted when we're talking about a man whose inability to miss bats has long been vexing, particularly in light of that fastball action.
In all, 87 of the Cubs' 122 pitches (71.3%) in the game went for strikes. Compare that to 75 of 124 (60.5%) in their 1-0 loss to the Reds or 86 of 148 (58.1%) in Lester's season-opening start. Some of that has to with a friendly zone, as Lester was absolutely getting a few more calls than he had in that initial outing. But it was evident that Cubs pitchers were going out there with an intent to work the zone like a Jim Boeheim team, which is a hallmark of another coach named Jim.
When it comes to hitting and pitching coaches, narratives function more or less like teeter-totters. Nothing is ever balanced as the commentary swings wildly from giving too much credit or placing too much blame. There is, however, something to be said for bringing a new voice into the clubhouse, especially when that voice fits the team's stated desire to throw more strikes.
There's also something to be said for the pitchers' collective mentality, which could be at least as important as the physical aspects of the game. That's what Hickey told reporters back in February, and you could see his approach played out clearly on Thursday night in Milwaukee.
"I really think that walks, especially out of the bullpen, are a little bit more of a mindset than they are anything physically or mechanically wrong," Hickey said. "You come into a situation where maybe you give up a base hit and maybe it changes the game, so you're a little bit reluctant to throw the ball over the plate.
"So I think it's more of a mindset, and once the group gets the mindset of 'attack, attack, attack,' it'll be contagious. And I think it is contagious. I think last year it was probably contagious in that there was more walks than you would like, and I think as you turn the corner and head the other direction, that would be contagious, as well.
"I have very few outcome goals in a season. I don't sit there and say, 'I want to lead the league in earned-run average' or 'I want to lead the league in strikeouts.' But that one thing, that one outcome goal that I always have for a staff is to have the least amount of walks in the league."
Boom. One side of that coin is that you hate to beat yourself with walks. I think we can all agree that it's better to give up a hit than to walk a man. But when you're talking about a staff with as much talent as the Cubs have, the logic becomes even clearer. From the rotation to the bullpen, this team is chock full o' guys who can get hitters out in the zone.
Kyle Hendricks can get weak contact or ugly swings on the curve and change, Edwards generates whiffs on the fastball, Yu Darvish can throw 57 different varieties of 11 different pitches, and the list goes on. Even Butler, the 25th man on the roster and someone many fans were hoping would be DFA'd, can be dangerous if he just throws strikes.
Pound the zone and don't walk batters. It's imminently successful in its simplicity as we saw Thursday night and should be throughout the course of the season as well. Oh, it also improves pace of play, which I'm sure Mr. Manfred will enjoy.