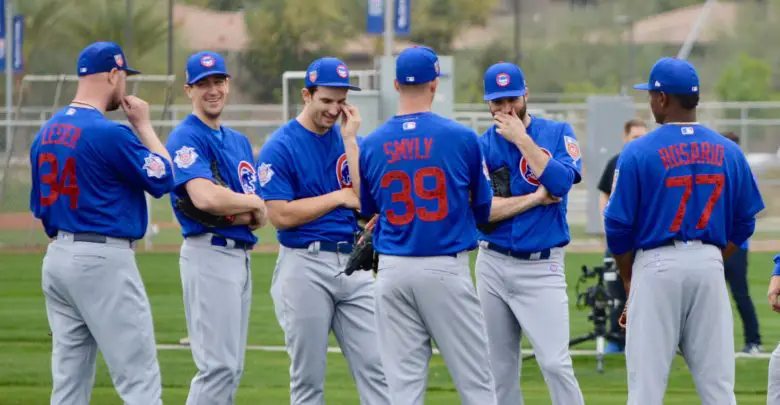 Monday Fungos: 10 Funniest Cubs Happenings from Week 1
Chicago Cubs President Theo Epstein may never sign Bryce Harper and make him the second coming of Carl Crawford. But here at Cubs Insider, we'll still embrace Harper's "Make Baseball Fun Again" attitude. (Even if that spells the completely unpronounceable acronym MBFA.)
So enjoy the debut of "Monday Fungos," your weekly list of the 10 funniest Cubs happenings from the past week.
On Saturday, Milwaukee's 9th inning defense showed how to put the "ew!" into "Brewers." The key: actually play with four-fingered logo gloves.
Tyler Chatwood's ever-changing pitch track data now shows a release point 5,000 feet lower than at Coors Field.
In Miami, the Cubs' Latin bats really got kicked in their collective South Beach. They combined for a .451 OPS, as compared to .811 for the rest of the team.
Due to new Maddon work rules, no Cubs pitcher can pitch beyond six innings – unless, of course, his name is Eddie Butler (who's out of options anyways).
The last time Cincinnati swept a one-game Cubs series, manager Pete Rose pulled a Crash Davis, flooding Wrigley Field and covering his prop bet.
Forced by a bad back to miss three games, Anthony Rizzo must now sign baseballs as "Grandpa Rossy." Separately, the marketing department announced that the giveaways for the upcoming "Lumbago Seat Cushion Day" will feature his caricature.
A glum, head-shaking Ian Happ blamed a college manager for his moody reputation.
Milwaukee closer Corey Knebel's hamstring strain proved not as bad as feared. At first, he looked like just another ballplayer pulling his groin in front of 30,000 onlookers.
Jon Lester's widely reported velocity dip also caused him to miss the team bus before both starts. (He too must now sign baseballs "Grandpa Rossy.")
For the 57th consecutive episode of the "Cubs Related" podcast, Brendan Miller apologized to Jon Jay for running out of time and bumping him.