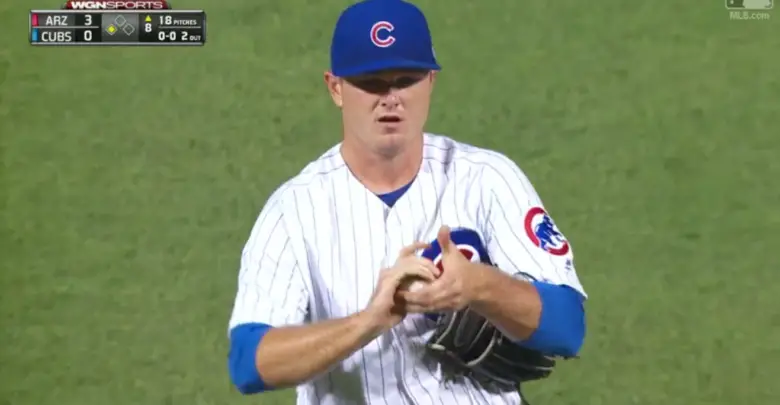 Ryan Says: Hurdle's Comments, Wilson's Balls, and Hicks' Bullets
At just 6-6, the Cubs are off to their worst start since beginning the 2017 season at 6-6. Wait, that's not all that long ago. Well, whatever, the Cubs are playing less-than-inspiring baseball at the moment. But this thing is a marathon, blah blah blah.
• A lot has been made of Pittsburgh Pirates manager Clint Hurdle's comments about Javier Baez and Willson Contreras, and with good reason. These two teams don't like each other, and in the case of the Pirates there is still a lot of lingering anger over their loss in the wild card game back in 2015. On Baez, Hurdle said the following to Rob Biertempfel of The Athletic (you can subscribe here).
"Where is the respect for the game?" Hurdle said. "He's hit four homers in two days, does that mean you can take your bat and throw it 15-20 feet in the air when you pop up, like you should have hit your fifth home run? I would bet that men went over and talked to him, because I believe they've got a group there that speaks truth to power."
In the case of Baez and his pop-up, it's hard for me to disagree with Hurdle here. And that shouldn't be all that controversial. After all, Baez also agreed with Hurdle's suggestion (before he had heard it, that is), and someone in the Cubs' clubhouse did say something to Javy.
Javier Baez: "You know what I really got out of today? You know what I learned? How ugly I looked on that fly ball. I tossed the bat really high. I didn't run to first base. A lot of teammates came up to me and they said it in a good way. You learn from it."

— Patrick Mooney (@PJ_Mooney) April 12, 2018
The problem here is the source. When a teammate or a coach brings it up, it's much easier to take criticism from within. The opposing manager going out of his way to suggest that Baez – or Contreras, who had the audacity to argue balls and strikes with an umpire – doesn't respect the game…Them's fightin' words. And now that the Pirates have shown some fight in the win column for the first time in three seasons, it's actually worth talking about all this nonsense.
• Although there was a lot of initial optimism about Justin Wilson, I've become progressively more skeptical about him resolving his issues from the second half of 2017. It all came to a head during his ugly inning on Thursday in which Wilson faced eight batters and only got two outs. Three batters got hits, two of which were home runs, and the other three walked. It took Wilson 37 pitches to give up four runs and allow a 2-1 deficit turn into a 6-1 blowout.
Even though he hadn't allowed a run in 5 2/3 previous innings this season, I just wasn't sold. As Evan Altman and I chatted about in a recent episode of Locked On Cubs, there were plenty of questions about regression. Wilson's control is still poor, either throwing the ball right over the plate or ending up way outside the zone. He had allowed 1.6 H/9 and 7.9 BB/9. The hits weren't going to stay that low, but would the walks come down? Not yet, anyway.
The good news is that the Cubs' bullpen has been good on the whole. In 43 non-Wilson innings, the unit has a 1.67 ERA so far this year. Brian Duensing, Pedro Strop, and Carl Edwards Jr. have all been outstanding. There's still time for Wilson to turn it around, but the Cubs have plenty of other options if he can't.
• After their weekend series with the Atlanta Braves, the Cubs will cross their final divisional opponent off the schedule next week: The St. Louis Cardinals. I'll be there for the Sporting News doing a story on Cards reliever Jordan Hicks, who I saw pitch last season with the Peoria Chiefs. That's right, the Single-A Peoria Chiefs. Hicks was a starter then, and although I wasn't there specifically watching him, I didn't come away impressed with his stuff.
Less than a year later, the 21-year-old is firing bullets out of the 'pen in St. Louis. I'm eager to get a chance to find out how this whole transition came about. Obviously, most pitchers can throw harder as a reliever than as a starter. But I'm not sure anyone saw this kind of thing coming.