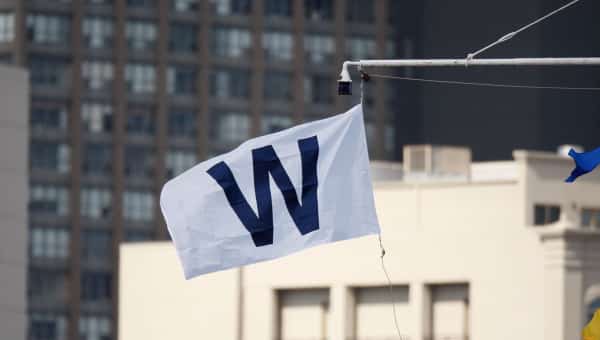 CI Recap (4/14/18) – Cubs 14, Braves 10: What Just Happened?!
This recap had to undergo a rapid rewrite, just part of the perils of recapping games. Sometimes the results change dramatically late and adjustments need to be made. This is by far the absolute best reason to have to scrap a recap, so let's get to it.
The Cubs and Braves met at a cold, windy, and damp Wrigley Field on Saturday. It quickly became clear that Chicago wasn't going to win this contest. Jose Quintana got shelled early and the game was never in doubt after the 3rd inning. Or at least that's what it seemed like to everyone watching.
The Cubs started chipping away at the lead a bit in the middle innings. Still, with a 10-5 Atlanta lead in the 8th, it felt like the game was finished. Then the Braves had what could best be described as a nuclear meltdown. An almost comical series of errors and misplays led to a nine-run inning that gave the Cubs the lead. After trailing at one point 10-2, Chicago notched a 14-10 win. (Box score)
Why the Cubs Won
The Cubs could have easily given up down eight and playing in what was just nasty weather. Instead, they didn't waste any at-bats and took every opportunity the Braves gave them. Atlanta can't escape blame either; they walked 10 batters, committed two errors, and hit two more.
Key Moment
In the bottom of the 8th inning, Javy Baez hit a two-out double with the bases loaded off of Jose Ramirez. The ground-ball smash reached the left field wall scoring three runs to tie the contest at 10-10.
Stats That Matter
Quintana had shaky control from the start. He got squeezed on a couple close pitches early, but he was not on his game: 2.2 IP, 7 R. 7 H, 1 K, and 4 BB. He has been wildly inconsistent his first three starts and his teammates saved him from what appeared to be a certain loss.
Ben Zobrist had a very good effort, reaching base five times including a RBI triple. His bases-loaded walk set up Baez to tie the game. Zobrist may have slumped a bit recently, but the slump didn't last long.
Kris Bryant keeps getting on base. Saturday it was two hits, a walk, and a hit by pitch to drive his OBP to .493.
Kyle Schwarber came into the game late a drew not one, but two bases-loaded walks, including the game-winner.
Bottom Line
Not sure what to say here. The Cubs looked completely lifeless to start this game. The hot takes were flowing and people were crowning the Pirates division champions. Then pure insanity and an improbable victory ensued, and now we're talking about how this could be a spark to start a winning streak. That being said, this is only one game and the Cubs could lose tomorrow. Still, it was mighty fun to watch.
On Deck
The Cubs look to build on their huge comeback in the rubber game of the series Sunday, weather permitting. Tyler Chatwood faces Julio Teheran at 1:20 pm CT in a game that airs on WGN.