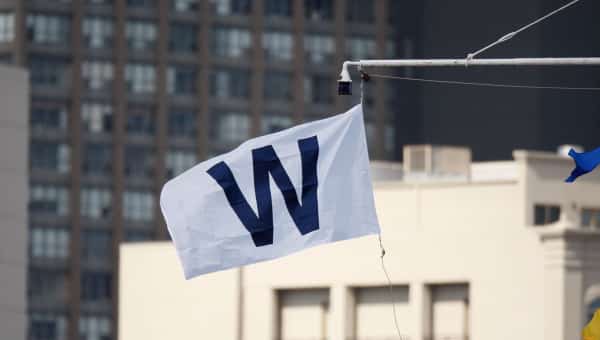 CI Recap (4/20/18) – Cubs 16, Rockies 5: Javy, Javy, Javy!
For a long time Cubs fans have talked about Javy Baez's potential, some even mentioned the word MVP. At first there were only flashes of his ability to dominate a game, with a lot of rough edges. In 2018, those rough edges are getting smoother and smoother. Friday night in Denver that game changing ability was out in abundance.
The Baez show began in the top of the 1st, Javy smoked a two-run opposite-field bomb off of Jon Gray to give the Cubs a 2-0 lead. Kyle Hendricks had a shaky start of his own allowing three runs including a Nolan Arenado homer. Chicago regained the lead in the 5th inning thanks to shaky Colorado defense, including an Arenado throwing error that gave them a 5-3 edge.
The Cubs broke it open in the 6th inning. A Jason Heyward triple kicked off the onslaught of runs against Brian Shaw (losing pitcher in Game 7 of the World Series). Baez, who else, singled two more home and Kyle Schwarber provided the coup de gras with a three-run bomb to make it 12-3. Chicago kept adding to the lead in an easy win. (Box score)
Why The Cubs Won
The top two batters in the order Albert Almora and Baez had eight hits and scored six runs. Getting that kind of production at the start of the lineup leads to a lot of high scoring efforts.
Key Moment
Javy Baez launched an opposite-field homer to right against hard-throwing Jon Gray in the top of the 1st inning. The homer was a team-leading sixth of the season for Javy.
Stats That Matter
After allowing three runs on four hits in the 1st, Kyle Hendricks settled down nicely allowing one hit the next four innings, with six strikeouts and no walks.
Javy Baez had four hits and came up a triple short of the cycle. His OPS is currently at 1.113, which is pretty good to say the least.
Kyle Schwarber had three hits and four runs driven in, he has been great the last few games. His OPS is up to .972, and his much hoped for bounce-back season is right on track.
Jason Heyward had two more hits and is starting to drive the ball with authority as evidenced on his opposite-field triple.
Albert Almora doesn't want to give up the lead-off spot anytime soon. He had four hits of his own on Friday. With his glove, offense like this can make Albert an all-star.
Bottom Line
Javy Baez is just now starting to reach his potential, it's going to be pretty exciting to watch. The fun is just beginning for El Mago.
On Deck
The Cubs look to build on their offensive performance the past two games Saturday in Denver. Yu Darvish faces off against Tyler Anderson at 7:10pm CT. NBC Sports Chicago provides the television coverage.