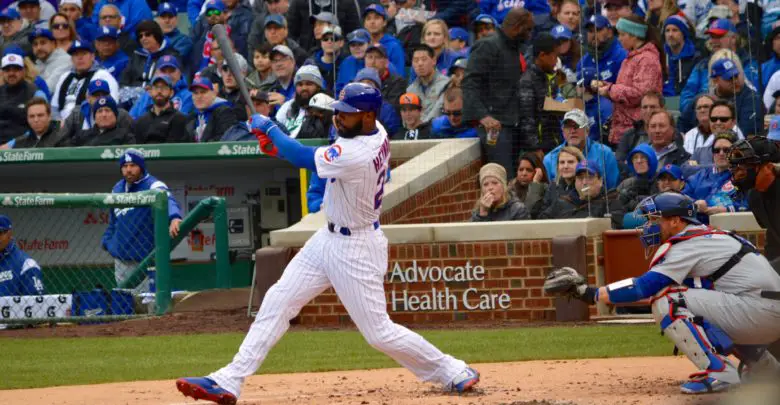 The Rundown: Cubs Bats Come Out of Hibernation, Maddon Loves Small Ball Approach, Heyward Goes Deep
I am declaring the death of winter, finally, at least here in Chicago. And with yesterday's thaw the Cubs seemed to have come out of hibernation, too, pounding the Cardinals for eight runs and 14 hits en route to an 8-5 victory. The weather-shortened series ended in a 1-1 draw, and a six-game road trip begins in Colorado tonight. A two-game stop in Cleveland will follow, before the Cubs begin their next home stand on Thursday vs. the Milwaukee Brewers.
All nine starters recorded at least one hit for the Cubs, with Kris Bryant and Kyle Schwarber driving in two runs each. Because of the terrible weather this week — the team only played two games — Chili Davis had Cubs players working on their hitting approach in the Wrigley Field cages. The extra work definitely paid off yesterday.
"We're just focusing on the work and the process besides results," Schwarber said. "That's more the thing. We've been doing some pretty good work in the cage. It's pretty much what we did in spring and we're continuing to work well."
Cubs News & Notes
The Cubs' second-inning outburst yesterday, scoring four runs without the benefit of a home run or extra-base hit to jump to a 6-1 lead, reminded many of the 2016 team.
Jon Lester was strong all game yesterday, finishing with seven strikeouts across six innings. The veteran left-hander allowed just one unearned run as a result of a wild pitch.
Jason Heyward launched a massive two-run homer in the fifth inning that gave the Cubs an 8-1 lead. The right fielder is hitting .138/.212/.172 in 33 PA in innings 1 through 6, and .375/.500/.563 in 21 PA in the seventh inning or later.
So much for the myth that the Cubs only score on two-out singles. #EverybodyIn pic.twitter.com/Kn7V2l1JO6

— Chicago Cubs (@Cubs) April 19, 2018
Bruce Miles of the Daily Herald has a scouting report on the upcoming Cubs-Rockies series. Rockies third baseman Nolan Arenado has been sidelined recently but will return to face the Cubs. Kyle Hendricks takes the bump tonight at Coors Field.
How About That!
The Reds fired manager Bryan Price after Cincinnati's 3-15 start. The Reds serve as a harsh reminder that rebuilds don't always go as smoothly as they did for the Cubs and Astros. Their minus-46 run differential is the worst in baseball. Of course, the Reds were widely expected to have a poor record this season. FanGraphs projected Cincinnati as a 66-win team.
Red Sox starters are 12-1 with a 1.98 ERA – giving up just 22 earned runs in 100 innings. Pitching has defined Boston's 16-2 start.
For the first time this season and one of the rare times in manager Mike Matheny's tenure, the Cardinals will carry only seven relievers and no true long reliever.
Ryan Braun launched a pinch-hit, three-run homer that gave him 1,000 career RBIs as Milwaukee romped to a 12-3 victory over the Marlins yesterday.
The Mariners recorded a triple play against the Astros last night.
Thursday's Three Stars
Jake Arrieta – The Phillies ace tossed seven scoreless innings of one-hit ball while striking out 10 in Philadelphia's 7-0 win over the Pirates. He also forced 14 swing-and-misses after recording just nine combined through his first two starts of the season.
Jeimer Candelario – The former Cubs third baseman led the Tigers to a 13-8 win over the Orioles yesterday, going 4-4 with a home run, walk and three RBI.
Jason Heyward – The right fielder's fifth inning home run registered a 110.7 mph exit velocity, his highest on a homer since Statcast™ began tracking blasts in 2015. The ball sailed 423 feet, which is tied for his second-longest home run. Plus, Heyward made an unbelievable catch on Matt Carpenter's deep fly ball in the fourth, covering 116 feet in 6.3 seconds on a ball that had only a 55-percent catch probability.
Hot Takes & Syrup
Norberto Susini, who has told people that he was Alex Rodriguez's nephew for years – a familial link that was called into question after Susini was abducted Wednesday – was allegedly held hostage by two men after a deal to sell a Lamborghini went bad. The first reports of the crime noted Susini's connection to Rodriguez. The abductors were arrested Wednesday evening, New York police confirmed. "He's not Alex's nephew," Joe Dunand, Rodriguez's half-brother, told The New York Daily News. "[Rodriguez] has nothing to do with him."
In light of last week's benches-clearing brawl between the Boston and New York that involved Joe Kelly and Tyler Austin, the Pawtucket Red Sox have come up with an interesting promotion for the weekend series of May 5 and 6 against the Yankees affiliate from Scranton/Wilkes-Barre:
PawSox will host "Evil Empire Weekend" at McCoy Stadium on May 5 and 6. Any fans named Joe or Kelly will be admitted for free to the weekend's games, while any fans self-identifying as Tylers or Austins will be banned from the premises. #RivalryRenewed https://t.co/LQYnGQSzJ6 pic.twitter.com/XtllPNvgYz

— PawSox (@PawSox) April 19, 2018
They Said It
"Good approach, good at-bats. It is so fun to watch. Keep your launch angles, keep your exit velocities, give me a good at-bat. Those were really good at-bats. Staying inside the ball, using the whole field — I promise you if they stay on that path, balls will still go out of the ballpark at the pace they're capable of. With that, you'll see better situational hitting, you'll see higher batting averages, on-base percentages. I loved our approach today." – Joe Maddon
"Any time I get a multiple run lead I'm going to be aggressive with the strike zone. I don't care who's at the plate, I'm going to make them put the ball in play or at least put the pressure on them and that's what I intend to do moving forward." – Jake Arrieta
Friday Walk Up Song
Rocket Man by Elton John. That was one majestic home run by Heyward yesterday.