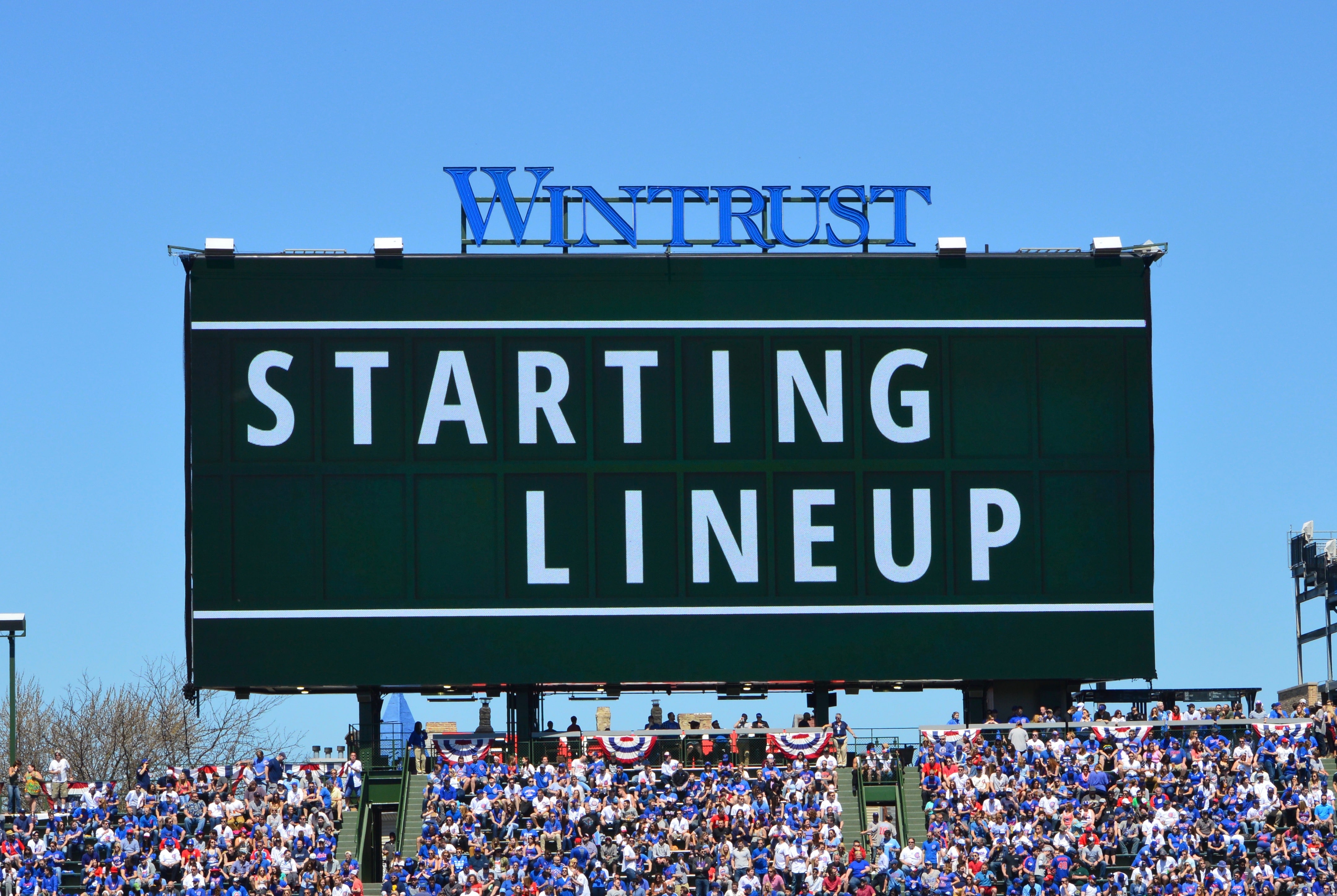 Chicago Cubs Lineup: Almora and Baez Paired Again, KB Sits, Chatwood Starts in Return to Scene of Best Rain Delay Ever
The weather has been wild and the Cubs haven't been playing anything resembling consistent baseball, so you never know what's going to happen on any given day. All things considered, the only guarantee is that the Indians can't blow a 3-1 lead in this short series. We may still get a rain delay, though.
Then again, any precipitation might well be evaporated by the white-hot duo of Albert Almora, Jr. and Javy Baez. They've been crushing atop the order over the last four games and could continue that performance given tonight's matchup (more on that below).
Anthony Rizzo is batting third and will be looking to get off the schneid in Cleveland, which he was able to do back in 2015 when the Cubs played there. Rizzo came into the game with a long homer-less drought and banged a booming tater in the Cubs' 17-0 rout. Willson Contreras will clean up and Tommy La Stella bats fifth and plays third.
TLS is in there for Kris Bryant, who took some cuts under the supervision of the training staff but was kept out as a precaution. The damp conditions may have factored as well.
Kyle Schwarber is the DH and will be batting sixth, a position that has served him quite well over the last few games. Schwarber's had some success in Cleveland over the course of his career, and not just in the World Series. His first Cubs start came in Cleveland in that same lopsided shutout mentioned above and he collected a triple for his first MLB hit. He also launched his first homer in that series.
Addison Russell is hitting seventh, Jason Heyward bats eighth in right, and Ian Happ rounds out the order in left. That should afford him a low-pressure opportunity to continue working back into better at-bats.
Tyler Chatwood has had serious control issues through three starts this season. Among all MLB starters, only five have posted a BB/9 number higher than the 8.04 Chatwood boasts coming into the game. Quite a few more have posted higher strikeout rates, but the 10.34 K/9 he's putting up is about 66 percent higher than his career average.
It's still way too early to worry about Chatwood's actual numbers, though you can't be blamed for freaking out a little about just how much his command and control have wavered. What's really wild, pun intended, is that the games in which he's walked the most batters have been those in which he's allowed the fewest hits and runs. Then there was his middle start, when he walked only one batter but kept the fastball way up in the zone and got beat to hell for five earned runs.
Chatwood simply needs to find a way to harness his effective wildness. While it's great to hold teams to just a couple runs, there's no way to do that when you're walking six or seven batters. Contrary to what the standings say, the first-place Indians might be the perfect opponent against which the Cubs starter can really put everything together. Their team-wide walk rate of 7.9 percent is lower than all but five teams and their 22 percent strikeout rate isn't elite.
The key is just going to be keeping the ball out of the zone enough to draw bad swings and weak contact, but not so far outside that hitters can just stand there and get to first without swinging.
Cleveland's Josh Tomlin is one of the least imposing pitchers in baseball. He's not a big guy (6-foot-1, 190 pounds), rarely cracks 90 mph, and his overall stats are decidedly mediocre. His 4.69 career ERA is pretty nice, but that mark stands at 8.00 this season and his 9.71 FIP tells us that the numbers could be even worse. Of course, all the damage came from an opening start in which he gave up eight runs on eight hits (four home runs).
Unlike Chatwood, wildness is not something you're likely to see from Tomlin. He's walked only four men on the season and has a career 1.34 BB/9 average, which means he's going to work in the zone. The 33-year-old righty doesn't miss many bats and isn't a big-time groundball guy, giving up a lot of hard contact in the air. This feels like a very nice opportunity for the Cubs to get aggressive and take advantage early.
Tomlin is more or less split-neutral overall, though right-handed hitters have traditionally fared a little better against him. That's particularly true when he pitches at home, which will be the case in this one. Visiting righties carry an .831 OPS and .355 wOBA against Tomlin, while lefties have put up just .713 and .306 when facing him in Cleveland.
They don't have Dexter Fowler or David Ross this time around, but something tells me the Cubs will be able to get over on Tomlin's four-seam/cutter/curve combo. The latter has been getting a lot more usage over the last couple years, usurping the changeup as Tomlin's preferred secondary. It's also been his most valuable pitch over time, so look for him to break out the bender quite frequently.
This game has a strange 5:10pm CT start time, which is early even for a game in Eastern time. WGN will have the local broadcast, so check your listings for a local affiliate if you're not in Chicagoland. Those of you outside the blackout cloud will be able to watch on MLB Network.