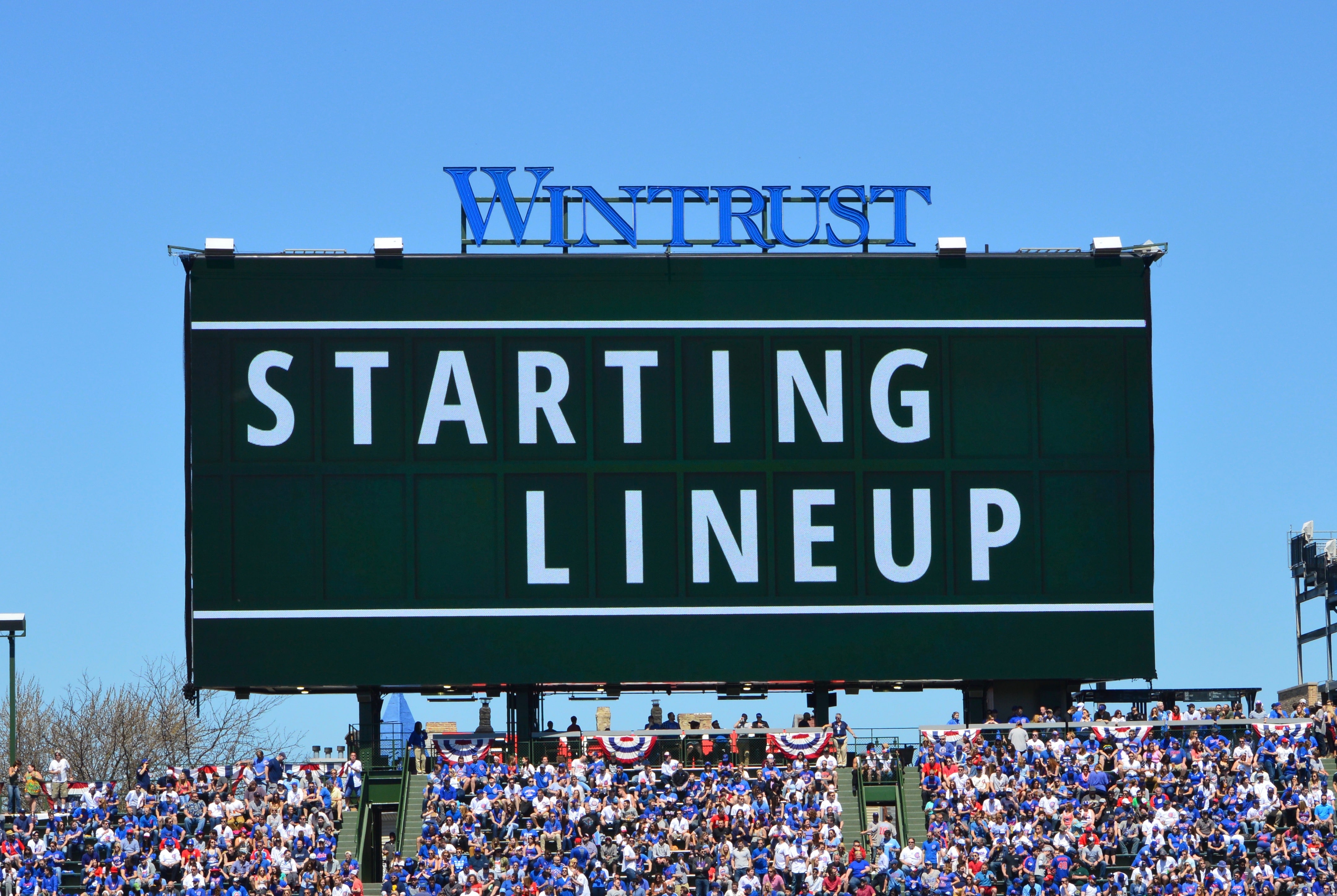 Chicago Cubs Lineup: Al Mago in Top Two Spots, Bote at 3B, Darvish Pitching
The Cubs are back to their new Daily Double at the top of the order with Albert Almora Jr. and Javy Baez forming a potent 1-2 punch. Anthony Rizzo is at first and Willson Contreras is behind the plate, followed by David Bote at third base.
That means no Kris Bryant for the fourth straight game. He was on the field for live BP prior to Thursday's game and met with the team internist, Dr. Stephen Adams, for an evaluation, but the Cubs haven't said anything beyond ruling out a concussion immediately after Bryant was beaned. My anxiety level isn't too high yet, but each game makes it feel less like mere precaution.
I'm sure he's fine and he may well be available in this one, the main concern is that he's okay.
Ian Happ will be handling the duties in left this afternoon, even though today's pitching matchup would seem to be a good one for the hot-hitting Kyle Schwarber. Then again, Happ has been doing better since grabbing some bench and Joe Maddon has to get him in there on a regular basis.
Addison Russell is at short as rumors continue to swirl regarding his possible inclusion in a Manny Machado deal. It's obviously all just speculation at this point, but those things can't always be easy to compartmentalize. Russell hasn't gotten off to a very good start and seems to be tinkering with his swing again, something we've seen a lot over his time in Chicago.
Jason Heyward is in right to round out the order and we'll see if he can continue his excellent hitting of late. Even the outs he made Thursday night were on well-struck balls that didn't at all resemble the choppers with which he's terrorized legions of worms over the last two years.
Yu Darvish will be on the mound for the fifth time this season as he tries to get the merry-go-round to stop spinning. He just seems to be getting turned right around — right 'round, baby, right round, like a record, baby — with no way to really get his bearings, which is evident from the ugly results to this point.
"I think it's approach," Joe Maddon said prior to Thursday's win (that's from Patrick Mooney at The Athletic, so you'll need to subscribe for the whole thing). "I've already talked to [Darvish] about that. Just like I think our hitting goes back to approach, I think the same with his pitching. Just trying to get him to — how shall I say? — slow down moments."
He was certainly able to compose himself the last time he faced the Brewers, a start that was easily his best of the season. Darvish allowed a single run over six innings, giving up just two hits and issuing one walk against nine strikeouts. It's the only game so far in which he's allowed fewer than five hits and notched more than four strikeouts.
That's who Darvish can be every time out there, though, so it's really just a matter of avoiding those implosion innings that have hurt him to this point. He was really locating fastball in that one, which better set up the slider and his other secondaries. I've got a feeling that getting in front of a Friday afternoon crowd at Wrigley may help.
Brent Suter will be on the mound for the Brewers for the sixth time this season, one of which came against the Cubs earlier in the month. The lithe lefty allowed four earned runs on eight hits and an uncharacteristic three walks in the loss, his first of two this year. Suter has a career 2.31 BB/9 mark, so the Cubs shouldn't be expected to get those free passes again in this one.
Basically a mirror image of Kyle Hendricks, Suter is going to work in the zone with a lot of soft stuff and breaking pitches. He relies on location and movement to generate weak contact and induce grounders. To this point in the season, however, he's been giving up a lot more balls in the air. Like 17 percentage points more, though he's been able to keep the ball in the yard for the most part.
Though he's generally a little tougher on lefties overall, Suter has been absolutely crushed by like-handed hitters when he pitches on the road. Granted, we're talking about only 69 batters faced over the course of his career, but a .349/.406/.556 slash makes you feel like Rizzo could really mash in this one.
First pitch is at 1:20pm ET and can be seen on NBC Sports Chicago for those folks who are in the Cubs' market and also have access to the channel (it's hilarious to me that DirecTV and others have NBCSC while Comcast cable doesn't in many areas). If you are outside the market, you can watch on MLB Network. Those of you who exist in purgatory between those two are just going to have to listen to 670 The Score, which isn't a terrible fate at all.
Here is this afternoon's #Cubs lineup. #EverybodyIn

Stream on @YouTubeTV: https://t.co/t4XvcdoeJc pic.twitter.com/j8MB8SCO7l

— Chicago Cubs (@Cubs) April 27, 2018