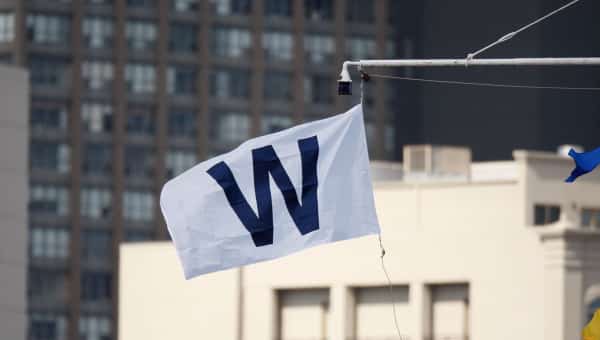 CI Recap (4/27/18) – Cubs 3, Brewers 2: Sogard So Close, Cubs Win on Unearned Run
The Cubs looked to extend their early success against the Brewers at Wrigley Field on Friday. Yu Darvish bounced back from recent struggles with a very effective pitching performance and it was once again Milwaukee's shaky defense that proved to be the deciding factor.
The Crew took advantage of a rare Jason Heyward error to score the the first run of the game in the bottom of the 1st. The Cubs jumped all over Brent Suter for four hits in the 1st inning to take a 2-1 lead. Things stayed right there until the 7th inning, when some iffy umpiring helped the Brewers to tie the score on a Christian Yelich sac fly.
The Cubs responded immediately, again scoring on a Milwaukee error in the bottom of the inning. Carl Edwards Jr. and Brandon Morrow slammed the door with authority the last two innings. The Brewers went six up and six down as Chicago sealed the 3-2 victory. (Box score)
Why the Cubs Won
Darvish came to pitch on Friday, only facing one real jam (in the 5th inning, of course). With runs hard to come by so far this series, the Cubs needed Darvish's effort to stay in the game.
Key Moment
Javy Baez hit a ground ball to short with men on first and third and two outs in the bottom of the 7th. Shortstop Eric Sogard booted the ball for an error, which allowed Addison Russell to score the winning run.
Stats That Matter
Darvish continued his dominance over the Brewers in 2018: 6 IP, 1 R, 0 ER, 3 H, 8 K, and 2 BB. His slider was particularly sharp and for good measure he froze Hernan Perez on a ridiculous 64  mph curve.
Morrow was simply nasty closing this game out. He froze Sogard with knee-high heat for the first out, then he finished the game with three high-90's fastballs right by Ryan Braun.
Bottom Line
The Cubs have won five of their last seven games to move a season-high three games over .500. The starting pitching is beginning to round into form, a good trend that hopefully continues.
On Deck
The Cubs look to secure a series win Saturday when Junior Guerra faces off against Jose Quintana. The 1:20pm CT start airs on MLB Network (out of market only) and ABC-7.