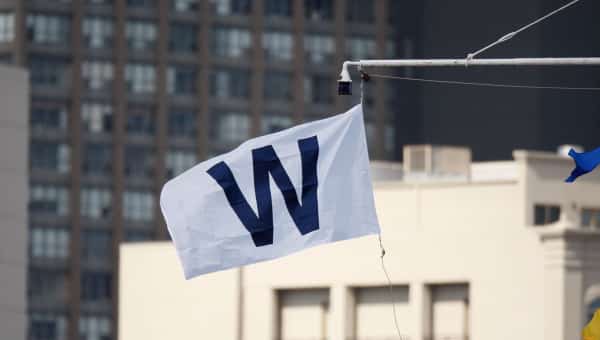 CI Recap (4/29/2018) – Cubs 2, Brewers 0: Pitching Dominates as Cubs Sweep
The Cubs entered Sunday's game with a chance to pick up a rare four-game series sweep over division rival Milwaukee. For the fourth time in as many games, offense was at a premium, as the two pitching staffs kept the hitters at bay for much of the game.
Chicago was able to brake the scoreless tie in the bottom of the 5th. Addison Russell led off the inning with a triple and came around to score one batter later on a single by starting pitcher Tyler Chatwood to make it 1-0. The Cubs added another run in the 6th thanks to a bases-loaded sacrifice fly from Russell, pushing the lead to 2-0. That proved to be more than enough to complete the sweep over the Brewers (box score).
Why The Cubs Won
Chatwood continued Chicago's recent stretch of excellent starting pitching with a strong outing of his own. While he didn't have the greatest command of his stuff, he was what you would call effectively wild, as he was able to keep the Milwaukee hitters off balance for most of the game.
Key Moment
After getting a borderline call on a 3-2 count to strikeout Travis Shaw in the top of the 7th, Chatwood walked Jesus Aguilar on five pitches and then fell behind 2-0 to Jonathan Villar. This prompted a quick mound visit by Willson Contreras and pitching coach Jim Hickey. Whatever was said during that conversation must have worked, as Chatwood induced Villar into a double play to end both the inning and his afternoon.
Stats That Matter
Chatwood put a cap on the series by turning in a stellar performance. The right-hander went seven shutout innings, allowing just two hits and three walks while striking out four. He had great movement on his pitches and although his command wavered throughout the game, Chatwood was able to harness it enough to shutdown Milwaukee.
Russell has had a rough go of things at the plate in 2018, but he came through on Sunday, finishing with two hits, an RBI and a run scored.
Brandon Morrow picked up his third save of the series with a quick 1-2-3 9th inning.
Bottom Line
Chicago pitching was dominant once again, leading the way to a four-game sweep of Milwaukee. Cubs starters allowed just one unearned run over 27 innings and the team as a whole limited the Brewers to just two runs over the entirety of the four-game set.
On Deck
The Cubs welcome the Colorado Rockies to Wrigley Field on Monday for a three-game series. Jon Lester (2-1, 3.29) will get the start for Chicago, while Colorado counters with left-hander Kyle Freeland (1-3, 4.33). First pitch is set for 6:05 p.m. CT and will air on NBC Sports Chicago and ESPN (out-of-market only).