Cubs Prospect Profile: April Pitcher of the Month Matt Swarmer Keeps Dropping Things Off the Table
Prior to Friday's announcement that he'd been named the organization's Pitcher of the Month for April, most folks probably didn't know the difference between Matt Swarmer and delicious, spit-roasted meat. But after posting a 1.74 ERA across four starts (20.2 IP) for the Myrtle Beach Pelicans, striking out 26 (11.32 K/9) and walking only three (1.31 BB/9), Swarmer is opening a few eyes in Cub-land.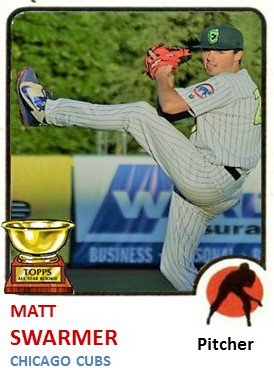 Listed at 6-foot-5 and 175 pounds when he was drafted out of Kutztown University in 2016 (Rd. 19), the then 22-year-old was a collection of arms and legs that flew everywhere. He originally had a Bronson Arroyo-like leg kick (see picture at right) with an over the top delivery that created a steep downward plane. Swarmer also had a looping curveball that showed some promise that first year at Eugene in 2016.
The gangly righty bounced around a bit his first two years in the system, but that's to be expected with most pitching prospects who have to polish up the rough edges. He still has the big leg kick and the same delivery, but three key developments are changing how people are evaluating Swarmer and his arsenal in 2018.
1. Swarmer adopted a new changeup during fall instructs in 2016 that he took to like a duck to water. The pitch comes in around 80-82 and has some sink to it, which isn't unique in and of itself. What's kind of weird, though, is that it looks like a fastball out of his hand but acts like a 12-to-6 curve with its drop. I can see how it befuddles hitters.
2. The 2017 season saw Swarmer bouncing around the system playing for Eugene, South Bend, Tennessee, and Iowa. He took on a variety of pitching roles from to starter to piggyback to reliever to just spot-starting for a pitcher skipping a start.
He wasn't really developing anything but arm strength over 100+ innings, but that added strength is paying off in 2018. Of course he's also added some lean bulk to fill out that wiry frame a bit more. In doing so, his fastball has gone from 86 to 90-ish and can touch 91-94. This only enhances his changeup.
3. His curveball looks to be tighter and not as loopy, which also helps make the changeup more effective. Where the change drops off the table and down, the curve tends to follow a slightly different 12-to-7 plane. He's also replaced that big arc with a harder break.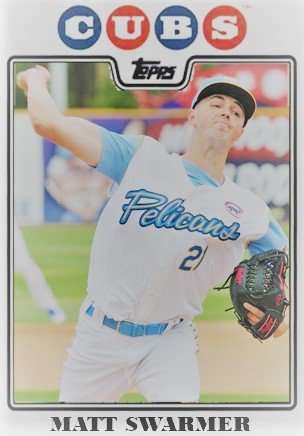 Pelicans radio broadcaster Scott Kornberg also added that the Cubs' scouts love Swarmer's development. His high leg kick and over-the-top delivery just aid in hiding the changeup while leaving room for further development of the fastball. And he can still add a more muscle to his frame, as I doubt he is much past 210 pounds now.
"I really think so," Kornberg responded when asked about Swarmer's ability to sustain his recent success. "He's so tough for opposing hitters to read because he's so funky with his delivery and release point. Plus, he doesn't walk really anybody, so it shows he can throw those pitches for strikes."
I've seen two of his starts this year and he is not the same pitcher he was in 2016 when the ball leaves his hand. The swings he gets are ugly, whereas the results he's getting are very promising. Though the Cubs don't always select projects, Swarmer is one of those 27 pitchers from 2016 on whom they gambled. Just based on his changeup and increased velocity, not to mention the obvious potential for further growth and improvement, the 19th round flyer might well pay off.
While it's true that 20.2 innings is not a lot to base an evaluation on, there is a clear ascension pattern being established. His full development arc will take some time, but I am excited to see what he can bring to the table — and what he can drop off of it — as he goes around the Carolina League a second time. Then we will know if hitters adjust.
And right now, all signs are pointing up