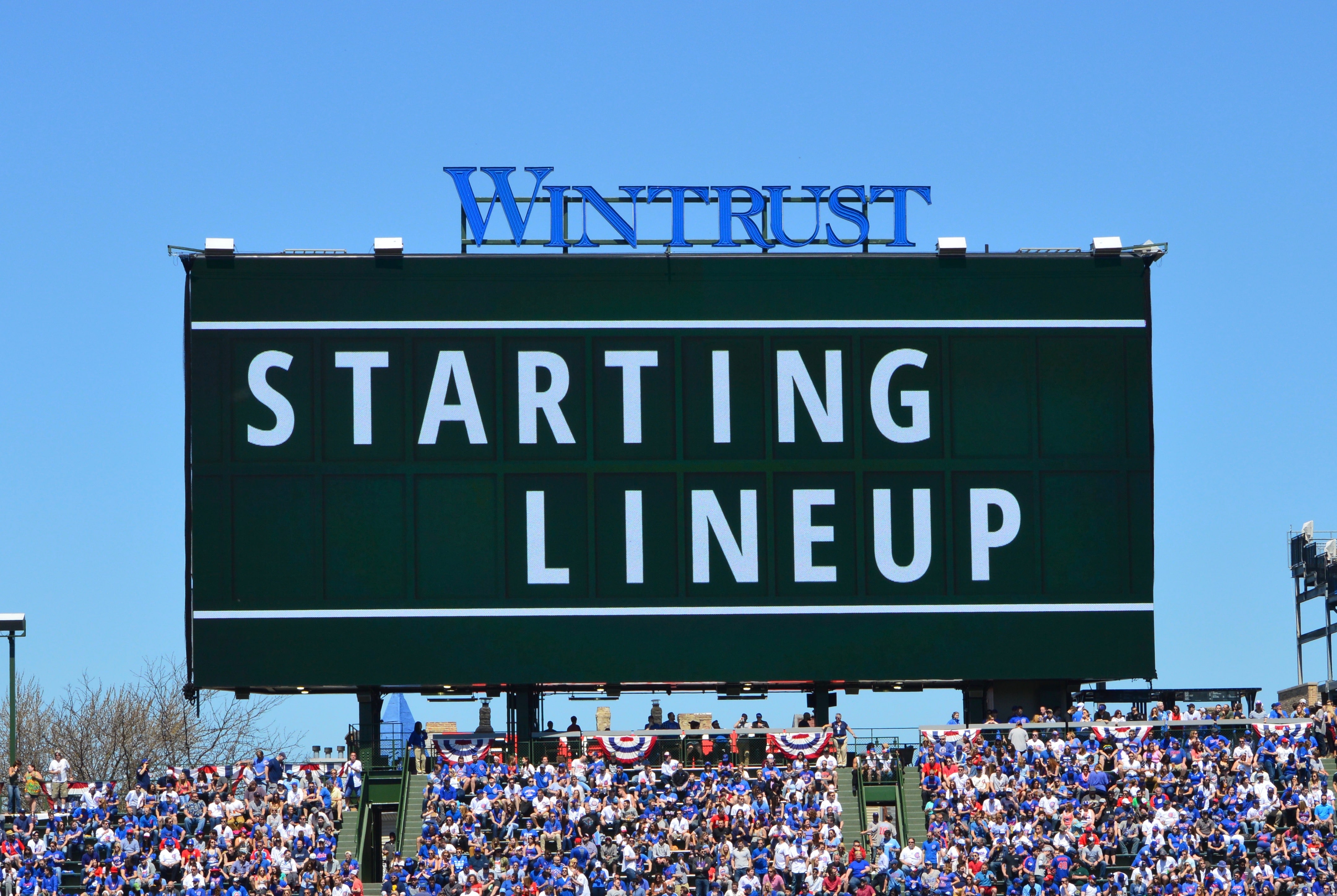 Chicago Cubs Lineup: Zo Leads Off, Schwarber Second, Javy Sits, Tseng Makes Spot Start
Quick trivia question to see how many of you read my earlier column on what Theo Epstein had to say about the Cubs' struggles: How many total runs have the Cubs scored in the five games after one in which they scored 10+ runs? Those of you who guessed seven can proceed with this article immediately. The rest of you need to stay behind and read the linked piece in order to move on.
The Cubs are going lefty-heavy against a righty who has pretty heavy platoon splits, which means Ben Zobrist leading off in right with Kyle Schwarber batting second. Kris Bryant bats and plays third, Anthony Rizzo is at first, and Victor Caratini is catching.
Tommy La Stella is playing second, though his inclusion is more about Javy Baez still dealing with a tender groin. Joe Maddon admitted on the radio this afternoon that he'd made out two lineups to account for Javy's ability to give it a go, so this is apparently the alternate.
Addison Russell is at short and Ian Happ is in center, perhaps as a reward for his two-homer performance on Monday. Oh, there's also the matter of his first-pitch-of-the-season dinger against tonight's starter, Jose Ureña. And since Jason Heyward has yet to log a hit against anything other than a fastball this season, it makes sense to sit him against a big-time slider/changeup pitcher.
Ed. note: Despite my attempts to justify it otherwise, Heyward is out of the lineup because he's been placed on the seven-day concussion DL after crashing into the wall in St. Louis trying to rob Dexter Fowler's walk-off homer. David Bote has been called up to take the vacant roster spot.
Yu Darvish was originally scheduled to make the start for the Cubs, but was placed on the DL after being weakened by a parainfluenza virus. In his place will be two-time organizational Pitcher of the Year Jen-Ho Tseng, who made two appearances last year with the big club. Based on what he's done so far at Iowa, the Cubs would be happy to have a repeat of that 7.50 ERA over 6 innings in 2017. Yes, I said they'd be happy to get those results.
Tseng hasn't exactly been lights-out through six starts (31.1 IP) for Iowa and has allowed at least two earned runs in each start. And that two-run effort in his first appearance was actually the only time all year he's given up fewer than four earned. He does have 32 strikeouts against only 13 walks, but opponents have tagged him for 45 hits to this point. That's all led to an 8.04 ERA and 1.85 WHIP, not the kind of production that'll play even against a weak Marlins lineup.
He's not a big dude (6-1, 210) and doesn't overpower with velocity, but Tseng mixes speed and location to keep hitters off balance. He's never been a big strikeout guy and relies on working around the plate to avoid both walks and hard contact. Without doing a ton of research, it looks as though he might be overthrowing a little bit and sacrificing some command in exchange for whiffs.
Tseng currently boasts a career-high 9.19 K/9, but he's also got a 3.73 BB/9 mark and a 1.72 HR/9, both of which are well above his usual production. That's not going to play at the next level, though this is only expected to be a spot start to give Maddon a few innings before he needs to go to the 'pen. Good thing Hendricks went 8 strong last night.
And just in case you were wondering why the Cubs didn't go with other options, Mike Montgomery threw three innings Sunday in St. Louis and Adbert Alzolay threw 93 pitches in a Saturday start. Then you've got Eddie Butler, who still isn't ready to return after going to the DL with a groin injury on April 20.
The Cubs will be getting their second look of the season at Ureña, who was the Marlins' Opening Day starter way back on March 29. You may remember him as the guy who watched his first pitch sail out over the wall off the bat of Happ. The Cubs ended up scoring five earned runs against the hard-throwing 26-year-old in that one, largely due to terrible command.
That hasn't been an issue since his first start, as the righty has walked only seven total in his last six outings. He's only allowed two more home runs as well, bringing his overall numbers way down from that opener. A quick glance reveals that Ureña has been dialing back usage of the fastball and changeup in favor of the slider, which he throws about 30 percent of the time.
The Cubs will need to have their bats ready to go for this one, since Ureña can bring the heat. His fastball averages over 95 mph and his change comes in at around 90, with the slider working in the upper 80's as well. As we saw the first time around, being aggressive at the plate could pay dividends.
Not only will the Cubs be able to avoid that slider late in counts, but they could also take advantage of a guy who throws first-pitch strikes to nearly 64 percent of the batters he faces. And that number has spiked to 76.8 percent over the last two games, so they really need to be looking strike early.
Ureña has been tagged by lefties to the tune of a .908 OPS over the course of his career, though he's gotten that down to .819 so far this season. As you might expect, he'll use that changeup much more frequently against lefties, counting on its arm-side run to get swings on pitches that fall low and outside. If he leaves it up in the zone, though, it's very hittable.
The four-seam is going to be middle-in to righties, pretty much the exact pitch Bryant talked about loving when he was interviewed by Alex Rodriguez prior to Sunday's game in St. Louis. KB homered on such an offering shortly after that interview aired and he could well do the same in this one.
The slider will be buried low and away to righties and will generate a lot of swinging strikes as a result. What's interesting about the slide-piece is that, despite staying down consistently, it's responsible for more flies and line drives than either the fastball or change.
All things considered, this matchup really sets up really well for Kyle Schwarber, who has a 1.017 OPS and .325 ISO against righties this season. And his more mature approach of swinging early and taking late is tailor-made for what we have seen from Ureña so far this season. Something tells me War Bear is going to bang the drum, and loudly, tonight.
First pitch from Wrigley is set for 7:05pm CT and can be seen on NBC Sports Chicago.
Here is tonight's #Cubs starting lineup. #EverybodyIn

Stream on @YouTubeTV: https://t.co/t4XvcdoeJc pic.twitter.com/sXVg0vdYZ5

— Chicago Cubs (@Cubs) May 8, 2018