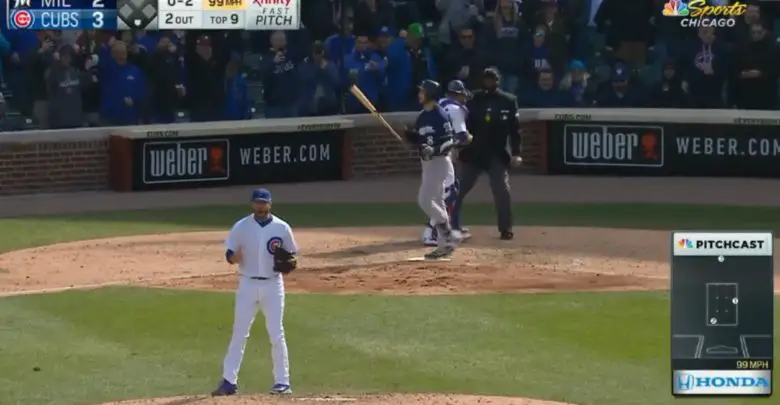 Attack Mode: New Coach and New Leader Have Cubs Pen Excelling with New Approach
There's some inherent danger in trying to draw too much from the collective small-sample practitioners of relief pitching at this point in the season, but the early returns on the Cubs' bullpen overhaul are very good. And though it wasn't a full-fledged gutting, the nip and tuck additions of Brandon Morrow and Steve Cishek, not to mention the return of Brian Duensing, have served to solidify a group that was anything but reliable last season.
The Cubs would still like to see improvement in the bullpen's most glaring weakness, a 4.25 BB/9 average that was a mere hundredth of a point away from worst in MLB last season. They've gotten it down to 4.06 this year, though, and they've done a much better job of limiting those free runners once they reach, so baby steps or whatever.
What Tuesday night's Johnny Wholestaff effort showed clearly, and what cannot be understated, is the value of philosophical changes precipitated by the new guys in charge of the 'pen. That would be Morrow, who immediately assumed a leadership role after being signed, and Jim Hickey, who replaced Chris Bosio as the team's pitching coach.
"I really think that walks, especially out of the bullpen, are a little bit more of a mindset than they are anything physically or mechanically wrong," Hickey told reporters back in February. "You come into a situation where maybe you give up a base hit and maybe it changes the game, so you're a little bit reluctant to throw the ball over the plate.
"So I think it's more of a mindset, and once the group gets the mindset of 'attack, attack, attack,' it'll be contagious. And I think it is contagious. I think last year it was probably contagious in that there was more walks than you would like, and I think as you turn the corner and head the other direction, that would be contagious, as well."
Those sentiments were echoed by Morrow just a couple weeks ago when he spoke about his own approach on the mound.
"I try and spot the fastball and put [hitters] on the defensive by attacking and getting them into swing mode and you'll see some swings out of the zone," Morrow said. "You can get ahead and then dictate pretty much whatever you want."
But it's more than just leading by example. Morrow has been outspoken from the start, whether it's teaching the hitters what to look for from opposing pitchers or working with his fellow relievers to get them to trust their own elite stuff. And when you're talking about a guy who has stepped into a new role armed with a 99 mph heater for which hitters have no answers, he's got more than enough action to back up the words.
We're seeing the impact of Morrow and Hickey on Carl Edwards Jr., a pitcher who's really coming into his own now that he's truly starting to embrace the singular nastiness of his pitches. No longer afraid to throw strikes, Edwards has looked like a different pitcher through the first month-plus of the season.
"[We were] talking about it all spring, attacking," Morrow said of his conversations with Edwards. "You see when he puts guys on the defensive what he can do. It's impressive. His shit's great and when he throws it in the strike zone, they really have no chance."
To wit, Edwards boasts a career-high 15.88 K/9 and 3.75 K/BB ratio, the latter of which actually went up when he struck out the side with a walk Tuesday night. What's really interesting about Edwards' approach is that he's not actually more strikes or fewer pitches, which you might expect given the results and the rhetoric. It's not so much that he's working more in the zone as much as he's working closer to the zone.
As a result, he's been able to generate more swinging strikes (career-high 34.9 percent) and less contact (career-low 53.1 percent) despite a career-low overall strike percentage (60.1 percent). The real key is that the String Bean Slinger is starting plate appearances with a strike at a 62.1 percent clip, just a couple ticks higher than the MLB average.
By getting ahead of hitters, he's able to do stuff like this…
Carl Edwards, Jr. with one of the filthiest pitches you'll see.
95 mph Cutter. ? pic.twitter.com/n2orl3FGXw

— Rob Friedman (@PitchingNinja) May 9, 2018
That's just sick, man, a 95 mph fastball that moves like a slider. It's like the four-minute mile of pitches, something that was inconceivable until it actually happened.
But Edwards isn't the only pitcher excelling under new tutelage. Pedro Strop has long been the most underappreciated reliever in the Cubs' bullpen and he'll remain so this season in light of what we're seeing from Morrow and Edwards. Yet there he is, getting the job done with a career-low 1.80 BB/9.
Strop needed only eight pitches to dispose of the Marlins in the 7th inning of Tuesday's game, and included a five-pitch at-bat by J.T. Realmuto. That's par for the course for the 32-year-old righty, whose 3.34 pitches per plate appearance is nearly 10 percent lower than his previous career best set in 2014 for a Cubs team that didn't have nearly the pressure to succeed as the current iteration.
His contact rate is higher than it's ever been since that '14 season, but he's throwing more strikes (66.0 percent) and he's getting more swings (50.0 percent) than ever before. That's led to more soft contact than at any point in his Cubs tenure.
And let's not forget about Duensing, who has yet to allow a run of any kind in 16 appearances. Or Justin Wilson, who hasn't walked a batter in his last five appearances and who's looking dangerously close to resembling the guy the Cubs traded for last year. Oh, and what about Cishek leading the team with 17 appearances?
Given the fickle nature of relief pitching, these numbers could all shift dramatically in short order, but all indications are that the Cubs have established an environment that can foster continued success. Their bullpen is at or near the top of the NL in most of the really important categories and, despite some struggles by the rotation, Cubs relievers are ninth in the league in terms of total innings pitched.
Now they just need to keep attacking and trusting their superior stuff to get strikes and outs in the zone.