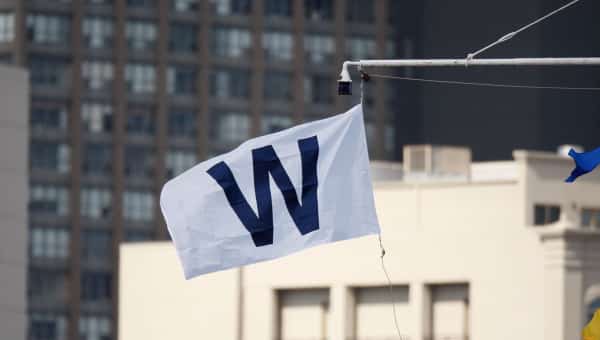 CI Recap (5/15/18) – Cubs 3, Braves 2: Darvish Returns, Clutch Bats Steal Game
Entering this three-game set with the Braves, the Cubs were looking to win their sixth game in their last eight with Yu Darvish making his return from the disabled list. For much of the game, both teams were deadlocked in a 1-1 tie. After giving up a run in the bottom of the 8th, the Cubs were able to rally late behind lights-out relief pitching and clutch at-bats to win the game 3-2, (Box Score).
Why the Cubs Won
The Cubs bullpen, which boasts the third-lowest ERA and second-lowest BABIP in MLB, was able to churn out five innings of relatively clean work to shut down the Braves offense. As such, the Cubs' 9th inning two-run rally proved to be enough to overtake the Braves, who nearly won this one after a Ronald Acuña home run in the bottom of the 8th.
Key Moment
The Cubs rallied late, powered by an Addison Russell double to tie the game and a Ben Zobrist single to score Russell and give the Cubs a 3-2 lead.
Stats That Matter
Kris Bryant remained hot in this one, going 2-for-4 with one walk. Over the last seven days, he has an astounding .429 OBP and .714 SLG and has accounted for a 196 wRC+.
Kyle Schwarber showed off his cannon of an arm in the 1st inning when Freddie Freeman attempted to score off of a steal and errant throw from Willson Contreras that was unluckily kicked into left field.
Russell came up clutch in the 9th inning, smacking a double to deep center that traveled 404 ft. to tie the game at 2-2.
Darvish looked sharp in his first start back following his latest DL stint: (4.0 IP, 3 H, 1 ER, 5 K, 2 BB). The concerning aspect of this outing was Joe Maddon pulling Darvish after only four innings of work. This could be attributed to the desire to ease him back in to avoid any side effect flare-ups (i.e. dehydration/cramping), or to keep him out of the 5th inning in his first start back due to his noted struggles during the third time through the order (31.50 ERA in 4.0 IP – 5th inning, 29.08 ERA in 4.1 IP – 3rd time through order). Following the game, Jesse Rogers of ESPN reported that Darvish was pulled after the 4th due to leg cramping.
Bottom Line
The Cubs were graced with a good performance from Darvish and the bullpen was able to shut down the rest of the game, aside from Carl Edwards Jr. allowing a home run in his second straight outing. The offense was also able to do what it does best and rally late to steal this one from the NL East-leading Braves.
On Deck
The Cubs get ready for the second game of this three-game set as Tyler Chatwood prepares to take the mound Wednesday evening. He will be facing Brandon McCarthy, who has gotten off to a rather slow start this year. First pitch is scheduled for 6:35pm CT and can be viewed on WGN.