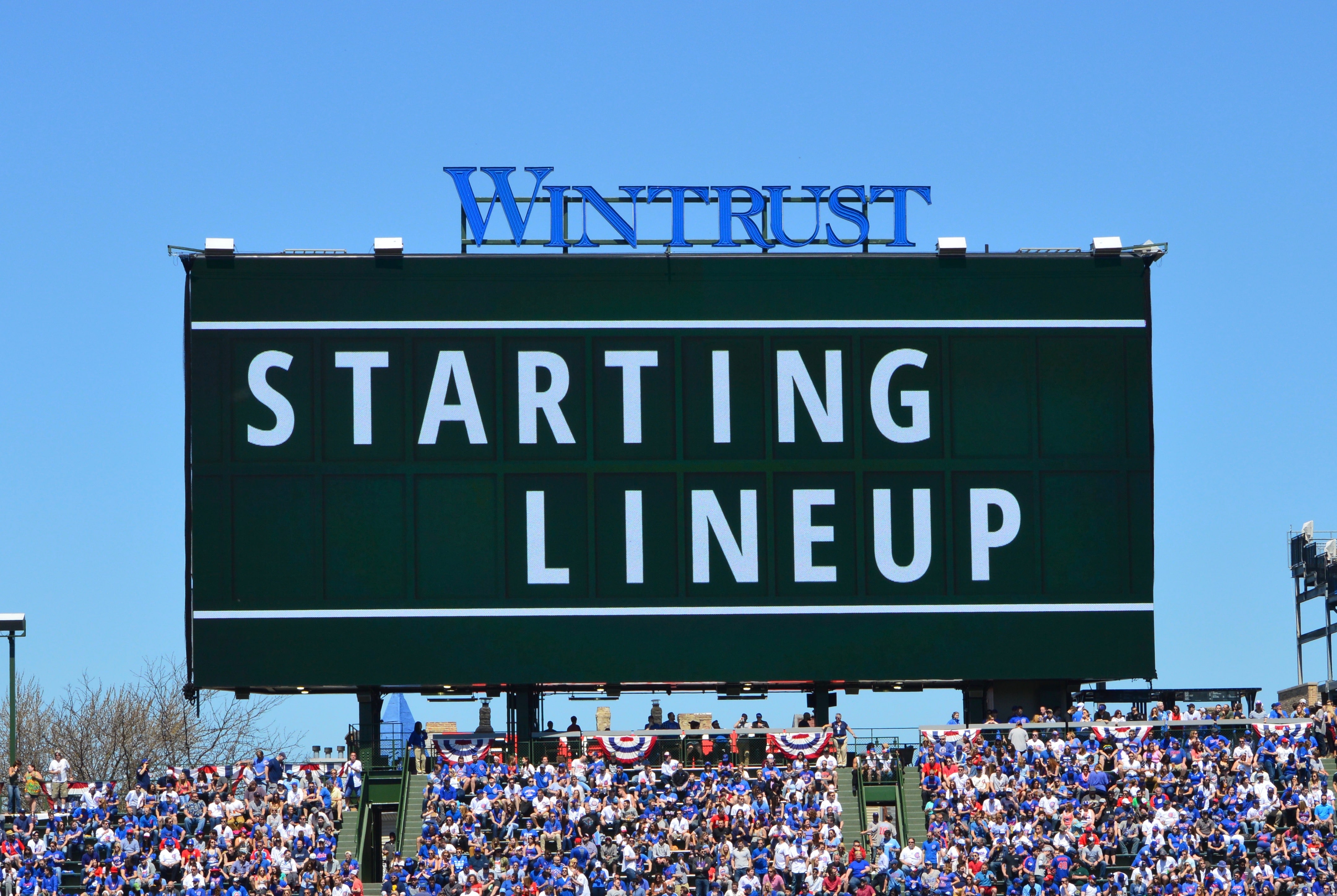 Chicago Cubs Lineup: Almora Leading Off, Happ in Right, Chatwood Pitching
Albert Almora Jr. has been putting together some pretty solid at-bats against righties lately, but this time he'll try to do so back at the top of the order. There's a good reason for Joe Maddon's confidence in the traditionally split-heavy center fielder, and it's not just his recent performance (more on that below).
Kris Bryant and Anthony Rizzo follow in their familiar roles and the non-Venezuelan-flag-sleeve-wearing Willson Contreras cleans up. Javy Baez is at second batting fifth and Kyle Schwarber, the best defensive player in baseball, will be out in left.
Addison Russell has really been showing some nice pop lately, with four doubles — including the game-tying hit last night — and a homer in his last eight games. Having that kind of production from the seventh spot in the order is super-duper cool. Ian Happ is riding a two-game no-strikeout streak, though that includes one total plate appearance. He'd K'd in 13 of his previous 28 PA's, so you have to appreciate baby steps.
Tyler Chatwood continues to be a Little League pitcher who just can't seem to harness his superior stuff over the course of several innings. It's frustrating to watch him pitch because you never know where the ball's going, though that applies to opposing hitters as well. If Chatwood could exercise more control and command, he'd see his results improve in a big way.
The Braves will counter with big righty Brandon McCarthy, a seasoned vet who's been around since 2005. McCarthy goes 6-7, 235, but his performance hasn't been nearly as imposing as his frame. His 5.58 ERA has been inflated by a propensity to allow lots of solid contact. He is averaging 6.69 K/9, which is nice, but he's allowing a .362 BABIP, which indicates that guys are hitting him pretty hard.
And that latter number doesn't even account for the seven homers he's given up, five of which have come in his last four starts. McCarthy has given up at least four hits in each of his eight starts and he's given up at least six knocks four times. What's more, he's been tagged 12 and 11 times, respectively, in his last two trips to the mound.
McCarthy is a sinker-baller who'll bring in a cutter and curve as well, occasionally mixing in a slider and four-seam. His hard stuff works in the low 90's and the slide-piece is surprisingly firm at 87; only the curve offers a major velo change at around 80 mph. And only the sinker has positive value, which it derives from generating grounders at a 60 percent rate.
This is exactly the type of pitcher the Cubs should be able to jump all over just a day after being shut down by the hard-throwing Mike Foltynewicz. McCarthy has pretty even career splits, but he's been absolutely rocked by righties this season. Like-handed hitters are carrying a .961 OPS and .414 wOBA against him and it's been even worse at home, where they have respective marks of 1.128 and .488.
In fact, McCarthy's overall numbers show that he's allowing a 1.005 OPS and .435 wOBA at SunTrust this season. And would you believe that's with only a single homer allowed there? Wild stuff. Granted, we're only talking about 14 innings, but it's clear the 34-year-old hasn't been on his game. Here's to hoping the Cubs keep it that way tonight.
First pitch is at 6:35pm CT and can be seen on WGN or heard on 670 The Score.
Here is tonight's #Cubs lineup in Atlanta. #EverybodyIn

Game preview: https://t.co/6sEpCfn2kA pic.twitter.com/QiwDryNK8T

— Chicago Cubs (@Cubs) May 16, 2018