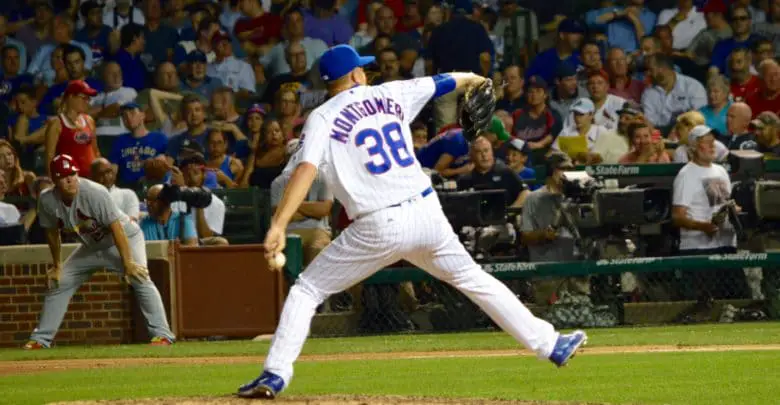 Montgomery 'Has Earned the Right' to Start Saturday, Alzolay Still in Mix
When Yu Darvish came out Tuesday night after only four innings and 61 pitches, initial speculation was that Joe Maddon was using it as an opportunity to stretch Mike Montgomery out to start one of Saturday's double-header games. But then Monty went  only two innings and 20 pitches and we later learned that Darvish had left with cramping in his calf.
There went the idea of Monty getting that weekend start, huh? Well, maybe not. Maddon confirmed to the Tribune's Mark Gonzales that his sixth starter is indeed still in line to be stretched out.
"Monty has earned the right to do this," Maddon said. "He has been throwing the ball as well as I've seen him. So we're going to play it straight and see what happens."
The Cubs skipper also confirmed that top pitching prospect Adbert Alzolay is a candidate to be called up after making a Monday start for AAA Iowa. Prospect-heads have been drooling over Alzolay's mid-90's heat and big curve, and he's been working hard to hone the changeup as well. Given the Cubs' lack of pitching development over the last few seasons, a viable prospect is really something to behold.
But if things work out such that Montgomery isn't needed over the next few games, Alzolay's debut could be delayed.
"The plan is to hopefully get Montgomery stretched out," Maddon admitted. "I'm aware of trying to get him stretched. If he gets stretched, then I can back him out the next couple of days and save him for Saturday."
Of course, there's also the possibility that Alzolay and Montgomery could both pitch Saturday in Cincy. Given that the latter hasn't gone more than three innings this year and the former has only made a handful of starts at AAA, Maddon could look to piggyback them. And with the 26th man roster exemption in place for this twin bill, it's not as if the Cubs have to make any real roster decisions to bring Alzolay up.
We probably won't know for sure how the Cubs are going to play this for a couple days yet, but keep an eye an whether they have to call on Monty in the meantime.