Cubs Prospect Review: Who Are the Early Candidates to Break Out This Year?
Swarmer and Pereda Lead the Pack for Now
With the myriad blogs, websites, and other assorted media out there tracks Cubs prospects, it is getting harder and harder to find a real breakout. When you've heard about nearly every single player in the organization since two years before he was drafted or signed, there's really not much mystery. Every now and then, though, someone sneaks through?
Last year, Adbert Alzolay flew through two levels like a hot knife through butter. Meanwhile, 2017 fifth round pick Nelson Velazquez clubbed 8 home runs in about six weeks of rookie ball in August and early September to take the breakout hitting award. It's still very early, but things are a little different when identifying the breakout performances of the first half.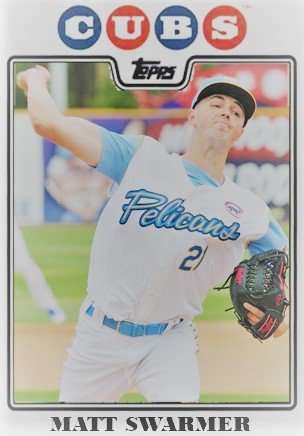 When it comes to pitching, Myrtle Beach starter Matt Swarmer currently leads the pack. He was named the Cubs' April Pitcher of the Month after going 20.2 IP with 27 strikeouts. Swarmer is making his second trip around the 10-team Carolina League here in May and things are a bit tougher. He has a 3.82 ERA — though you can chalk that up to one bad inning — over 11.2 innings but he's struck out 16 and walked just one. He's still looking quite good, but we'll need more data before labeling him a breakout.
Keegan Thompson knows how to work a hitter and a strike zone and he seems to improve over his last outing each time he goes out there. He put up a 4.19 ERA in April after skipping South Bend to begin his first year in full-season ball. That is a big adjustment in and of itself, but Thompson is delivering with a 2.65 ERA over three May starts as he gets comfortable. He already has 18 strikeouts for the month, surpassing his total for all of April in half the time. Thompson just looks like he knows what he wants to do on the mound and he should be a fun watch the rest of the season.
Tyler Peyton was my pick to break out in relief and he has done everything he can to make me look good. The 2016 draft pick out of Iowa has really taken to the bullpen. He did well at times last year in South Bend, especially in August when he had a 1.29 ERA for the month. So far, Peyton has a 1.35 ERA with 20 strikeouts in 20 innings and he has begun to close for the Pelicans.
Hitting is down quite a bit throughout the system in 2018, which makes it pretty easy to pick out prospects who have seen a spike in their performance at the plate.
While Austin Filiere is having an outstanding year for South Bend, he pretty much broke out last summer at Eugene after being overshadowed by Velazquez down in Mesa. The same is true for Zack Short and Jared Young. Meanwhile, Connor Myers, who hit just .191 last year, seems to have added "singles hitter" to his repertoire with an average just above .270 this year. Myers has always been an elite defender, but his adding the ability to hit for a decent average really transforms his value to the organization.
Still, Myers is not the breakout hitter of the first half. That distinction belongs to his teammate, catcher Jhonny Pereda.
Pereda is hitting a smooth .311 with two home runs and a team-leading 23 RBI. He doesn't strike out much and his monthly splits are improving, from .304 with a .360 OBP in April to .324 with a .405 OBP in May. Arizona Phil of The Cub Reporter raved about Pereda's defense behind the plate this spring. His offense, on the other hand, has been a complete surprise.
Pereda got off to a great start in April, hitting .344 before facing a lot of pitches that began with the letter "C." He struggled in May (.219) and June (.153) before rebounding somewhat in July (.275) and August (.263). In the second half, he cut his K rate by a third and that has been the springboard for him this year.
His consistency and approach at the plate leads me to believe he will be the breakout hitter of the first half in about a month.
"He rarely strikes out or even swings and misses, and tries to use the middle and opposite fields," Pelicans broadcaster Scott Kornberg said of Pereda. "In fact, about two-thirds of his batted balls have been hit to those directions, and he has one of the highest opposite-field percentages in the league.
"In addition, he's been hitting consistent line drives. His line drive rate has been in the top 10 of the league all year long, so when you're making that much contact and it's almost always quality contact, good things are going to happen."
It will be interesting to watch the aforementioned players try to sustain their development this spring. Ultimately, I think the Cubs are looking for a few breakthroughs, too.