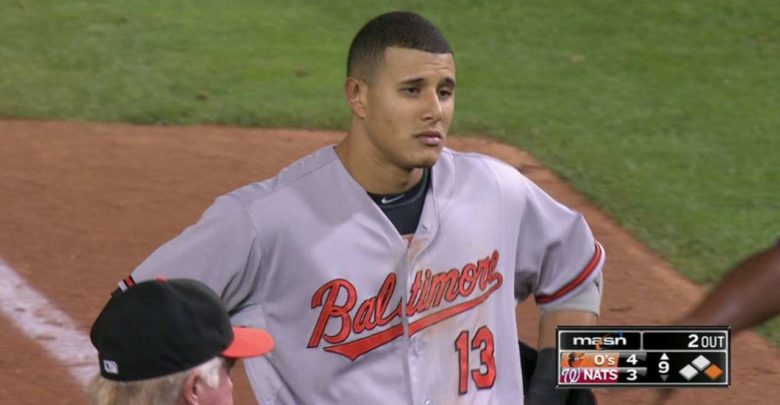 Is It Worth It for Cubs to Help Manny Machado Fulfill Childhood Dream?
It's really weird to me that in this era of pervasive digital content churning at a breakneck pace 25 hours a day, eight days a week, we haven't really heard much about the potential blockbuster trade involving Manny Machado going to the Cubs. You'd expect that such a topic would create borderline obsessive behavior among seasoned media members, let alone all the fanboy bloggers who created entire online platforms just to pontificate about their favorite team.
That's probably why you've made the choice to turn to Cubs Insider, since we're really the only outlet covering this story at all. We've made a name for ourselves by turning over rocks others won't deign to lift, and this figures to be perhaps the most Sisyphean stone of them all.
Of course, the Machado/Cubs story is being covered by damn near everyone and may have taken on the properties of ipecac for some of you already. But hey, only two and a half months to go before we can put this one to bed! Maybe less, depending on the whims of those involved.
Rather than venture another whack at what was once a perfectly healthy horse, I wanted to address something that has come up in conversation recently and that Machado himself sort of spoke to in Chicago Monday. I'm speaking, of course, of winning a championship and whether such a big trade would be worth it for the Cubs.
"We played together, as kids, to begin with," Machado told the media (full piece from The Athletic requires a subscription) when asked about his childhood friend, Albert Almora Jr. "And when we were playing in his backyard growing up, we've always dreamed about playing together someday in the big leagues, and put on the same big league uniform, be on the same field and win a World Series together. I mean, that's every kid's dream."
The most obvious part of this deals with living out a childhood dream by a) winning a title, and b) doing so alongside your best buddy. Machado and Almora share a deep bond and have been in communication during this process as it's become painfully obvious that the former is going to be moved. Machado has no control over where he goes in a trade, though his personal connection could influence things nonetheless.
We know from their discussions this past winter that the Orioles very badly wanted to avoid the possibility of Machado ending up in New York. They were so adamant about it that they refused to even converse with teams that might fall out of contention by the deadline and see fit to flip Machado to the Yankees. Trading the superstar closer to the deadline basically eliminates that possibility, but there's still free agency to worry about.
You can see how the Orioles, a franchise governed as much by the emotional whims of owner Peter Angelos, might be willing to take a haircut on their return for Machado in exchange for greater assurances that he won't eventually land in New York. Not only are the Cubs competitive on the field, but they've got the desire and financial wherewithal to spend big on acquisitions should they decide to do so.
Then you add in the Almora factor, which seems like a very real value-add for Machado and could increase the chances that he signs an extension or a free agent deal in Chicago. So while it probably won't be among the primary factors in any future negotiations, the Cubs might be a more desirable destination as far as both Machado and the Orioles are concerned.
That could also mean that the Cubs would get a better price for the slugging shortstop than had initially been figured prior to the start of the season. Actually, the reduced control of Machado coupled with the loss of a compensatory pick have all but assured that the cost has already dropped significantly.
"If we play ourselves into a position where we can benefit from some improvement and we're a legitimate championship contender, absolutely we will be pushing the envelope to try to get better."
Theo Epstein said earlier in May that the Cubs would not pay premiums for rentals, but exactly what he meant by that is wide open for interpretation. He and Jed Hoyer have spoken since at least last year's deadline about the likelihood that the Cubs would eventually have to start trading players from the 25-man roster rather than just spending prospect assets over and over. So they could still spend big, just not from the same well they've gone to recently.
"If we play ourselves into a position where we can benefit from some improvement and we're a legitimate championship contender, absolutely we will be pushing the envelope to try to get better," Epstein told 670 The Score. But that will probably not include paying a significant premium of future assets for a rental, because we have to build this organization and keep our focus on this group and this year's team and the immediate future in the next couple years but also keep an eye on what's going to happen after 2021.
"We can't be sacrificing all of our future assets in drafting guys exclusively to trade them. We can't do that. We have to build farm system. It's been used quite a bit to support this group, and we need to start growing the farm back as well."
You'll notice from the selections I emphasized that Epstein repeatedly references the need to protect and grow the farm system. He also specifically mentions a more immediate focus on the competitive window at the big league level. Interpretations may vary, but I see that as a clear admission that he's willing to pull the trigger on a very big move if he and the rest of the team's flat hierarchy believe it helps them to win a World Series.
And that's what lies at the heart of this whole discussion. We can all share our own opinions at the water cooler or on social media, but the fact of the matter is that the Cubs making a deal like this means that they believe beyond a shadow of a doubt that it significantly improves their chances at another World Series. Yes, even if it means trading a young, controllable All-Star for a young, non-controllable superstar.
If they do make such a move, its success will be determined solely by whether or not they do win the World Series. Just like sending a Gleyber Torres-centered package to New York for Aroldis Chapman was a title-or-bust trade, so too would swapping Addison Russell for Machado.
So the question of whether the trade is worth it for the Cubs has two parts, only one of which can be answered right away. The first of those is whether they believe the trade is worth it, which would be a definitive yes. The second is whether the trade actually was worth it, but that requires hindsight. And even that could receive a deferment should Almora's pal choose to stick around for a while.
Again, we can debate the merits of the deal from our own disparate points of view all day long, but the simple truth is that the Cubs know the parties involved much better than we do and agreeing to a deal means they believe very firmly that it makes them an appreciably better team. That's all that matters in the end.