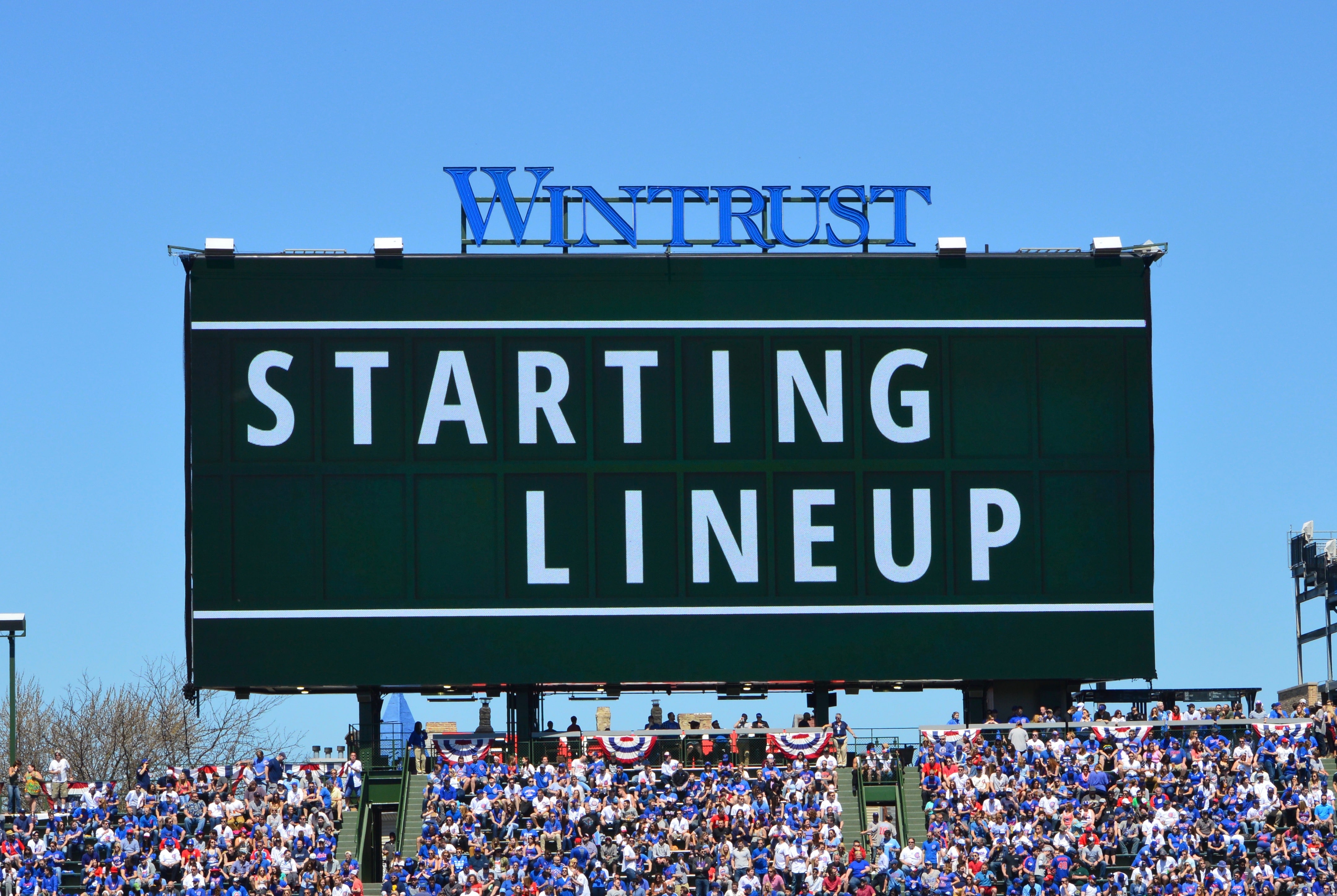 Chicago Cubs Lineup: Almora Leads Off, Javy Second, Chatwood Starts for Darvish
Albert Almora Jr. will lead off with a lefty on the mound, followed by Javy Baez batting and playing second, and Kris Bryant batting and playing third. Anthony Rizzo cleans up, Willson Contreras is behind the plate, and Kyle Schwarber is in left.
Addison Russell handles the duties at short while Jason Heyward rounds out the order in right. In all, the Cubs have five right-handed batters, which is perhaps a little surprising against a guy who's been really tough on lefties when he pitches on the road. Heyward being in the lineup is at least a little odd, given his .606 OPS against grounder pitchers, .577 against finesse pitchers, and .369 OPS against southpaws this season.
As if a nationally televised start for Yu Darvish didn't have people kind of holding their breath already, Cubs fans started passing out like over-served Indy 500 attendees after hearing Saturday's news. Not only has Darvish gone to the DL with right triceps tendinitis, but his start is being handled by Tyler Chatwood.
Before we get to ol' Chatty, let's go ahead and napalm the idea that this has anything at all to do with Darvish being mentally weak and the Cubs trying to spare him from the bright lights of Sunday Night Baseball. If that was the case, they'd just have bumped him back a day.
Less hot is the take that Adbert Alzolay should have been called up to take the open spot in the rotation, though he just threw 94 pitches on Thursday and won't be available to pitch again until Tuesday. Besides, there's that Mike Montgomery guy who Joe Maddon has said deserves the shot. Personally, I'd rather see Alzolay in there if Darvish is shelved for much more than the 10-day minimum.
Anyway, back to Chatwood, whose last start was nothing short of fetid biomedical waste. He's failed to record an out in the 5th inning in two of his last four outings and hasn't gone more than 5.1 in any of those. If he issues a walk prior to striking out a Giants batter in this one, he'll have a 1:1 K/BB ratio (41 of each). Finding the zone in this one would be a welcome change.
Going for San Francisco will be 27-year-old lefty Ty Blach, a man whose surname, when pronounced phonetically, sounds like the noise I make when I watch Chatwood pitch. But Blach's name actually sounds more like something you'd put in the road to stop cars, and he could be exactly that for the Cubs in this one.
Dude doesn't miss many bats at all, so the Cubs are going to put plenty of balls in play. Being able to do something with them, however, that's a different story. Only six qualified pitchers allow more in-the-zone contact than Blach and only four give up more overall contact. But he isn't among the top 30 when it comes to working in the zone and only issues 2.97 BB/9, which means he controls the edges well.
Despite generating less soft contact (15.2%) than all but 11 pitchers, Blach has baseball's best grounder/fly ratio with 2.60 balls on the ground to every one in the air. His incredibly nice 56.9 percent grounder rate is tops in baseball and he gives up only 0.62 HR/9, one of the best marks around. That hasn't led to great overall results, though, and teams can just pound on his stuff all game long.
Blach has allowed 67 hits in 57.2 innings and hasn't recorded more than one out in the 5th inning in any of his past three starts. He'll work with a fastball that sits 90 and a change that doesn't average 80, working in a 75 mph curve and the occasional slider. As you might imagine, he keeps that fastball down, down, down to get that groundball action.
Cubs lefties could be in for a long evening if Blach maintains his traditional splits against them. In 69 innings, like-handed hitters have mustered a mere .592 OPS. In contrast, righties have OPS'ed .802 in 169.1 innings. He's been even more stifling when pitching away from home, though perhaps the Cubs can turn that around a little.
First pitch from Wrigley will be at 7:08pm CT and can be seen exclusively on ESPN. As much grief as I give the Four-Letter for their inane tropes and silly commentary, they had an excellent segment during the Cubs/Cardinals game a couple weeks ago that featured Alex Rodriguez interviewing Kris Bryant about his swing.
You may recall Bryant talking about liking to hit cutters that run in on his thighs, shortly after which he launched just such a pitch from Michael Wacha into the stands. Perhaps A-Rod can interview KB again in this one.