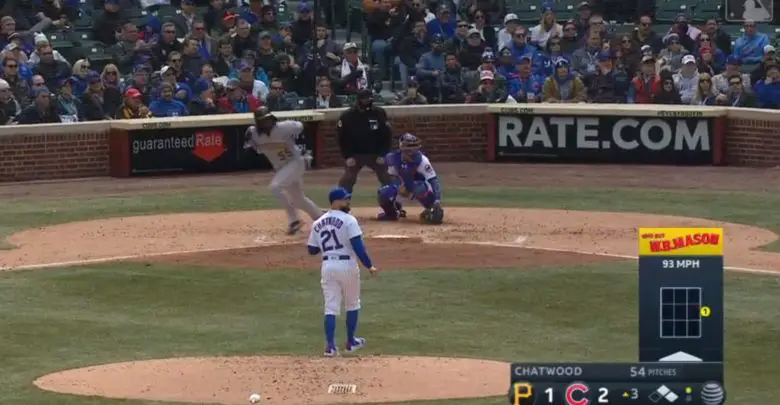 What Can Cubs Do to Fix Tyler Chatwood?
When trying to come up with a way to describe Tyler Chatwood's season that didn't involve some combination of the words hot, garbage, dumpster, or fire, the best analogy I could make was to a reluctant sphinx. The righty starter has presented the Cubs with a riddle that they believe they've solved, but he just keeps changing it on them to prevent them from figuring it out.
And if that's not frustrating enough, there's the worry that "fixing" him could result in cutting off his nose to spite his face. Or maybe that's just something I made up to better fit the whole sphinx thing, though some of Chatwood's numbers suggest that he's actually doing really well in certain regards.
"He's got a busy delivery when he throws the baseball," Joe Maddon said the other day. "He's kinda busy what he does with his hands. It's not like he can just change it easily because that's how his arm works, how his body works.
"We gotta harness it somehow. I spoke to him briefly on the bench; I reassured him it's gonna be fine, it's gonna be really good by the end of the year. We gotta figure it out and he knows that. But man, that's good stuff. We just gotta get it in the zone."
After an abbreviated Sunday start in which he walked five and struck out three over a mere 2.2 innings, Chatwood has now thrown more bases on balls (45) than strikeouts (44) over 48.1 innings. That was also the second straight start in which he failed to finish three innings, totalling 11 walks and allowing seven earned runs between the two.
The implosion was only a matter of time for a pitcher who was somehow skating by despite walking everything that walked through his first eight starts. But with a 3.14 ERA and 4.07 FIP, the righty's performance was perfectly adequate for a No. 5 man in the rotation. With Yu Darvish out for at least 10 days, though, Chatwood assumes a little more responsibility for a team that is trying to make up ground in the Central.
And as the last two outings have shown beyond a shadow of a doubt, his control issues have gone from shrug-your-shoulders quirky to the type of maddening flaw that puts tempers and TV sets in danger. It was fine when that wildness was effective at missing bats, but hitters have figured out that if you keep your bat on your shoulder for a few pitches, you're bound to draw a walk or get a meatball at some point.
What's really upsetting, though, is that Chatwood clearly possesses the kind of stuff to get batters out when he can actually find the zone.
"Sometimes, like you see him the other day, everything's on time and how good it can be and when it's out of sorts a bit, then all of the sudden it becomes a shotgun," Maddon lamented. "Ah man, you can see the movement from the side, how good it is."
Despite issuing an MLB-high 8.38 BB/9, Chatwood's 0.98 K/BB ratio is only eighth-worst in baseball. Okay, yes, that compliment's as backhanded as Andre Agassi's service return, but it tells you that he's able to get more whiffs than other high-walk pitchers.
There's also the 52.4 percent groundball rate that sits in the top 40 among all pitchers with at least 20 innings. Same for his 5.4 percent home run/fly ball rate and his 0.37 HR/9 mark, both of which come from allowing only two dingers this season. That's exactly what the Cubs were hoping to get from Chatwood after moving him out of his previous home base at Coors Field.
The walks though, man, the walks are just killing him. So how do the Cubs fix it? Maddon has talked about that busy delivery more than once and I can't help but think of my 9-year-old when I watch Chatwood pitch. You feel as though you need to be out there reciting a mantra in his ear the whole time: Slow down. Breathe. Same motion each time. Pick up the catcher's mitt.
Except it's a little different for the Cubs skipper or whoever's catching Chatwood than it is for me in the backyard. And the limit on mound visits makes it impossible to have a talk with him after each pitch. Maybe that's why Willson Contreras was giving his pitcher an earful in the dugout during that Sunday night start.
Much has been made to the Cubs embracing the kinder, gentler side of the game and paying attention to players' emotional needs, but there comes a time when you need to rattle a cage or two. And while Maddon admitted that David Ross might have handled the situation differently, he also took no issue with the fiery Contreras lighting up his battery-mate.
"I have no positive or negative reaction to that," Maddon told the media following the game. "I just think the way Willson chose to do it at that time, and to draw negative attention to Willson without knowing the entire scope of the event is unfair."
Which brings us around to how the Cubs can get Chatwood turned in the right direction. The first step might be to show him this chart of his vertical release point over the years and ask if he sees anything that might correlate to how he's feeling out there on the mound.
I'm only half joking there, as I understand that pitchers aren't out there thinking about the actual height of their release point with each pitch. Still, these master practitioners of their craft have a better feel for what they are doing than any of us could ever hope to. As such, there is absolutely a way to match that feel on the mound with the metrics on paper.
Could Jim Hickey, Mike Borzello, and Tommy Hottovy do some work in the video room to hone in on ways to raise Chatwood's release point or to quiet that noisy delivery? That's easier said than done at this point of the season, not to mention his career, but we saw how the Dodgers tweaked Yu Darvish's delivery after trading for him last season.
There's also the possibility of shifting Chatwood to a bullpen role or going with a modified piggyback deal that sees him replaced by or paired with Mike Montgomery. Chatwood operated as a swingman throughout his time in Denver, so we're not talking about an unfamiliar position. And pitching in lower-leverage situations more tailored to his skillset might help to build his confidence while allowing him to implement any changes the Cubs might want to make to his delivery.
The bottom line is that sending Chatwood to the mound every fifth day under current conditions isn't going to work for either him or the team. Not only could it blow holes in his own psyche and have him further overthinking his mechanics, but it would tax the bullpen far more than is necessary as the dog days of summer approach.
Chatwood can be very good, but he isn't very good right now and the Cubs need to figure out a way to at least get him back to being passable if he's going to remain in the rotation. Or, you know, maybe they just keep rolling him out and hoping that something finally clicks.