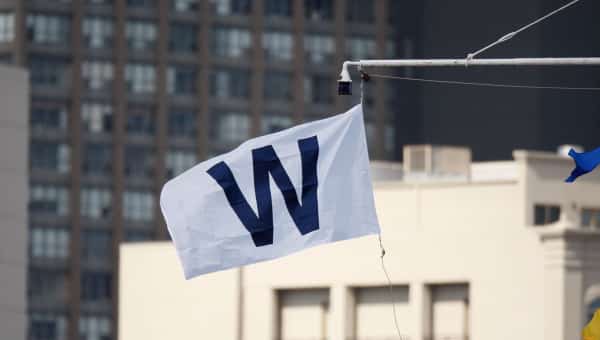 CI Recap (5/31/18) – Cubs 5, Mets 1: Q Twirls a Gem, Cubs Bats Hammer Mets Pen
Jose Quintana has a knack for bouncing back from bad starts, and he did exactly that Thursday night in Queens. He came out of the gate hot, striking out the side in the 1st and setting down the first seven batters he faced.
That 3rd inning would turn into an adventure, as Q loaded the bases on a walk, double, and walk before striking out Jose Bautista and inducing a ground-out from Michael Conforto. Quintana would allow only two more hits, but the bullpen gave up only one and the Mets really had no shot after the 5th inning.
Though the Cubs could muster nothing against spot-starter Seth Lugo, the offense started to click when the Mets dipped into the pen. Kyle Schwarber was on second with two outs when Ben Zobrist hammered a deep shot over the foul pole and just wide. Then he took a ball before banging a 96 mph fastball over the wall in left center.
That was all the offense the Cubs would need, though they pushed across three more runs before the game was over (Box score).
Why the Cubs Won
Quintana was on point all night and had the curve working well against a depleted Mets lineup. Though they struggled early against the Mets starter, they were able to beat up on a weak bullpen to secure the win.
Key Moment
Since I detailed Zobrist's homer above, let's go with Kyle Schwarber throwing Conforto out at second trying to stretch a leadoff single. Runners should know better than to run on War Bear by now, but their ignorance plays to the Cubs' benefit.
Had Conforto gotten to second safely, he might have scored on Jay Bruce's single later in the inning. That would have given the Mets a 1-0 lead and could have changed the complexion of the game.
Stats that Matter
Jason Heyward was 2-for-5 with an RBI, giving him eight hits in the last three games
Quintana had six K's in as man innings and walked only two
Steve Cishek made his 54th appearance in 53 games
Brandon Morrow came on for the one-out save, lowering his ERA to 0.98
Bottom Line
This was one of those wins in which a superior team just goes out and gets it done. The Cubs put together nine hits and walked five times, using Zobrist's homer to propel them to bigger things. They need to keep beating teams like this that are missing several key players.
On Deck
These two teams are back at it again Friday night in Flushing at 6:10pm CT in a game that can be seen on NBC Sports Chicago+.