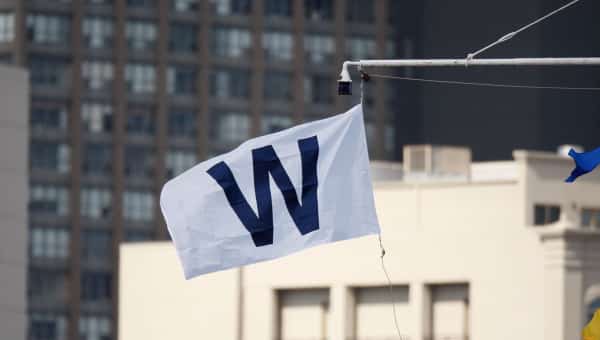 CI Recap (6/2/18) – Cubs 7, Mets 1: Offense Breaks Through in the 14th, Montgomery and Farrell Shine
The Cubs and Mets played almost five hours of baseball Saturday evening, but it was well worth as the Cubs secured a 14-inning victory and a series win ahead of the Sunday morning finale. Mike Montgomery and Luke Farrell were the stars for the Cubs on the mound, with the latter keeping the Cubs alive long enough for the offense to explode on a night where the Cubs entered with a few bullpen arms unavailable. The Cubs struck out 13 times against Mets' starter Jacob deGrom over seven innings, but were (eventually) able to get to the Mets bullpen. Albert Almora Jr, Ben Zobrist, and Javy Baez each drove in two runs in the 14th to give the Cubs an opportunity for a four-game sweep of the Mets with Jon Lester taking the ball on Sunday. (Link to box score)
Why the Cubs Won
After another solid start from Mike Montgomery, Luke Farrell kept the Cubs alive with five shutout innings in relief. That gave the offense plenty of chances to come through, and they finally did in the 14th. Albert Almora gets the game-winning hit with a two-run double, Ben Zobrist followed with a two-run double of his own, and Javy Baez put the exclamation point on it all with a towering two-run homer.
Key moment
With runners on first and third with one out, Albert Almora roped a double to the right-center gap that scored Willson Contreras and Kyle Schwarber. The Cubs had plenty of chances prior to that, but Almora was finally able to put the Cubs ahead for good.
Stats That Matter
Jason Heyward stays hot at the plate going 4-5 in this one with a double and three singles.
Mike Montgomery delivered another great start. 6.0 IP, 2 H, 1 ER, 4 K, 1 BB, with the only run coming on a Michael Conforto home run. We'll see how the rotation shakes out going forward as Darvish works his way back, but Mike Montgomery is certainly giving Joe Maddon something to think about.
Luke Farrell came up HUGE for the Cubs tonight. 5.0 IP, 2 H, 7 K, and 2 BB while keeping the Mets off the scoreboard. For a guy whose last two MLB outings ended with walk-off home runs to the Cardinals, this was a gutsy effort and a well-deserved W for Luke.
Anthony Rizzo continues to trend upward, going 3-6 with a BB and an RBI Saturday night.
Bottom Line
It certainly wasn't pretty, but the Cubs will take the win. Given that they had already won the first two in this series, and tonight's game was started by ERA leader Jacob DeGrom, you have to feel pretty good about grabbing a W here.
On Deck
The Cubs go for the rare road sweep of a four-game set tomorrow afternoon with Jon Lester on the hill. He will be opposed by lefty Steven Matz who is 2-3 with a 3.55 ERA in 2018. The game can be found on ABC-7 and the MLB Network at 12:10 central time.