A Look at 10 Cubs' Draft Picks to Watch From Day Three of 2018 Draft
The Cubs selected 30 more names on the third day of the 2018 draft to be a part of the organization. For the first time in a few years, the Cubs got back to selecting more position players than pitchers – 24 to 18 pitchers selected. The Cubs took ten outfielders, seven shortstops, three catchers, and six relievers/closers that add some much needed depth to the system. They will likely sign around half of yesterday's cadre, based on past drafts.
While first round pick Nico Hoerner, along with big name college players like Derek Casey and Luke Reynolds from days one and two, will draw some attention for their talents, the day three picks contain some additional players of interest. Here are 10 picks the Cubs made on day three that you should keep an eye on the rest of this summer and into 2019.
11th Round: Riley Thompson – RHP – Louisville – 6'3″ 206 lbs.
Ranked #216 on BA Top 500. Has a mid 90s fastball, a plus curve, but needs a lot of polishing. He had TJS surgery in 2016. Lots of upside here if he responds to pro coaching. Could relieve, could start. Likely heads to Mesa. Just turned 21.
14th Round: Riley McCauley – RHP – Michigan State – 5'11" 205 lbs.
Riley McCauley was both a starter and reliever at different points in his college career. Expect him to be a reliever with the Cubs. Has a nice 3-to-1 K/BB ratio. He is a draft eligible sophomore and could return to school.
15th Round: Tyler Durna – 1B – UC San Diego – 6'0″ 205 lbs. Bats Left, Throws Left
The Cubs haven't drafted a 1B since 2012. He's not that big but hit .333 with a .469 this year with 7 HRs.
Pretty decent, kinda small but plus defender with good bat speed and hits to all fields. Really good contact for a 1B, and was the best player on a really good D2 UCSD squad.

— blake (@TheBlakeyPoo) June 6, 2018
18th Round; Jake Slaughter – SS – LSU – 6'3″ 200 lbs. Bats, Throws Right
The Cubs re-drafted Slaughter after first selecting him in 2016. I like this pick. While he does have two years of eligibility left, the Cubs could not have selected him today without his permission. Slaughter hit .247 this year, which was down from last year, but doubled his HR total to 7 in 2018. As a draft-eligible sophomore, his best baseball is to come.
19th Round: Layne Looney RHR – University of Richmond – 5'10" 200 lbs.
He had huge numbers this year as a reliever. He pitched 30 innings but struck 51 batters while only walking 13. His ERA was 0.60. Should be interesting to see him in action, likely at Eugene. Once I started digging around, I got a pretty excited about what he could do as a pro.
20th Round: Chris Allen – LHP – Marin Community College – 6'4″ 180 lbs.
He had very good numbers as he put up a 1.34 ERA in 100.2 innings while striking out 102. He only walked 23 for a K/BB ratio of almost 5. Impressive. Looks like he will sign at just 20 years old.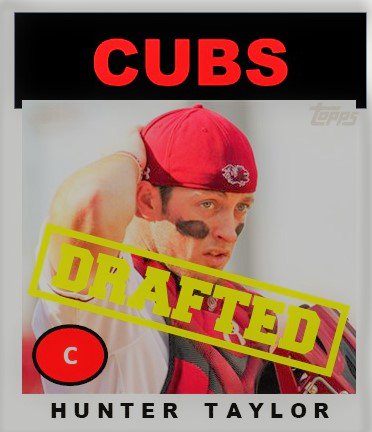 23rd Round: Hunter Taylor – Catcher – South Carolina – 5'11" 226 lbs. Bats, Throws Right
A second team All-American in HS, the senior catcher had his best season this year with eight HRs. He comes highly regarded for his work ethic and makeup.
24th Round: Blake Whitney – RHP – South Carolina Upstate – 6'3″ and 185 lbs.
I will let you guess what Whitney can do… That's right, throw strikes. The four-year starter had a 2.81 ERA in 13 starts this year striking out 82 in 73.2 innings. He only gave up 3 HRs on the year, too. He has a nice sized frame and could add some weight without much effort. I like this pick a lot.
34th Round: Miguel Pabon – SS – Leadership Christian Academy – 6′0″ 165 lbs.
Originally committed to Broward College. He could be a sneaky sign. His footwork is excellent, has good speed and a strong enough arm to possibly stay at the position. Question is whether he will sign.
35th Round: Edmond Americaan – OF – Chipola College – 6'1″ 170 lbs. Bats, Throws Left
He hit .413 with a .490 OBP for the Junior College powerhouse and he's still growing.  While his numbers are video game-like, he might not get to be a Cub as I don't know if he going to sign. I am still trying to find if he is going to a four-year school.
Starting on June 15, the Eugene and Mesa affiliates begin play. Most of the prospects mentioned above will begin their Cubs careers there once they sign. We will see very quickly how they stack up.
To see the full list of the Cubs' new players, click here.