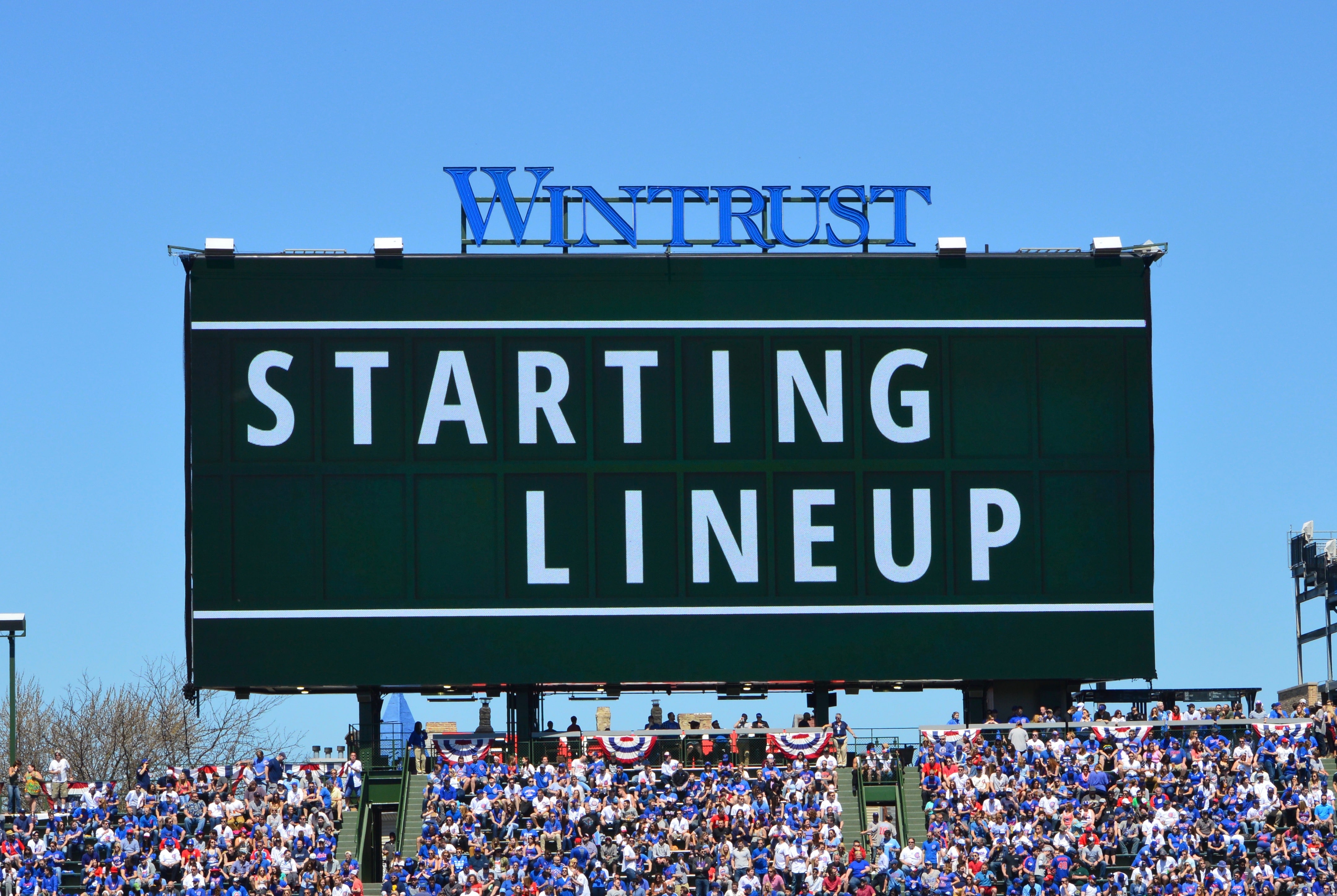 Chicago Cubs Lineup: Zo Leads Off, Gimenez Catching, Bryant Rests, Monty on Rubber in Rubber Game
This probably isn't your typical Cubs lineup for a rubber game against your toughest division opponent, but such is life. Ben Zobrist will be leading off at second, Jason Heyward follows in right, and Tommy La Stella bats and plays third.
Anthony Rizzo cleans up, Ian Happ plays center, Kyle Schwarber is in left, and Javy Baez will be at short. Rounding things out is Chris Gimenez, who caught Yu Darvish's ballyhooed bullpen yesterday.
It's a little disappointing to see Bryant out of the lineup, but perhaps it's a mental break for him. The former MVP is in something of a mini-slump and he recently expressed frustration with his performance of late. Besides, this matchup is a good one for him to miss.
I had been pretty skeptical about Mike Montgomery's ability to produce in a starting role, but he's cooked up some mighty fine crow for me to eat over his last three outings. The lefty has allowed only two runs across 17.2 innings and has walked only two batters during that time. He's been efficient and has given some much-needed rest to the bullpen he was formerly a part of.
Monty isn't missing many bats and has tallied only 10 strikeouts as a starter, but his 62.3 percent groundball rate is exceptional and has been his calling card. That should play quite well against a Brewers squad that puts the ball on the ground more than all but three teams in baseball (46.6%) and that has a mere .298 wOBA against lefties.
There's certainly some room for regression in Montgomery's numbers, but today's matchup suggests that it won't come until at least his next start. Wait, did I just jinx it? Darnit.
Going for the Brewers will be Jhoulys Chacin, a pitcher some of us at Cubs Insider had really liked as a possibility for the Cubs this past offseason. He appears to have figured some things out, though his 5-1 record is a prime example of how a pitcher's win/loss record is not very indicative of actual performance.
Consider that Chacin's lone L came in a game in which he allowed three earned runs, while he's had a win and three no decisions in games in which he allowed four or more earned.
The Cubs will be seeing tons of fastballs and sliders, pretty much Chacin's only offerings. He'll work in a change and curve on rare occasion, but the slider (37.7%), sinker (33.5%), and four-seam (20.2%) are going to make up just about everything he throws. Of those, the slider is his only dangerous pitch.
Of course, when you throw said pitch 40 percent of the time, it's something to watch out for. Batters have only a .392 OPS against the breaking ball, though it's not a big-time wipeout pitch. Even though he does a good job of burying it low and away to righties, the slider generates more fly balls (45.9%) than any of Chacin's other offerings. Almost none of them leave the yard, though, as evidenced by a mere 2.9 percent HR/FB rate on the slider.
This one probably isn't going to be won with the longball and it's probably going to be the lefty bats that come through. Chacin has held righties to a .497 OPS and .217 wOBA at home, but lefties are at .702 and .323 against him.
That could mean good things for Schwarber, who's mired in an 0-for-19 slump right now. First pitch is at 1:10pm CT and can be experienced on WGN or at 670 The Score.
Here is today's #Cubs lineup against the #Brewers.

Game preview: https://t.co/sbLSwbYnNM #EverybodyIn pic.twitter.com/MfjPw0e8o0

— Chicago Cubs (@Cubs) June 13, 2018