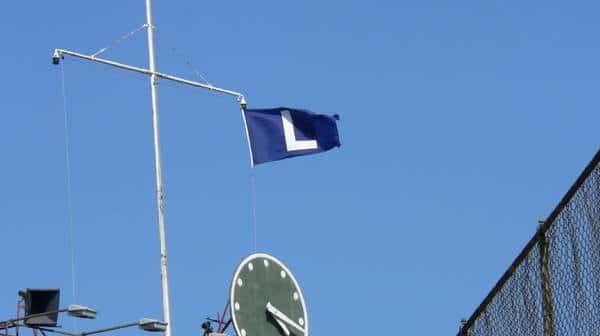 CI Recap (6/17/18) – Cubs 0, Cardinals 5: Báez Exits Early, Cardinals Avoid Sweep
The Cubs offense was not effective at all tonight. The bright spot on both offense and defense was Albert Almora, who collected two singles and made a fabulous defensive play to end the eighth inning. Jose Quintana pitched effectively, throwing five strong innings while allowing four hits, walking two, and striking out three. Sadly, the offense could not pick Quintana up (box score).
Javy Baez exited in the top of the third inning after he got hit by a pitch on the elbow. The initial diagnosis is that Baez has a bruised left elbow. If that is the case, then Baez probably will not play for a couple of days. Baez will get an x-ray, which I am hoping will show no structural damage. Addison Russell replaced Baez at short, and made a couple defensive gaffes which led to Cardinal runs.
Why the Cubs Lost
The Cubs had their chances early against Jack Flaherty, getting two men on with no outs in both the third and fourth innings, but they were not able to get the key hit. Once Flaherty left after five innings, the Cubs could not get anything done against the hapless Cardinal bullpen.
Key Moment
The Cubs had men on first and second with no outs, and Jose Quintana up at the plate. Quintana tried valiantly, but struck out on a missed bunt, failing to move the runners over. After that, Ben Zobrist flew out to third, Jason Heyward walked, and Kris Bryant struck out swinging to end the inning.
Stats that Matter
The Cubs were 0-6 with runners in scoring position, and left eight men on base.
The Cubs bullpen gave up six hits, allowed three runs, walked two, and struck out three in three innings of work.
Bottom Line
Sure, the Cubs lost tonight, but they secured a series win last night and went 3-3 against their main competition in the NL Central. The Cubs are 0.5 games behind the Brewers for the top spot in the Central, and are 40-28 on the season.
On Deck
Tomorrow, the Cubs head back to Wrigley to welcome to Los Angeles Dodgers to the Friendly Confines. We're in for a treat, because the Tyler Chatwood Experience is sure to astound and mystify many. Kenta Maeda will start for the Dodgers. First pitch will be made promptly at 7:05 CT.