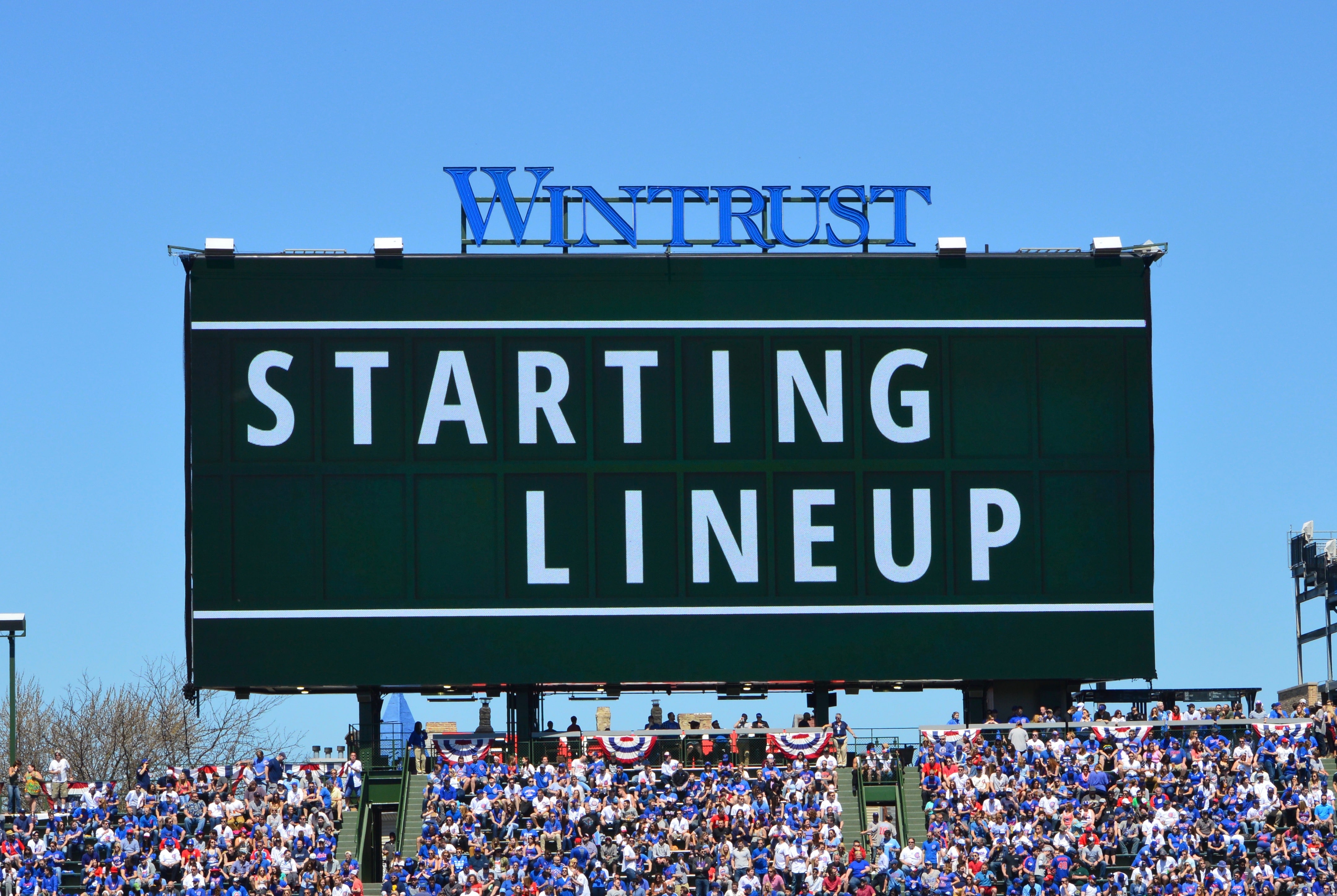 Chicago Cubs Lineup: Almora Leads Off, Zobrist in LF, Bote at 3B, Chatwood Makes His Return
Albert Almora Jr. is leading off in center, Jason Heyward is in right, and Javy Baez is playing second this afternoon. They're followed by Anthony Rizzo, Willson Contreras, and Ben Zobrist, who will handle the duties in left.
Addison Russell, who has had some really big games lately, and David Bote make up the left side of the infield and the bottom of the order.
Tyler Chatwood takes the mound for the first time as a father as he returns to the rotation following the birth of his son, Owen Cruze. The righty's performance all season has been pregnant with anxiety because no one ever really knows what's going to happen pitch to pitch, let alone inning to inning.
Chatwood misses the zone as often as he misses bats, which has actually helped him at times. His looking strikeout percentage of 34.4 is the highest of his career and it's more than double what he posted last season (15.8). He has gotten more swinging strikeouts, of course, but hitters are probably looking for a ball in deep counts and get surprised by a strike.
The Minnesota hitters have done a really good job of hitting the ball in the air, but they don't get many of those balls over the fence. That bodes well for Chatwood, whose 0.52 HR/9 mark is among the seven lowest in baseball (min. 50 IP). This is easier said than done, but pitching to a little more contact would probably be a good this for him this afternoon.
Going for the Twins will be 25-year-old southpaw Adalberto Mejia, who is making his first big-league start of 2018 after nine starts (11 total appearances) in AAA. He put in 21 starts for the Twins last season, but only accumulated 98 innings (4.2 IP/game). And he's averaged just under 5 IP in his minor-league starts this season, so it's unlikely we'll see him go deep in the heat at Wrigley.
Despite showing very solid control of his pitches throughout his time in the minors, Mejia averaged 4.04 BB/9 last season with Minnesota and could get a little squirrelly if the adrenaline impacts him in this one. Mainly a fastball/slider guy, he'll mix in a sinker and changeup to keep hitters guessing.
Righties will see first-pitch fastball (~93 mph) nearly 70 percent of the time while lefties actually see the slider a little more frequently than the hard stuff right out of the gate. If Mejia gets behind in the count, though, hitters can sit on the hard stuff. Lefties will get a fastball 75 percent of the time and righties 65 percent.
Mejia isn't a big-time groundball guy and he'll give up solid contact, but he's done a good job of keeping the ball in the yard for the most part. Not that it'll matter if the wind is howling out again, mind you. And because he's basically split-neutral, any of the Cubs' hitters are equally likely to make some noise in this one.
First pitch from Wrigley is at 1:20pm CT and can be seen on ABC-7 or heard on 670 The Score.