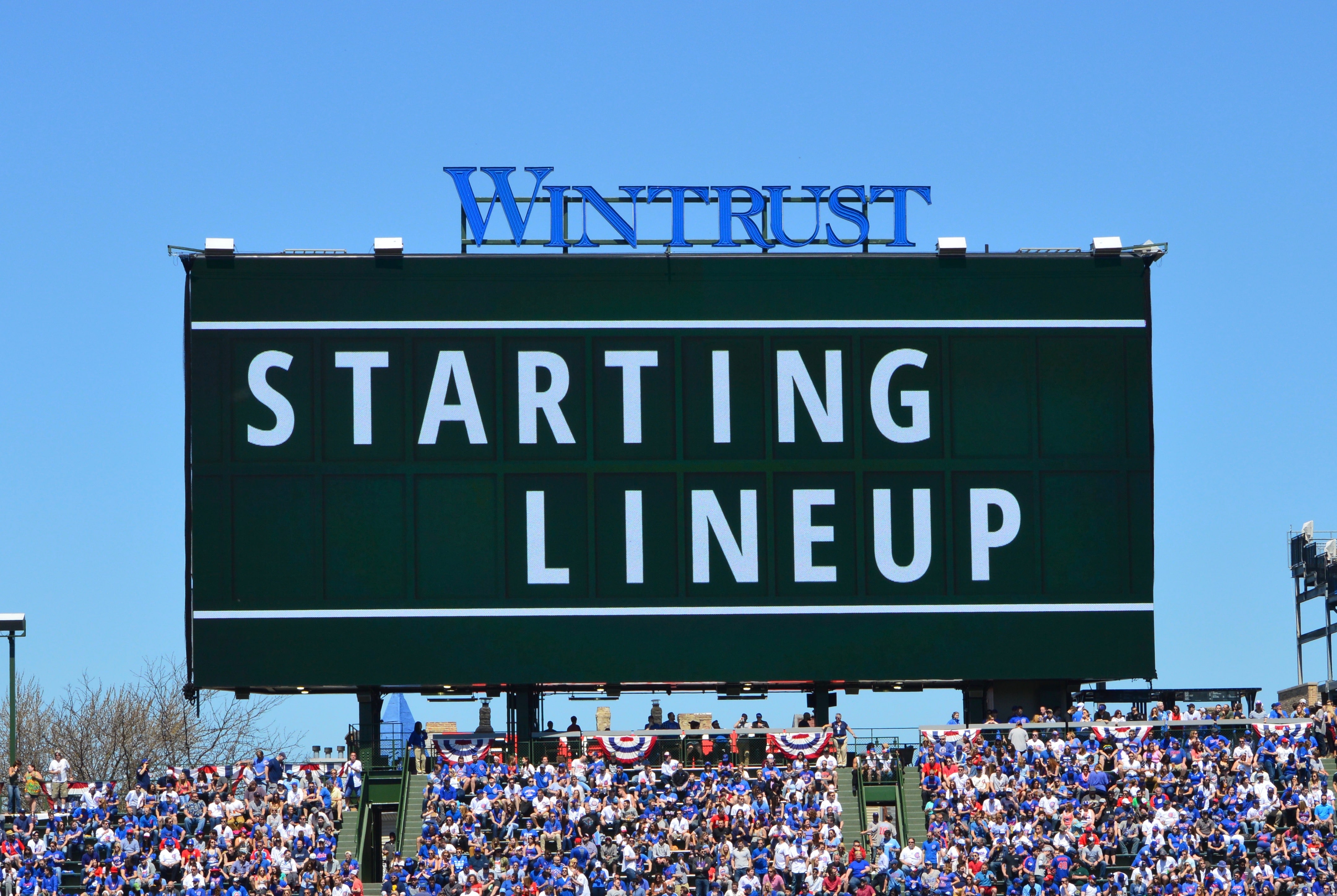 Chicago Cubs Lineup: Almora Leads Off, Russell Cleans Up, Caratini at 1B, Quintana Pitching
It didn't take long for Victor Caratini to find himself right back in the middle of things. There was more than a little intrigue when the switch-hitting catcher/corner man was scratched from the I-Cubs lineup last night, but we learned Wednesday morning that he'd been recalled to replace the DFA'd Chris Gimenez.
Caratini's versatility gives Joe Maddon the ability to go with a full right-handed lineup against a starter who's got some insanely nasty splits against lefties (more on that to come). Albert Almora Jr. is leading off in center, followed by Ben Zobrist in right, Javy Baez at second, and Addison Russell at short.
The latter might seem like a strange move if you haven't been following his production, but Russell has been raking since mid-May and he's once again showing that gap power that really elevates his potential at the plate. That could come in very handy given the profile of today's opponent (again, more to come).
Willson Contreras is catching, Ian Happ is in left, David Bote is at third, and Caratini is across the diamond at first. If you're keeping score at home, that's three switch-hitters in the lineup, all of whom will of course be batting from the right side. And for what it's worth, even the left-handed pitcher bats righty.
Jose Quintana is that car going 5 mph under the speed limit in the middle lane of the interstate, frustrating everyone and forcing traffic to pass on both sides. He manages to get through five innings or so every time out there, but it's maddening to watch and you just keep waiting for the inevitable crash.
He's been able to avoid the worst of it for the most part, though, and his overall numbers are better despite a 1-3 record over the last seven games. No big jumps, but his 4.10 ERA is lower and is right in line with his FIP and xFIP numbers over this more recent stretch. His 8.44 K/9 is slightly higher and his 1.21 HR/9 is very slightly lower.
More important, his 3.62 BB/9 has come down from 4.20, which was way too high. And while that's still more than a full walk higher than his career average, when you combine fewer walks with fewer homers over the course of a full season it makes a difference. It's too easy to say that all Q needs to do is hang on long enough for the offense to do its thing, but all Q needs to do is hang on long enough for the offense to do its thing.
They'll be trying to do that against Francisco Liriano, a 34-year-old lefty who's been knocking around for what feels like forever. And if forever started in 2005, that'd be true. No longer the flamethrower he was all those years ago, Liriano has become pretty much a two-seam/slider pitcher who'll use a change to fool righties.
All of that has combined to produce fairly solid platoon splits over the course of his career, but the disparity is shockingly stark this season. Lefties are slashing a mere .100/.224/.220 with a .211 wOBA. That's why only 58 of the 278 batters to face Liriano this season have done so from the left side and why that number won't increase this afternoon.
Righties will get a very heavy dose of fastballs and changeups, with the latter staying pretty even at about 20 percent regardless of count. The slider gets a little more usage when Liriano gets ahead in the count, but the two-seam is still going to be featured prominently. Unlike he does against lefties, he'll work the hard stuff both inside and outside against right-handed hitters.
The big thing with Liriano is that he just doesn't throw many strikes. Among all pitchers with at least 60 IP this season, only two are in the zone less than Liriano's 35.6 percent. And his 56.1 first-strike percentage is among the 15 lowest in the game, so it's not as though he's trying to lure hitters into swinging.
All the Cubs need to do is spit on those sliders and try not to be fooled by the fastballs. Liriano isn't one to give up a lot of home runs, but they should be able to clog the bases up and push runs across with the station-to-station approach we've seen over the last week.
First pitch is set for 1:20pm CT and will be broadcast on WGN and 670 The Score.
The #Cubs today recalled catcher Victor Caratini from @IowaCubs. Catcher Chris Gimenez has been designated for assignment. pic.twitter.com/4cSjKDOrzp

— Chicago Cubs (@Cubs) July 4, 2018