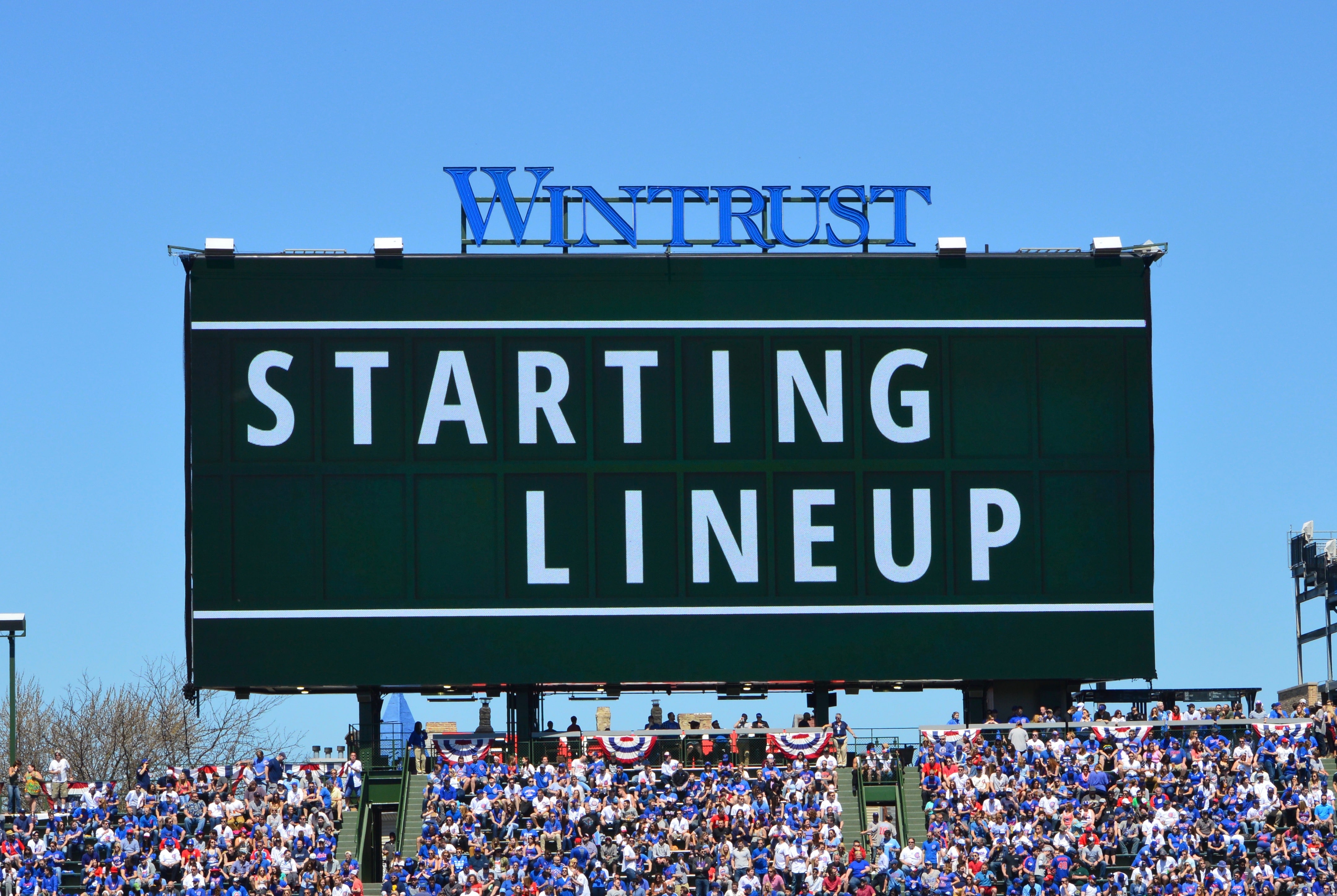 Chicago Cubs Lineup: Zobrist Leads Off, Bryant Batting Third, Montgomery Starting
Ben Zobrist Leads off in right and Jason Heyward slides over to handle the duties in center. Batting and playing third is none other than Kris Bryant, recently activated after an absence of more than two weeks. Anthony Rizzo is back in action as the cleanup man.
Javy Baez bats fifth and plays second, Kyle Schwarber is in left, Addison Russell is at short, and Victor Caratini is behind the plate. Willson Contreras had a rough night last night and Joe Maddon has said he's going to be judicious with his starting catcher, particularly with his All-Star start limiting his rest next week.
In none-lineup news, Maddon has also said that Brandon Morrow will be available for the finale while Steve Cishek will not be. Might as well ease the unrest early on that stuff.
Mike Montgomery is on the rubber in the rubber game trying to live up to the standard set by Kyle Hendricks and Jose Quintana in the first two games of the series. That's going to require him being a little sharper than in his past three starts, over which he's given up a combined 10 runs. Not awful by any stretch, but a departure from giving up a total of four earned over his first five starts.
One glaring issue for Montgomery lately has been an inability to keep the ball on the ground. After doing so at over a 60 percent clip through those first five starts, his grounder percentage is at only 35.3 over his last three. That was skewed by a hot-hitting Reds team that seemed to be doing everything right, so perhaps the Bay Area will offer friendlier conditions.
Initially slated to start last night's game, Johnny Cueto was pushed back to give him a little more rest. What'd be great for the Cubs in this one is having him pitch like he did in his most recent start, his first after coming off the 60-day DL with an elbow sprain in late April. The rust was evident as the veteran junkballer allowed five earned on 10 hits (two homers) with two walks and only two strikeouts over five innings.
He had only given up three total earned runs over his first five starts and had gone at least six innings in each of them. And he did it with a distinctly different style from what we saw from him early in his career. That's kind of a necessity when your fastball barely breaks 90.
Cueto has really cut back on the four-seamer, throwing it less than 30 percent of the time. He actually throws the slider a little bit more frequently than that, mixing in the change at nearly 24 percent. A sinker and curve make up the rest, though the numbers will be different based on which tracking service you use.
The big thing with Cueto is that he's pretty comfortable throwing any of his pitches in any count. Lefties will see the change a lot more often than righties, but what's interesting is that he actually uses it more against righties as he gets ahead and particularly in two-strike counts.
Oh, he'll also change the timing of his motion with that Luis Tiant-esque twist and various other hitches and pauses. It's frustrating as hell to watch as an opposing fan, so I can only imagine what it's like as a hitter. There's something of a video game feel to his style, though, almost like he's a Mike Tyson's Punch-Out character. If hitters can figure out his tell, they can pound him.
The real question is whether the Giants "ace" is going to come out looking like Glass Joe or Kid Dynamite. Which is why the Cubs shouldn't just put in 007-373-5963 to jump straight to the final fight; gotta let things play out.
In what will serve as a brief reprieve between two pairs of late starts, first pitch in this one is set for 2:45pm CT.
Welcome back, KB! #EverybodyIn

Stream on @YouTubeTV: https://t.co/rOHSGhPmjy pic.twitter.com/kakXC6sWc9

— Chicago Cubs (@Cubs) July 11, 2018